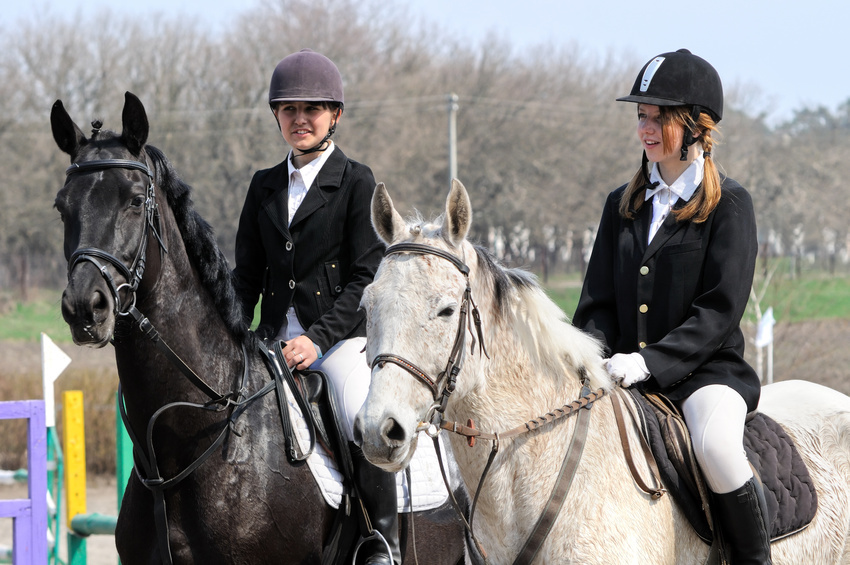 The sheer enjoyment of riding a horse requires much more than simply hopping on the back of the horse and tugging the reins. Riders must be athletically fit to handle muscular animals and, in addition, equestrians need to know what clothing to buy to ensure their safety and comfort.
The Importance of a Riding Helmet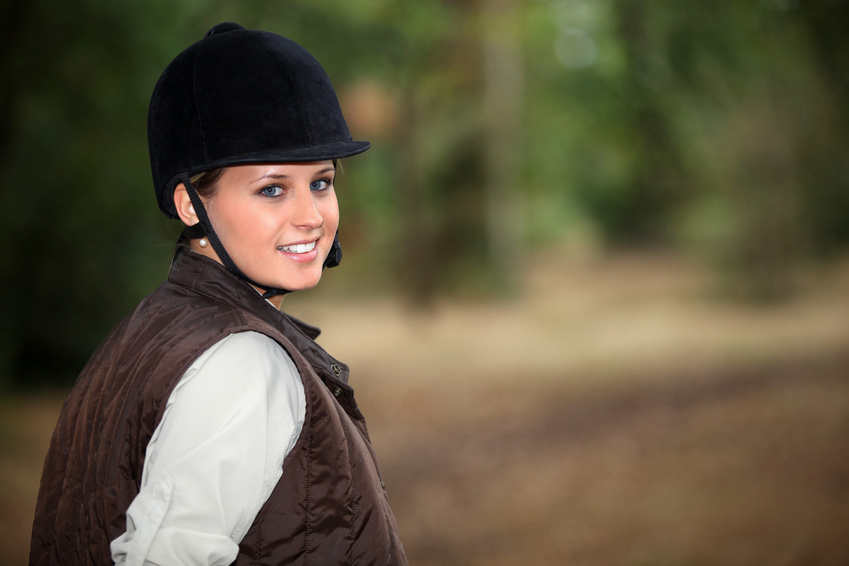 Riding helmets protect equestrians from potentially life threatening head injuries. An ASTM, SEI, or Kitemark approved riding helmet possesses cushioning to absorb hard impacts. Riding helmets offer riders protection when hitting the ground after falling from a horse and protection from playful horse head tosses. Approved riding helmets receive certification for exceeding stringent safety standards. After finding a few ASTM, SEI, or Kitemark sanctioned riding helmets, choose the one that provides a comfortable, yet snug fit. For a snug fit, look for helmets that include a three-point retention harness.
Equestrian Boots

Riders can choose between western and English style boots. Western style boots possess a slightly higher heel, which translates into more stability in the saddle. Manufacturers design and construct several versions of each of the two primary equestrian boot styles. Some of the factors to consider when choosing equestrian boots include length, size, and materials. Equestrian boots should fit snugly around the ankle and leave some room around the insole to promote breathability. Taller equestrian boots provide more support around the leg, which helps beginners retain their riding balance. Equestrians have several material options to choose from, including cotton, canvas, synthetics, and leather.
Equestrian Breeches and Jodhpurs
Manufacturers design and produce breeches and jodhpurs specifically for equestrian activities. The equine version of long pants varies only by where the pants end on a rider's leg. Breeches typically end at a rider's calf to ensure a snug fit. Jodhpurs finish at a rider's ankle and tend to fit loosely. Breeches include fasteners that make the pants a perfect match for long boots. Equestrians wear jodhpurs with shorter paddock boots, as well as with chaps or gaiters. Equestrians have to shop for the right size breeches or jodhpurs, along with finding the design that matches their riding personality. Equestrians should consider cotton blend riding pants to ensure quick evaporation of perspiration, which creates a cooling effect on the skin.
Equestrian Riding Jacket
Equestrian riding jackets range from formal jackets for competitive events to casual jackets that riders wear to protect themselves against harsh weather elements. Equestrians can find several types of riding jackets that vary by weight, size, and appearance. Some riding jackets include two or three buttons to present formality, while other jackets simply zip up and down to enhance functionality. Most equestrians prefer the easier to wear casual riding jackets for long distance excursions. Equestrians should consider buying waterproof horse riding jackets as well.