Only a trolley jack will safely lift your car when you need to work underneath. Make sure you pick the best for your vehicle by reading through our guide to what to look for when purchasing a jack.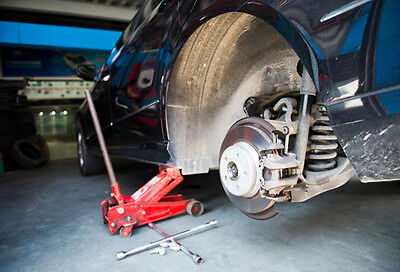 Your guide at a glance
When might you need a trolley jack?
What to look for in a trolley jack
Three of the best manufacturers
How much should you pay?
What else you'll need
When might you need a trolley jack?
The small jack found in your car's boot is fine for emergency wheel swaps when a trip is interrupted by a flat tyre, but for more demanding jobs you'll need to invest in a larger device.

A trolley jack is designed to lift a car with the minimum of effort so that you can slide underneath it to perform inspections and maintenance. A smaller tyre jack is intended only to be used when you're out on the road – to keep costs and weight down they can only safely lift a car high enough to remove and replace a wheel. In fact some modern cars don't even come with basic jacks anymore, so a good trolley jack becomes essential for necessary jobs such as brake maintenance and tyre rotation.

Remember though that a trolley jack – in fact almost any kind of jack – is meant to lift a car only, not support its weight for any length of time. After raising a car the recommended height, you need to then prop it up on good quality supports. That way you can work beneath the car knowing that it is securely held in place. Never work underneath a car solely supported by a jack.

What to look for in a trolley jack
Weight rating
Every trolley jack is designed to meet a certain weight rating. For a family saloon, a two-tonne trolley jack is more than sufficient, whereas a four-by-four vehicle may need at least a three-tonne version. Check the weight of your car and use that as your starting point; if you go with a jack whose maximum load capacity is less than that of your car, you cannot be sure the vehicle will be lifted with any degree of safety.
Other considerations
There are other factors that will influence which trolley jack you wheel under your car. The size of the saddle, which determines how easily the jack can grip the underside of the vehicle you're lifting; how many pumps it takes to reach the jacking point; how easy it is to continue pumping the jack under load; and how high the jack will raise a vehicle.
Car type
The features you opt for will all be influenced by your car. If you run a four-wheel-drive, a trolley jack that lifts to about 50cm is ideal. If you're particularly tall you'll find a jack with a long pumping handle helps reduce the strain on your back. And if you want to work on a wide vehicle such as a Luton truck, a long wheelbase trolley jack will help you do so.

Three of the best manufacturers
Clarke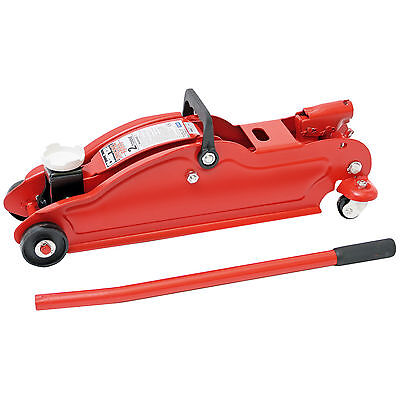 Tools manufacturer Clarke is well-known for its superb value trolley jacks, and its CTJ2QM model is one of the best around. It features a wide saddle which grips the underside of just about any vehicle easily and securely, raises to its full height quickly and comes with a tough case with enough room to store a wrench and sockets.

Load (tonnes): 2
Price (new): Around £40
eBay likes: that just three pumps of the jack are needed to achieve maximum height.

Halfords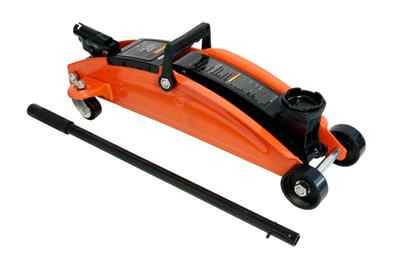 Don't be fooled, for while this might be an "own brand" trolley jack, it's among the most reliable. Suitable for a wide range of vehicles, its long handle makes raising the jack effortless and the large case can comfortably hold the jack with the handle in place. Ideal for storing in the boot of your car.

Load (tonnes): 2
Price (new): Around £35
eBay likes: safety instructions are clearly carried on the top of the jack.
Sealey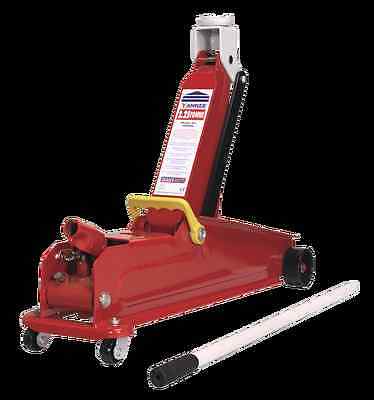 Ideal for larger vehicles such as vans or people carriers, the Sealey 1025HL trolley jack has a maximum height of over 50cm. Thankfully a quick lift action means cars with higher jacking points can be easily raised; like the Clarke jack, this only takes three pumps to reach full extension.

Load (tonnes): 2.25
Price (new): Around £50
eBay likes: the outsize saddle is perfect for supporting the bigger jacking points on many SUVs.



How much should you pay?
A good, reliable trolley jack needn't cost the earth. As long as all your requirements are covered – maximum load and height, saddle size and ease of pumping being the basics – there's no reason why you should pay any more than about £50. Many of the better trolley jacks are available for much less than that, and if you don't mind sacrificing a carry case, you can find a real bargain on eBay.

What else you'll need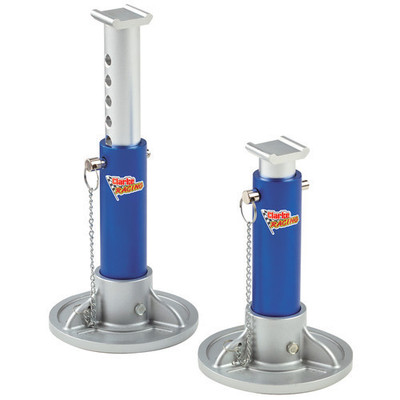 Always remember that trolley jacks are only designed to lift vehicles, and not support them. It bears repeating that you should never work beneath
a vehicle supported solely by a jack.

Once you have jacked your vehicle up to the required height, there are
two items you can use to safely support its full weight.
Axle stands: Once there's enough air between your vehicle and the ground, axle stands can be used to support each corner of the car. Since there are no air valves, there's no risk of sudden decompression, and the weight of the vehicle is spread over at least two points for greater stability. Each axle stand will come with a Safe Working Load rating – the larger this is, the better. Also, make sure to look for a saddle that's cup-shaped or has raised edges. This will prevent the vehicle sliding off while you're working on it. However, be careful that the saddle's edges aren't so high that they mark the underside of the car.
Car ramps: You might think that car ramps are best mounted by driving very slowly onto them. However, the safest way to use them is to raise your vehicle to the maximum safe height of your trolley jack and then simply slide the ramps underneath each wheel.
Although car ramps will take up more storage room than axle stands, they offer many people more peace of mind when working beneath a vehicle. They're also far less likely to sink into hot tarmac if you happen to be working in the street on a sunny day.

There is one obvious downside, however: they're useless if you want to work on a wheel-less vehicle. In this case, axle stands are a must.