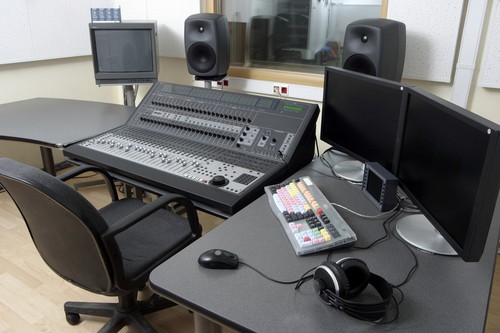 Good furniture for audio or video equipment protects an expensive investment, and also display it well. Audio/video furniture originally originated in the 1960s. The original equipment furniture was known as the "stereo console", a cabinet containing a radio, turntable, and speakers. As high quality audio and video systems evolved into component-based systems, cabinets slowly disappeared. Modern furniture for electronic components and equipment comes in a variety of materials, sizes, and shapes to suit many tastes, requirements, and budgets. Amongst other useful features, equipment furniture today allows users to quickly adjust shelves, to customise the system layout and to access cables and connections easily.
Buyers on the lookout for good equipment furniture need to first decide where the furniture will be used and what components it will house. This will make it easier to decide what features the furniture must have. The final step is for buyers to find and purchase furniture that meets their needs.
Features of Modern Equipment Furniture
Equipment furniture is much more than something to hold expensive audio-visual equipment. Good furniture makes using the equipment convenient, while also providing a safe environment for all the components. The following are some of the features available in most modern equipment furniture.
Adjustability
No audio or video system stays the same over time. Components will change, and new components will be added to the system. A good piece of equipment furniture makes adjustments easy by providing adjustable shelves. It is important to ensure that the shelves can be adjusted without the need for special tools.
Accessibility
Modern entertainment systems can contain a large number of audio, video, and gaming components. All of them feature a wide range of connectors at the back. Good equipment furniture allows easy access to this area to simplify setting up and maintenance tasks. This can be achieved with large opening in the back, or with removable back panels.
Cable Management
If left unchecked, cables that connect or power the many components of an entertainment system can become tangled and messy. Integrated and efficient cable management allows users to connect all the components while keeping wires untangled and out of sight.
Ventilation
Several components of an audio or video system, especially amplifiers, generate a lot of heat. It is important that these components be kept cool though the use of adequate ventilation, or equipment may overheat and shut down or fail. Keeping components cool also ensures a longer life. At the least, furniture should have openings to allow hot air to leave the cabinet. Buyers can also opt for more sophisticated solutions, including shelves with cooling fans or temperature controllers.
Strength
The combined weight of all the components in a system can be very heavy, and some components are heavy even on their own. Strength is an important factor to consider when choosing furniture for audio and video equipment.
Storage
Buyers should consider what media or equipment will be stored, in addition to the components of the system. Such media and equipment can include anything from CDs and vinyl records for audio systems, to centre speakers, DVDs, and VHS tapes for video systems. Furniture with adequate storage room will allow easy access in one spot.
Manoeuvrability
An entertainment system can get very heavy, especially once it is loaded down with equipment and media. This can make it difficult to move it around when needed. Most modern equipment furniture comes equipped with wheels, sometimes hidden from view, to allow one person to easily move the entire system when the need arises. This also allows a single person to move a system away from a wall, to quickly access the back of the system.
Factors to consider when deciding on Equipment Furniture
There are several factors that buyers are should consider before making a purchase. These are generally related to the construction and style of the unit. The following section discusses some of the more common ones.
Type of Equipment Furniture
Buyers can choose from different kinds of equipment furniture based on their tastes and requirements. Some of the most common types of furniture available are listed below.
Entertainment Walls
Entertainment walls are large units made of three to eight individual pieces. The centre unit usually holds a TV. It may either come with doors, or be be open-shelved. The units to the sides are generally closed at the bottom, and have glass doors on the top sections. The glass doors allow remote controls to access components stored there. The various bottom sections are often used for storing media, accessories, cords, remotes, or other items.
Armoires
Popular in the United States, entertainment armoires are closed units that provide space to hold a TV, audio and visual components, and CDs or DVDs. Because they have doors which can be closed when the equipment is not in use, armoires protect components from dust, and also from little children or pets.
TV Stands
With the dominance of flat screens, TV stands are now one of the largest selling types of equipment furniture. A TV stand typically consists of a flat surface to hold the TV, and shelves and drawers below the TV for storage.
Audio Stands
Designed purely for use with audio components, audio stands range from simple shelves to specially designed "seismic" racks that isolate the components from ground vibrations.
Equipment Furniture Construction Materials
Equipment furniture is also classified based on its construction materials. Some of the common materials used in the fabrication of equipment furniture include:
Solid wood
Steel and other metals
Tempered glass
Particleboard
Whatever material is used, buyers should ensure that the furniture is strong and well-made. A poorly constructed solid wood TV stand may be be less sturdy than a well-made stand of particleboard.
The Location of the Equipment
Equipment location is especially important when it comes to video components, since location determines the height of the furniture. It is recommended that televisions be placed at eye level, to avoid neck strain. If the system is in a living room, it should be high or low enough to allow comfortable viewing while seated on a sofa. If it is in a bedroom, it should allow comfortable viewing from the bed. If the entertainment system is located in a corner, or if there is a lack of space, buyers should consider equipment furniture specially designed to make the best use of corner space.
The Size and Number of Components
It is important to consider the size and the number of components in a system before deciding on furniture to house it. To support a television, buyers should purchase a unit that is wider than the TV. This keeps the TV from being knocked off its stand, which may happen if it extends beyond the furniture. Buyers should keep in mind how many components are in a system when selecting furniture to make sure the unit is large enough to accommodate everything.
Furniture Assembly
Apart from the factors mentioned above, buyers should also consider buying a unit that requires assembly when it arrives. Furniture may arrive "flat packed", in which case it may be easily assembled with simple tools or may need professionals for assembly. Unassembled furniture is sometimes less expensive.
Buying Equipment Furniture on eBay
It is important to purchase good furniture to safely house expensive audio, video, and gaming components. Buyers looking for equipment furniture online will find that eBay offers a wide selection and a convenient shopping experience. Searches can be started from eBay's home page, as well as on any other eBay page, by entering relevant terms into the search bar. Buyers looking for a specific type of furniture can enter more specific keywords into the field. For example, a search for "wooden TV stands" returns a list of all wooden TV stands available on eBay. Buyers can then choose a category and filter the results based on TV size, manufacturer, and features, amongst other criteria.
Before committing to a purchase, buyers should find out more about a seller's return and exchange policy. If this information is not available on the item's page, buyers can contact the seller directly.
Conclusion
Good equipment furniture is a wise investment because it protects expensive components against dust and damage, and ensures their longer life and smooth operation. Equipment furniture has evolved considerably from the "stereo cabinets" that once held audio components. Modern equipment furniture is available with a range of features that make it easy to access and maintain the various audio, video, and gaming components, while preventing heat build-up and cable entanglement. Buyers should consider several factors when looking for equipment furniture. These include the number and size of the components, the location of the system, and the features that are required. Buyers are also advised to consider the type of assembly required after the furniture arrives.
Furniture for electronic components is available in various brick and mortar stores as well as online. Buyers looking for equipment furniture online will find that eBay offers a wide selection to suit various requirements and budgets, and provides a quick and convenient shopping experience.