Escort Mk2 RS2000 1976-1980
This is one of many mini illustrated classic car guides I've created for the community. I hope you enjoy it and if you would like to find out more about the classic Ford Escort Mk2 car art featured in this guide please click here.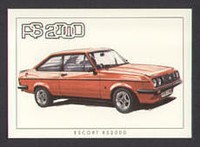 All the Mk2 Escort RS models, including the RS 2000 Mk 2 of 1976-1980 were built at Saarlouis, in West Germany. Faster and better equipped than the original car, the MkII, with its unique droop-snoot nose, which included four headlamps, offered 110bhp and was no slower than the RS1800 "Homologation Special". Yet, this car was also refined, being easy to drive with good handling. A practical four-seater, it could be easily repaired and serviced by every Ford workshop, in contrast to its exotic rivals.
If you would like to see more guides on classic Escort Mk2 cars please click!
Thank you for reading my guide and I hope you found it interesting!