Escort RS2000 X-Pack 1977-1980
This is one of many mini illustrated classic car guides I've created for the community. I hope you enjoy it and if you would like to find out more about the classic Ford Escort Mk2 car art featured in this guide please click here.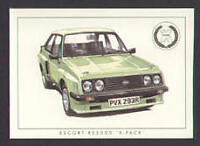 Ford Rallye Sport offered the Series X kits for the RS2000 from Aug '77. It offered a combination of parts designed to compliment each other and focused on specific areas of the car's performance: engine, suspension, transmission and bodywork. Items on the comprehensive options list included: a Group One Spec. 145bhp engine kit. Rocket gearbox, Tarmac wing extension kit including airdam, limited slip differential, gas filled front struts, lower and stiffer front springs, gas-filled rear shock absorbers, 7 ½ X 13 alloys and ventilated brakes.
If you would like to see more guides on classic Escort Mk2 cars please click!
Thank you for reading my guide and I hope you found it interesting!