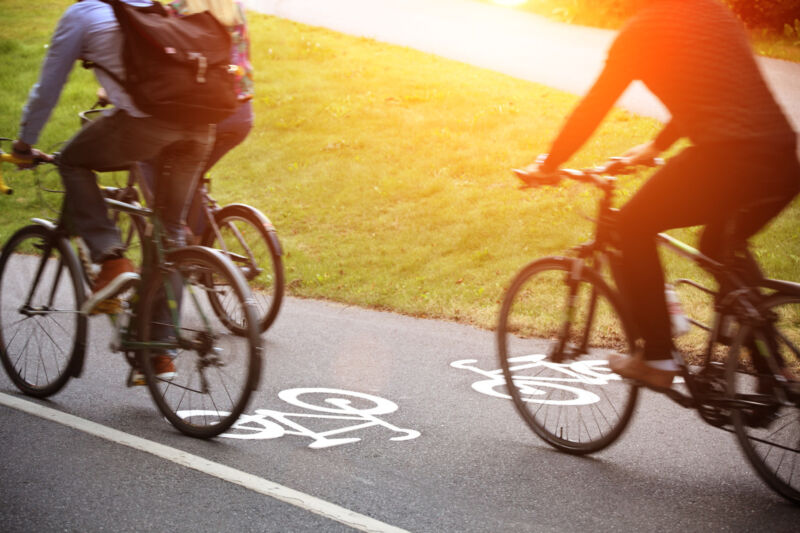 Commuting to work is a great way to exercise and save money at the same time.
Don't let the sheer amount of equipment choices faze you – picking the right starting gear is a lot simpler than you think! Here's our list of 12 basic items and the criteria that really matter.


1. Helmet
This should really go without saying… you'll need a
helmet
to go with your bike.
There's t a lot of choice, from Specialised racing helmets to Bern snowboard-style helmets, but what really matters is the safety certification – brand and model are entirely up to your taste and wallet...
Make sure you choose the right size - apart from basic head circumference, you want a helmet to protect both forehead and back of the head. It needs to fit snugly enough to not wobble when shaking your head – otherwise it is too loose.
2. Lights
Now let's not unduly put that new helmet to the test – make sure others can see you on the road!
There are two general types of
lights
: those that help you see and those that help you get noticed. Unless you want to go downhill racing at night you won't need to invest in high-output torches, so the defining factor is once again how much money you want to spend.
Cyclists are legally obliged to have at least one steady front and back light, and it is generally a life-saving idea to invest in a second pair to set to whatever blinking pattern you fancy.
Remember: "I wish I hadn't worn too many lights"… said no cyclist ever.
3. Jacket
Choosing a
jacket
is always a trade-off between waterproofing and temperature control: hardshell jackets will keep you dry in all conditions, but you'll likely end up sweaty at times; softshells are good for keeping you at a comfortable temperature, but will let you down once it starts pouring.
Ask yourself whether you'd really be riding in hard rain, or whether you're more likely to take public transport if it gets too wet – in that case, water resistant should prove good enough.
4. Backpack
Unless you're one of those lucky people who always arrive entirely unruffled no matter the conditions, chances are you'll have to change at least your shirt, possibly your shoes, and maybe your trousers, too.
Choose your
backpack
size accordingly – this fully waterproof model from Chrome is spacious enough for a full work outfit including shoes, while not impairing your field of vision for backwards glances.
5. Spare inner tube
Flats happen. And while a repair kit may be smaller and lighter, you really don't want to fiddle with patching when it's pouring down at 10pm, or when you're almost late for that all-important morning meeting.
Just exchange the punctured
tube
for a new one, then patch the old one up when you have a moment over the weekend.
6. Pump
Now, a spare tyre won't be much good if you can't inflate it. You'll need a
bike pump
, and the choice is between hand-operated or CO cartridge-powered.
Cartridge-powered pumps are faster at inflating your tyres, hand-operated pumps don't rely on you remembering to pack a fresh cartridge when you're rushing to get out of the house in the morning.
7. Tyre levers
One of the smallest, most ubiquitous, most unassuming pieces of kit can turn out to be the most crucial:
tyre levers
will help you change innertubes on the fly. Always remember to carry at least two of them.
8. Multi-tool
For everything else that needs tightening, loosening, or straightening there's
multi tools.
Think about what you really need to do standard fixes on the road – Hex wrenches for your stem, spanners for wheel and saddle nuts, maybe a Philips or flat screw driver for opening your bike lights – and choose accordingly.
9. Puncture-resistant tyres
And while on the subject of wheels: It's always sensible to get a sturdy
pair of tyres
. Depending on how frequently you cycle (and when commuting that will be about ten times a week, at least), the time you save by not getting flats in the first place can really start adding up. These Schwalbe tyres are a true and tested model – heavier than your average tyre maybe, but extremely reliable.
10. Locks
All that money you invested, only to have the bike nicked at the pub? That could really ruin your week. Kryptonite are a staple in the bike
lock
world, and the price tag is entirely justified – one or two D-locks and maybe an additional cable should make anyone reconsider trying to elope with your ride. Just make sure to always lock the frame to a hard point (like a bike stand).
11. Gloves
Gloves
aren't just useful in winter. Padded palms will help minimize fatigue from bumpy roads, and should you ever come off your bike… trust us, your hands will thank you for the extra protective layer.
12. Mudguards
Finally – fenders, or
mudguards
. If you already have them, great – if you don't, you may think there's no need to ruin the speedy look.
Trust us, you will look a real mess without them once it starts raining; even worse, so will the poor cyclist riding behind you. Be courteous and be dry, get a set of fenders like these SKS ones, or at least a "crud catcher" style clip-on for the seatpost.