For most children, aside from the day they arrived, their christening is the first big day of their lives. Make it a day to remember and one your guests will cherish by sending out the perfect invitations.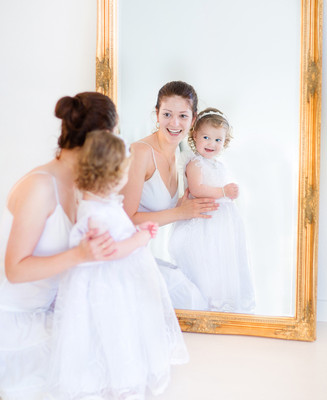 What to consider before you buy
Is the baptism for one child or more? Maybe you have twins or you are planning a joint christening with close friends – you can find joint christening cards on ebay.
Order your invitations so that they are printed two or three months before the event.
Send them out at least six weeks before the christening to give guests plenty of advance notice.
Boy or girl? Make sure your invitations make this clear to your guests.
An overview of christening invitations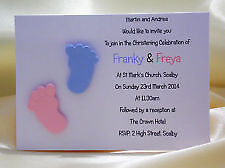 Every christening needs invitations for the guests. A well-crafted invitation can be a lasting memento, and the latest technology gives you the opportunity to create perfect,
personalised invitations
that reflect the theme, tone and atmosphere of your child's big day. Endless variations are possible and fun to design, but it is important to check that all of the details, such as the time, date and venue names, are accurately and attractively displayed.
How many invitations do you need?
This is one of two important questions you should ask yourself before making any decisions. Sets of
10, 25 and 50 invitations
are widely available. Intimate christenings may only need a handful of invitations for close family or friends, while larger events will call for more. Those hosting big christenings are best advised to buy a single type of invitation for all of their guests.
What are your invitations for?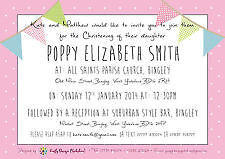 The other key question is: what are they for? Obviously, christening invitations are designed to notify people about a forthcoming important occasion in your child's life, but do you want them to act as a simple reminder or would you like them to become something more permanent,
a keepsake? Such custom invitations can be treasured for years to come, which will have a bearing on the materials and format you choose.
Setting the tone and atmosphere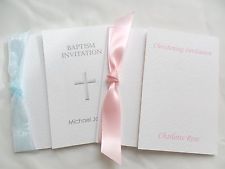 Christening invitations naturally create expectations for guests. A brightly coloured card with balloons suggests a social event, while one that carries the symbol of the cross reflects the importance of your baby's first Christian ceremony. That said, religious invitations can be both formal, displaying a picture or drawing of a church, or fun, perhaps showing a multi-coloured drawing of Noah's Ark.
Sizes and shapes
Ideally christening invitations should be larger than a credit card but smaller than a sheet of A5 paper – basically, they should be large enough that they won't be easily mislaid by the invitees, but small enough for your guests to slip into a pocket or handbag.
Themes and colour schemes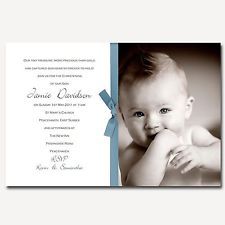 The vast majority of christening invitations are
blue for a boy
or pink for a girl – this is by no means compulsory, but it is a quick way for guests to distinguish the baby's gender, particularly when they want to buy a gift.
You can make up your own theme for the party afterwards, but there are
a few tend to predominate. A traditional theme couldbe based on typical baby items, such as rattles and milk bottles, while more a contemporary approach might call for animal cartoons.
Popular aesthetic choices
Parents often want to include a photograph of their baby on the invitation as well as backgrounds, intricate frames and bold patches of colour. Black and white photographs are a popular choice for parents to present their new born to friends and loved ones, and special effects can give your invitations a unique feel, such as retaining one detail in full colour – a baby boy's blue eyes or the pink bow adorning a baby girl's hair.
Handmade v pre-made invitations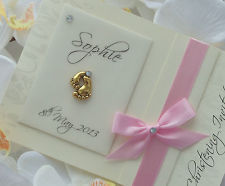 Personalised christening invitations – whether handmade or pre-made – are a much more cost- and time-effective for parents, particularly when compared with the time and resources spent on homemade invitations.
Handmade cards
may include bows, ribbons, baby bottles or
embossed butterflies
for a truly elegant touch. Meanwhile, pre-made invitations can be personalised with handwritten messages, an approach that is often appreciated by older generations.
Messages and notes
Some parents include a favourite poem on their christening invitations, or a personalised note for each guest. This message may be handwritten or typed during or after the creation of the invitations. Once again, it is important that short notes reflect the tone of the occasion, whether it's a quote from the Bible or a light-hearted anecdote.
And, finally…
Check the details then check them again. Before you finalise your purchase, check all the important numbers – the time, date and the RSVP phone number. Check all the words are spelled correctly; if you drafted the invitations yourself, ideally get someone else to read them – a fresh pair of eyes is better at spotting mistakes. Pay close attention to things like addresses, venue names, guest names and the email or postal address for the RSVP, where relevant. And, whatever you do, don't forget to check you have spelt the baby's name correctly!