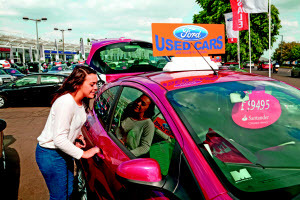 Buying a used car can be a daunting prospect. Some people are worried about unwittingly buying a car that's been crashed or had its mileage altered. But it's just as easy to get carried away and buy the first car you see because you're afraid of missing out on a bargain. It's best to approach second-hand buying calmy and methodically.
Stephen Errity, production editor of Auto Express
recommends making
a checklist of all the important aspects of each car you see and always bring a trusted friend with you to give a second opinion and act as the voice of reason. Bear the following points in mind and you should have no trouble finding a good-value and dependable used car that will give you years of enjoyable motoring.
Deciding what you want
Some people know exactly what they want from a car; others are less sure. There are lots of criteria to consider. Obviously if you have children and/or pets, passenger and luggage space will be vital. If you don't do many miles per year, a more economical but also more expensive diesel-engined car might not be worth the extra money. Do you want something that looks good and has a desirable badge, or do you not mind as long as the car is reliable and capable? And do you just want to get from A to B, or do you enjoy sporty handling and a powerful engine? Spending some time thinking about these questions before you start searching will quickly and effectively narrow things down.
The essential paperwork

It doesn't matter what condition a car is in or how well it drives – if the paperwork doesn't check out or is missing altogether, you should walk away. Every car should have a logbook (known as the V5C) and the information on this, such as owner's address, registration number, chassis number and colour, should always match the car on sale. A valid MoT certificate gives you basic peace of mind that the car is in good working order, but remember it's not a cast-iron guarantee that the car is absolutely fault-free. You should also make sure the car has a fully stamped service book, and, ideally, receipts for any unscheduled maintenance work that has been done over the years. The final step is to use a car history checking service such as HPI to verify the car's mileage and confirm that there is no outstanding finance secured on it and that it has never been reported as stolen or written off by an insurer.
Outside the car
If you're buying a nearly new or ex-demonstration model, you should expect the bodywork to be flawless. However, older cars may have some cosmetic marks such as scuffs or stone chips. This isn't a major concern as long the car is mechanically sound, but more severe scratches and dents can lead to paintwork damage and rust, so make sure the price of the car reflects any bodywork repairs that may need to be done. Check that all four tyres have plenty of tread depth – ideally, the same brand of tyre should be used at each corner, or at least on each axle. If the car has alloy wheels, check if they've been scuffed by kerbs or warped by potholes and watch out for any peeling or bubbling of the coating. Also, look along the side of the car in bright daylight to ensure no panel is a slightly different colour and there are no unusual panel gaps – these are both signs of repaired crash damage. Finally, look out for small chips or cracks in the windscreen.

Inside the car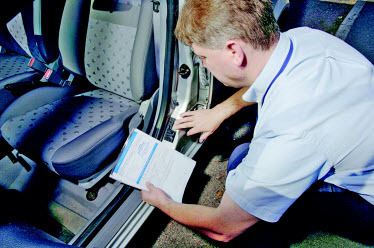 There's lots to check here. Test every window to ensure it opens and closes smoothly. Activate the wipers and screenwash (front and back). Turn the radio, sat-nav and air-conditioning on and off to see if they work as they should. Have a friend step outside and make sure all the lights and indicators are working. Inspect the upholstery closely for any tears, stains or burns. Make sure the seat and steering wheel adjustment isn't broken and that the glovebox opens and shuts properly. Are all four floor mats present and are there any marks on the roof lining? And most importantly, can you get comfortable behind the wheel and are the back seats and boot big enough for your requirements?
On the test drive
Before you set off, verify that your insurance covers you to drive the car. Turn the ignition on and make sure all the dashboard warning lights come on briefly, then go off. If any of them stay on, look at the owner's handbook to find out what the problem is. And if you can't see any of them when the ignition is turned on, this may indicate an unscruplous seller has removed the bulb to hide a problem. Have a friend stand outside the car when you start it up to check for any blue or white smoke from the exhaust – indications of serious trouble. Request an extended 15-20 minute test drive on a variety of roads – a five-minute spin around the block is not enough, and any serious seller should be happy to accommodate you. Keep the radio turned off so you can hear any strange noises. Make sure the car doesn't pull to the left or right, and go all the way up and down through the gearbox. Feel for vibrations at speed and drive over a speed bump to check for any unusual knocks or clonks from the suspension. The brakes should respond firmly without squeaking, and the car should accelerate smoothly in every gear, with no spluttering or hesitation. Lastly, check that the handbrake holds the car securely on a steep incline.
---
More motoring guides
Buying second hand | Top Economical cars | Top Sports cars | Top Family hatchbacks | Top Superminis | Top SUVs
---