Formula 1 Champions 1991-2000
This is one of many illustrated classic F1 racing guides I've created for the community. I hope you enjoy it. If you wish to find out more about the classic F1 racing art featured in this guide please click here.
"Wet, wet, wet" (Australian Grand Prix, 1991)
Ayrton Senna looked to dominate the 1991 season for McLaren/Honda. Nigel Mansell in the Williams however, seemed to have other ideas and from his first victory at the French Grand Prix, chased Senna all the way to Suzuka, Japan in the penultimate race of the season. There, Mansell's luck ran out and Senna claimed his third world title.
"Red 5 to Red 1" (British Grand Prix, 1992)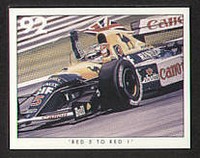 1992 saw the Williams/Renault, in the hands of Britain's Nigel Mansell, take complete control of the 1992 Formula One World Championship. His famous victory at the British Grand Prix was memorable when he ran out of fuel on his victory lap and was engulfed by hundreds of fans. Nigel's victory in Portugal that year gave him a record nine victories in one season.
"Mutual Respect" (European Grand Prix, 1993)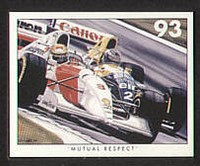 1993 saw "3 times" world champion Alain Prost join the dominant Williams team, with team-mate hill, in his first full season, as his main contender. The 1993 European Grand Prix at Donnington proved that Ayrton Senna was still a force to be reckoned with and Damon Hill, but for "team orders", was a constant threat. It was the "Professor's" smooth and consistent style however that won him his fourth F1 World Championship,
"Out In Front" (French Grand Prix, 1994)
The year 1994 saw the birth of a new legend in Formula One. Michael Schumacher in the Benetton/Ford won five out of the first six races, but, his championship battle with Damon Hill (Williams) went "down to the wire" at the final race of the season in Australia. After a controversial track incident between the two contenders, Michael Schumacher won his first World Championship,
"First Victory at Hockenheim" (German Grand Prix, 1995)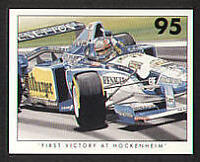 1995 saw the domination of the Benetton/Ford team with numerous victories for Michael Schumacher and victories at the British and Italian Grand Prix for team-mate Johnny Herbert. The main challenge came from the Williams team partnership of Damon Hill and David Coulthard, but Schumacher went on to his second World Championship and a famous first victory at his home Grand Prix.
"Coming out Fighting" (Japanese Grand Prix, 1996)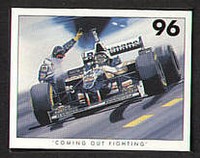 With current World Champion, Michael Schumacher, joining Ferrari in 1996 the main championship contenders were Williams' team-mates Damon Hill and Jacques Villeneuve. After victories for both during the season, the championship was to be decided at the final race in Suzuka, Japan. A truly great and determined drive from Damon Hill on the rain-soaked Suzuka track gave him a deserved World Championship.
"Moment of Truth" (European Grand Prix, 1997)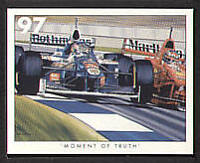 With Damon Hill joining the Arrows team, ex team-mate Jacques Villeneuve took up the challenge for the Williams team. Michael Schumacher, in his second year with Ferrari was the main challenger. As in previous seasons, the championship was to be decided at the final race in Jerez, Spain, the clash between the two contenders leaving Schumacher in the gravel and Villeneuve on his way to the World Championship.
"Ferrari's Reign" (British Grand Prix, 1998)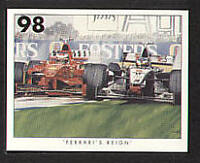 1998 saw the re-emergence of the McLaren team and of Mika Hakkinen. Now famous battles between Hakkinen.and Schumacher (Ferrari) ensued throughout the season, including the rain-soaked British Grand Prix. The crash at the Belgian Grand Prix and Damon Hill's first victory for the Jordan team were also highlights of a season that saw Mika Hakkinen win his first F1 world title.
"Silver Star" (Japanese Grand Prix, 1999)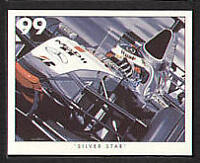 The start of the 1999 season began where 1998 finished, with Hakkinen and Schumacher (Ferrari) fighting each round. An unfortunate accident at the British Grand Prix side-lined Schumacher and Hakkinen then had to defend his title against the ever improving Eddie Irvine, Schumacher's Ferrari team-mate. In the final race at Suzuka, Japan, a great victory for Hakkinen gave him a second, consecutive World Championship.
"Brotherly Love" (Spanish Grand Prix, 2000)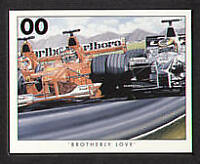 After his unfortunate accident in 1999 British Grand Prix it was obvious that Schumacher and Ferrari would be chasing the world title with a vengeance in the millennium year. At the Spanish Grand Prix he drove his brother wide in order this Ferrari team-mate Rubens Barrichello could gain a valuable third place, after many battles with title challenger Mika Hakkinen, Michael Schumacher's great victory at the Japanese Grand Prix, Suzuka, finally gave Ferrari their first drivers' world title for 21 years.
Thank you for reading my guide and I hope you found it interesting!