BELOW FOLLOWS AN EXAMPLE OF A FAIR AND COMPREHENSIVELY 'COSTED', AND MORE IMPORTANTLY SUSTAINABLE, POSTAGE AND PACKAGING SYSTEM IN A LISTING DESPATCHING FROM THE UK...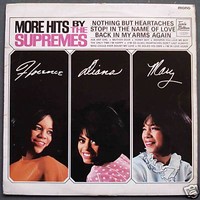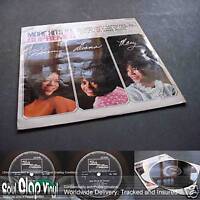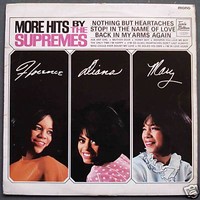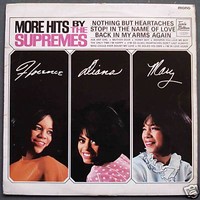 THE SUPREMES | MORE HITS | **TAMLA MOTOWN MONO 1965**
More Hits By The Supremes - A High Quality Original Pressing on the Tamla Motown Label. TAMLA MOTOWN mono TML 11020 - With embossed signatures on the front cover. Includes 'Stop! In The Name Of Love'. The LP has some cover wear and it is used. It is graded as in an acceptable condition, rare, and still highly sought after. The cover artwork is 'atmospheric' of the sixties.
An original wide frequency range, analogue pressing, with a full bodied depth of sound and audio dynamic range, it is far superior to a low frequency, low sample rate, data-stripped-compressed - 'empty' digital sample - analogue sound depth is the result of over 100 years of professional sound recording, with a good amplifier and speakers, you may even be able to feel the music.
The cover has the full visual dynamic range of a high resolution, large format print. Many vinyl record covers appear as works of art in their own right.
Impossibly difficult to find now in this condition - rarely turns up on vinyl.
THE CONDITION IS: ACCEPTABLE - 5 out of 10 - (VRGDTM Grading System)
I Grade With: *VINYL RECORD GOLD DUST 2011TM* - it is very strict and offers a worldwide perspective on rare records, coming soon...
(CONVENTIONAL GRADING SYSTEM: VINYL: F+ ---- COVER: G ----- OVERALL = GOOD MINUS)
The Replay is: Good, and the record plays laudably. The vinyl is reasonably presentable and clean but it has some scratches and it is marked throughout. The record has obviously been played many times, yet performs well. With a 'fair' record there may be nominal jolts on the vinyl, or there may be occasional and noticeable sound detriment, e.g. minor occasional hiss or vague crackle on one side, or on one or two tracks, but nothing more than would be expected from an old used record.
Soul Clap Vinyl adheres to strict and independent overall condition grading. As a record collector, I grade records strictly and properly, and as a whole-overall-grading. I have stricter standards than the usual record collecting system and the normal 'blagging', there are no excuses on my ads about a record's age, no wordplay, no this or that, a record is in the condition that it is in, however rare it is, and that is the truth. Most people consider my records graded as 'very good', as actually, 'excellent', and my records graded 'excellent', - as really, 'mint', perhaps people have become used to poor service. You can expect helpful, friendly and excellent customer service here, all of my items carry a money back guarantee no questions asked within 14 days. Your statutory rights remain.
SUPERSONIC DELIVERY RATES AND CUSTOMER SERVICE:
UK: £4.00 - Very Quick! (Tracked and Insured - only £0.20p for each additional item) let me know if you want your item delivered on a Saturday Morning and I will do my best.
Ireland: £4.00 - Quick (Tracked and Insured - only £0.20p for each additional item)
Mainland Europe: £8.00 - Quick (Tracked and Insured - only £0.20p for each additional item)
Worldwide: £12.00 - About 5-6 Days (Tracked and Insured - only £0.20p for each additional item)
NEW! Super Saver Worldwide Rates:
NOTE WELL!: The below services are substantially slower, you must request this service before payment, for the correct invoice to be issued.
To Mainland Europe: £5.00! (Approximately 20 day delivery time, sometimes sooner - Tracked and Insured - only £0.20p for each additional item)
Worldwide: £6.00! (Approximately 63 day delivery time, sometimes sooner - Tracked and Insured - only £0.20p for each additional item)
Packaging Obduracy Strategy and Terms:
Your item will be well packed and protected. Re-used delivery packaging may be used on this particular item to obviate excess extravagance and to reduce waste, it will be obdurate, robust and adequate, and it will honourably respect the bidder's valued custom. Great care is taken to stop movement or disturbance to your item so that it reaches you as it left. If your item is a gift for someone or you simply want brand new packaging for your item at no extra cost, please specify this with your payment.
Please feel free to ask me any questions you might have on any of my listings. Please also feel free, to click the link to 'soulclapvinyl' to see my eBay page and to get to know my service and commitment to you all as customers, you can also access my blog there, where I run regular competitions for my customers to win prizes, which are my rare and collectable vinyl records. I always make sure that my customers are very happy with their items, and that your orders from me are packed very well, and reach you as quickly as possible. You can bid with complete confidence from Soul Clap Vinyl, a trusted and honourable source of rare vinyl from around the world. I include with every sale, excellent back-up, and excellent aftersales assistance, I am responsive to questions and I try to be helpful to all who enquire, and I sometimes add the odd freebie in your parcel to stiffen the package and make your bid really worthwhile.
http://myworld.ebay.co.uk/soulclapvinyl
Soul Clap Vinyl is PayPal Verified
Many thanks for viewing
Soul Clap Vinyl
http://myworld.ebay.co.uk/soulclapvinyl/
WORLDWIDE POSTAGE (PRIORITY TRACKED AND INSURED) IS FREE ON ALL ORDERS OVER £150.00 GPB!
N.B. Further substantial delivery discounts are available to repeat customers, please contact me for further details!