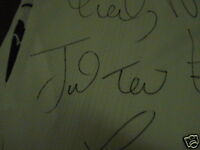 9 OUT OF 10 ENGLAND SHIRTS ( LIKE THE ONE ABOVE ) ARE FAKE - FACT
A COA DOES NOT MAKE A FAKE SHIRT REAL - FACT
NOT ALL FAKES ARE SOLD CHEAPLY - FACT
IF YOU HAVE PURCHASED AN ENGLAND SIGNED SHIRT OFF EBAY IT IS MOST LIKELY TO BE FAKE.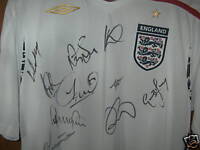 A GENUINE SIGNED ENGLAND SHIRT SUPPLIED BY THE FA AS A RAFFLE PRIZE FOR CHARITY. NOTE HOW CLEAR & SHARP THE SIGNATURES ARE.
AS STATED ABOVE, IN THE LAST 12 MONTHS AT LEAST 90% OF THE SIGNED ENGLAND SHIRTS ON EBAY HAVE BEEN FAKE - I HAVE SEEN THEM WITH HIGH STARTING PRICES, HOLOGRAMMED COAS & JUST YESTERDAY WITH A COA FROM AN ENGLAND SUPPORTERS CLUB THAT DOESNT EXIST - NO ADDRESS OR CONTACT DETAILS OF COURSE BUT THE 3 LIONS BADGE LOOKED VERY GOOD . SADLY WITH THE AID OF ANONYMOUS BIDS THIS OBVIOUS FAKE WENT FOR OVER £60 !
I HAVE ALSO SEEN A FAKE FOR SALE THIS WEEK THAT THE OWNER HAD PURCHASED BELIEVING IT TO BE REAL & THEN HAD IT FRAMED TO SELL FOR MORE MONEY. AN OUTLAY OF MORE THAN £100 WITH A RESALE VALUE OF £0.00
THESE SHIRTS ARE GENUINE HAND SIGNED - BUT NOT BY THE PLAYERS ! OFTEN THESE SHIRTS ARE FAR EAST FAKES WHICH CAN BE PURCHASED FOR LESS THAN A £1
FAKE SIGNATURES ON A FAKE SHIRT.
TAKE A CLOSE LOOK AT THE SIGNATURES ON THE PHOTO ABOVE THEN COMPARE THEM TO OTHER ENGLAND SHIRTS ON EBAY AND YOU WILL SOON LEARN TO SPOT THE FAKES - TRY IT AND SEE FOR YOURSELF.
I HAVE OWNED 4 ENGLAND SHIRTS FROM THE FA & YOU CAN SPOT THE DIFFERENCE BETWEEN REAL & FAKE EASILY WHEN YOU HAVE SOMETHING TO COMPARE THEM WITH. FAMILIARISE YOURSELF WITH ENGLAND REGULARS SIGNATURES THAT ARE DIFFICULT TO FAKE EASILY - DAVID JAMES, JERMAINE DEFOE, DAVID BECKHAM, STEVEN GERRARD & STEWART DOWNING
THIS CLOSE UP FROM ANOTHER GENUINE SIGNED SHIRT SHOWS HESKEY AT THE TOP, GERRARD ON THE LEFT, JONATHON WOODGATE, GARETH BARRY & JERMAINE DEFOE ( FROM LEFT TO RIGHT ). BELOW THEM FROM LEFT TO RIGNT ARE JENAS,COLE, CARSON, WES BROWN. BOTTOM ROW ARE OWEN, RIO AND CROUCH.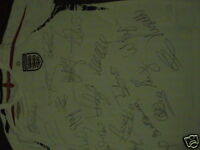 THIS IS A PICTURE OF A FAKE SHIRT SUPPLIED ON EBAY IN FEBRUARY 2009. NOTE THE SIZE OF THE SIGNATURES - VERY RARELY DO THE PLAYERS SIGN THAT BIG. BELOW IS A CLOSE UP OF THE SAME SHIRT. I THINK ITS SUPPOSED TO BE WAYNE ROONEY !
WAYNE ROONEY ON AN ENGLAND SQUAD SIGNED SHIRT IS VIRTUALLY CERTAIN TO BE FAKE - HE DOES NOT SIGN DUE TO CONTRACTUAL REASONS - FACT
ALWAYS CHECK BEFORE BIDDING TO SEE IF IT IS A PRIVATE AUCTION - IF IT IS,AVOID. IT WILL MOST LIKELY BE A FAKE ITEM SOLD BY A DODGY SELLER - FACT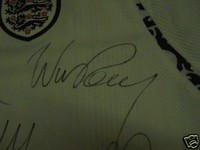 IF YOU HAVE PURCHASED A SHIRT LIKE THIS OFF EBAY ITS A FAKE - THESE PICTURES WERE SENT TO ME BY A BUYER WHO SUSPECTED THEY WERE FAKE & SADLY HE WAS CORRECT.
FINALLY , LOOK VERY CLOSELY AT THE SELLERS FEEDBACK, EVEN IF ITS 100%.
HOW CAN ANYONE GET 3 ENGLAND SHIRTS SIGNED A WEEK, IN ONE COUPLES CASE EVERY DAY, WEEK AFTER WEEK - THE FA WOULD STRUGGLE TO DO THAT !
ALSO CHECK IF IT IS A ONE OR 3 DAY LISTING. WHY WOULD ANYONE SELL A GENUINE ENGLAND SHIRT WITH A VALUE OF £100 - £300 AT A LOW STARTING PRICE WITH NO RESERVE ON A ONE DAY LISTING ?
THE ANSWER IS BECAUSE IT IS A CHEAP WORTHLESS FAKE THAT THEY WILL LIST DAY AFTER DAY USING THE SAME PHOTOS.
FINALLY, IF THEY DONT SHOW A CLOSE UP OF THE SIGNATURES FOR YOU TO CHECK AND COMPARE, ASK YOURSELF WHY ?
IF IT SOUNDS TO GOOD TO BE TRUE IT WILL BE - FACT
THE ACAF GROUP ON EBAY IS AN EXCELLENT WAY OF GETTING AN OPINION ON AN ITEM. EXPERTS WILL GIVE YOU THERE ADVICE FREE OF CHARGE ON THE AUTHENTICITY OF AN ITEM OR THE REPUTATION OF A SELLER. IT IS BEST TO ASK BEFORE YOU BUY AN ITEM,NOT AFTER !
THERE ARE GENUINE SELLERS OUT THERE BUT BEWARE OF THE CROOKS & HOPE THIS GUIDE HELPS .