**If you are here mainly for pictures please scroll down to the end for more**
For a guide to fake Yves Saint Laurent lipsticks please see my other guides**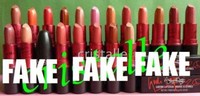 It is no secret that there are HUNDREDS of tacky, cheap MAC products being sold on ebay. But while some of them are immediately obvious, other fakes have stepped up their game and are almost indistinguishable from the real ones.
In the case of these fake Viva Glam Gaga & Viva Glam Cyndi lipsticks, as I haven't seen one in person unfortunately I can't see many physical differences at all - but thought it would be nice to do a guide on this to alert people to the problem and stress how important it is to be careful buying MAC on ebay!
Are there any differences between authentic & counterfeit?
Colour.

The fake MAC lipsticks all have a Gaga/Cyndi signature but come in about 20 different shades! Unfortunately, there are 2 shades which are very similar to the 2 authentic shades and most likely to be sold on ebay. (For reference: Cyndi is a medium coral red, Gaga is a light/medium blue pink, both lustre finish).

Shape of lipstick.

Maybe it is me imagining things, but the tip of the fake lipsticks looks different to the tip of the real ones.

Thin line down the lipstick

see images at the end of guide.


Quality.

I cannot write about this as I haven't tried one of the fakes, but I am almost certain that if you are a huge MAC fan/consumer, you will be able to tell a difference between the lipstick quality - most fake lipsticks are slippery, bad quality, packed with a lot of shimmer/filler, and go on the lips very sheer.
---------------------------------------------------------

Where are sellers getting these items?
Probably from many places - online wholesale outlets. The listings on these sites seem dodgy, they are written in poor english, and generally say they are from chinese factories. Phrases like 'replica' 'quality copy' 'similar' are warning signs.
******I HIGHLY recommend you check out this website - basically everything on it is fake, type in MAC or whatever you want and you will see the sheer amount of these products. Type in Viva Glam to see the ones I'm talking about in this guide.********
As I'm not permitted to link outside ebay in this guide, you will have to paste these links into google!

www.wholesale-outlets.com/
www.wholesale-outlets.com/wholesale/viva+glam.html
---------------------------------------------------------------------------------------------
Written by the seller of counterfeit goods on wholesaleoutlets about these lipsticks:

'This is made in na, but the quality is same as the authentic, many buyer say that they are very very beautiful color ter they receive it'
Photos for reference - Real vs. Fake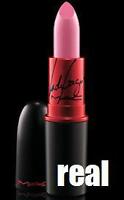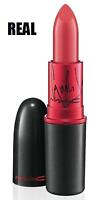 Viva Glam Lipsticks - Gaga (Left) & Cyndi (Right)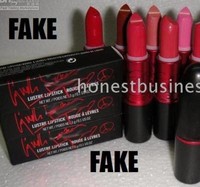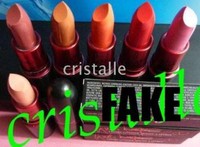 FAKE
look at the thin line down the middle of the lipstick and the tip looks different to real MAC lipsticks.
--------------------------------------
To avoid getting conned by these:
Be very careful

- I realise these are sold out and ebay is one of the only places you can get them. But this also makes it even easier for these horrible sellers to manipulate people and sell these disgusting fakes - at fairly high prices!


Message the seller

- be polite & ask them to confirm the lipstick is 100% genuine before you buy. They will most likely be honest - they don't want buyers who are sceptical and will end up asking for refunds/leaving negative feedback.
The seller may not know they are selling a counterfeit product - if you receive one message them about it after and ask for a full refund.
Please click yes if you found this helpful - hope it has been!