HERE IS A GUIDE FOR BUYERS WHO WISH TO BUY A MAN UTD SHIRT BUT AREN'T SURE ABOUT WHAT TO LOOK OUT FOR.........
I'm sick of people selling fake football shirts on ebay, assuring their customers that they are real, when they are obviously not. I've taken some photos to show you some of the more obvious and common differences between a fake and a real Man Utd shirt.
(sorry for quality of pictures, but if you want to see the originals I can email them to you!)
*
FAKE (below)- Letters around badge are often joined together by a thread, showing inferior quality embroidery. Tags are different too.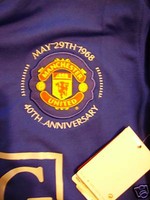 REAL (below) - Letters are always 'separate'. Tags are different.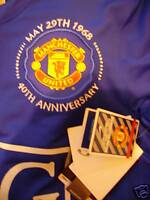 FAKE (below) - Tag inside is short, stiff, and quite square, usually just with washing instructions in English.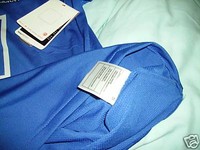 REAL (below) - 2 Tags are long and floppy silky material, with washing instructions and material composition in several languages, an inspection sticker, and a small serial number label hidden underneath these two tags.
FAKE (below) - Along the neckline the diagonal 'stripes' are white and blue with white thread. Underneath the badge there is a 'block' area which is white with the sizing letter and nike swoosh printed on it in silver. The writing underneath that is also printed in white. Says Made In Indonesia (or other eastern country).
REAL (below) - Along the neckline the 'stripes' are silver and blue with blue thread. Underneath the badge the block area is thick and raised in silver, with a white nike swoosh and sizing letter. The writing underneath is also in silver. Says Made In Morocco.
FAKE (below) - The shoulder seams run along the top of your shoulders. (can just be seen at the top of the shirt in this picture)
REAL (below) - The shoulder seams are much lower, more on the chest, about 2-3 inches below those of fakes.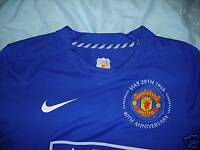 FAKE vs REAL (Below - fake on top, real shirt is the Nani) - On the back of the collar area the MUFC lettering is a pale silver on the real shirt, and white on a fake.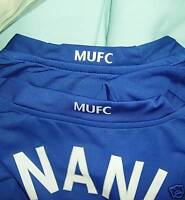 HOPEFULLY THIS WILL STOP AT LEAST ONE OF YOU FROM BEING RIPPED OFF BY UNSCRUPULOUS SELLERS WHO HAVE NOTHING BETTER TO DO THAN TO RIP OFF GENUINE BUYERS.
IF YOU HAVE ANY QUESTIONS ABOUT THIS GUIDE (OR WANT ME TO ADD MY FINDINGS YOUR OWN) THEN PLEASE EMAIL ME!
Thanks, jadensmum08