PLEASE VOTE 'YES' AT THE BOTTOM, TO KEEP YOUR GUIDE ALIVE!
With the ever-growing market for cheap high-street brands, and the success of fake Air Jordan trainers, it was only a matter of time before the Chinese counterfeiters turned their attention to the lesser-known Nike Air Jordan models. The 18.5 is one of the rarer Air Jordan variants, and fakes have been coming out of China since 2004. This Guide shows you how to tell the difference!
THE DIFFERENCES
Nike released the 18.5 in a special pull-out box. This has never been faked, since it is much more cost-effective for counterfeiters to put their products in generic boxes. The only occasion you will find fake 18.5s in the original pull-out box, is if a private Seller puts fakes in a genuine box. This is possible, but most unlikely.
LACES. The fakes have generic laces with an embossed Jumpman logo. The originals have silver tipped laces, embossed 'JORDAN'. See below pic (fake underneath).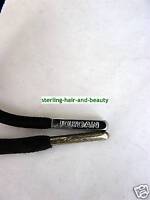 The Laces are flat on the fakes, but rounder on the originals. See below pic (fake on left).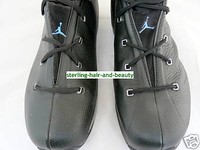 PLASTIC PANT-LEG STOPPER. On the fakes, it does not protrude very far. On the originals, it protrudes enough to catch the bottom of your pant-leg! See below pic (fake on right).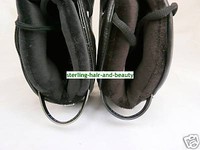 BRANDING. On the fakes, the name 'JORDAN' on the heel of the shoe has indistinct lettering. On the originals, it is clear. See below pic (fake on right).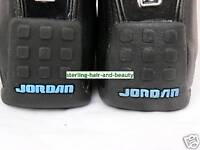 .5 BRANDING. The rear of the shoes have .5 branding in a metallic frame. On the fakes, the surrounding fabric does not butt up against the frame neatly. See below pic of fake.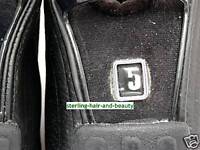 CLEAR SIDE SOLE ACCENTS. On the fakes, there is a distinct gap between the clear accents and the 'dimples', which, as a result, are more difficult to see. On the originals, the clear accents are pressed tightly against the 'dimples'. See below pics (fake on right).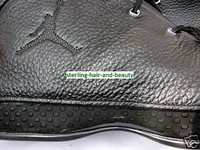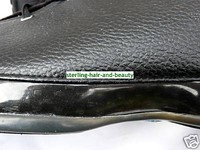 ELASTIC PULL-TAB. The originals have an elastic pull-tab at the inside top front of the velour cuffs. The fakes do not have the tab. See below pics (fake on right).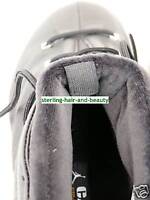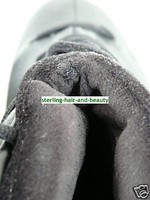 DISCOLOURING ON SOLE EDGE. The edge of the sole insteps is discoloured (watery brown) on the fakes. See below pic (fake underneath).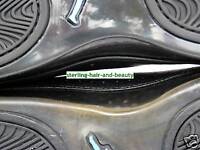 Please note that we cannot pass judgement on the authenticity of any Items listed on eBay. Neither can we look at pics of eBayers 18.5s and determine if they are fake or not. Our above Guide provides many of the points to look for.
WE HAVE INVESTED A LOT OF MONEY, TIME, RESEARCH, AND EFFORT IN CREATING YOUR GUIDE
SO, PLEASE CLICK ON THE 'YES' BUTTON BELOW IF IT HAS INTERESTED OR HELPED YOU
AND TO KEEP IT ALIVE FOR OTHERS WHO MIGHT OTHERWISE BE CONNED!