Having recently been conned into buying a bunch of these lights that were (and still are) advertised on eBay as genuine, I am writing this note to help others avoid being ripped off as I was.
The fake lights at first glance appear genuine, they have an induction coil and a metal slug that slides up and down inside the body passing throught the coil.
However, the coil is not connected to anything and the slug is not magnetic.
You will see a small PC board, but this is just a connecting point for the batteries, switch and LED, there are no other components installed.
The LED bulb is in fact powered by 2 small disc shaped Lithium cells usually used in wrist watches and once these cells are discharged no amount of shaking will produce light!
Telling the difference
If you pick up a new one of these lights and switch it on without shaking the light will come on and stay on for several hours until the lithium cells are discharged. The genuine item will not light without shaking and will only stay on for a few minutes after you stop shaking.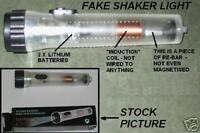 By the way, never attempt to re-charge Lithium cells, they could explode and cause fire and/or injury!