There are many fake so called 'undated' 20 pence peices on eBay.
The one that everyone is looking for and that is being reported in the news is
UNDATED ON BOTH SIDES.
It must also be the 2008 version, which looks like this: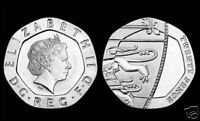 The value of this coin is however much someone will pay for one.
Coins that are dated on either the heads side or the tails side are worth 20p on no more!!
If you found this guide helpful, then please help others by voting YES below to get this guide noticed and to help in the fight to make eBay a safer place.