WARNING! eBay UK IS AWASH WITH FAKE ghd MkIV STYLERS!
READ OUR GUIDE TO AVOID BEING CAUGHT!
PLEASE VOTE 'YES' AT THE BOTTOM, TO KEEP YOUR GUIDE ALIVE!
WARNING! the photographs, images, wording, and layout used in this Guide are protected under the Copyright, Designs and Patents Act 1988. We will take immediate action against anyone who STEALS our intellectual property. For those who pretend not to understand, this means that they may NOT reproduce, save, copy, copy and paste, or print any part of this Guide. No part of this Guide may be used in, or linked to, any eBay Listing, Guide, Review, or any other webpage, UNLESS PRIOR, WRITTEN PERMISSION IS OBTAINED from us. It may NOT be saved to disc, or hard drive, or e.mailed.
It is here, FREE of CHARGE, to be READ ONLY.
In this Guide, we show you how to recognise both fake and genuine ghd MkIV Pink Stylers. Since it is hard to tell a fake from a genuine Styler by photographs alone, we also give you the questions to ask BEFORE bidding/buying!
Sadly, ghd is now a global brand. It was only a matter of time before the Chinese counterfeiters 'reverse engineered' a ghd MkIV Styler and produced a convincing 'mirror copy'. Well, they have, and we've easily obtained a fake ghd MkIV Styler for testing and comparison with a genuine one. The fakes are flooding in through another auction website (not connected with eBay), which is absolutely packed with fakes of top brands, from thousands of 'Chloe' bags, 'Nike' trainers, 'Mont Blanc' pens, etc, etc, through to 'ghd' irons. On that website, you can read where prospective UK Buyers have bartered online with the Chinese counterfeiters and have bought consignments of fake ghd stylers for as little as £20 per iron. Many of these fakes are now on eBay UK.
Search through Google or Yahoo for 'ghd Pink MkIV Styler'. Most websites have compeletely sold out. Those few that do have some stock remaining are selling these for up to £200 each. Ask yourself how it is that Private Sellers on eBay have managed to obtain - and so cheaply - large stocks of this highly exclusive, limited edition, professional item!
We have compared one of these fakes with a genuine ghd Styler and there are few obvious differences. The fakes bear holograms with authenticity verification codes (AVCs). Unfortunately ghd have removed the 'Hologram Verification' link from their website. You now have to complete a 3-page online form, requiring your full name and address, together with your AVC. If you suspect that you may have a fake, you may not wish to do this!
However, there are a few subtle differences, which we - as a previous Seller of ghd irons for 2 years (and never again!) - were able to spot. These are listed below, free of charge, for you. Please now click on the 'YES' button at the bottom, to keep your Guide alive and to help prevent other innocent eBayers from being cheated. Thank you!
THE DIFFERENCES
Look closely at the reverse of the DVD. Hold it up to light. Near the centre, there is very fine print around the circumference. The genuine DVD states a series of numbers and - importantly - the web address of the manufacturer. The fake states 'DVD-R'.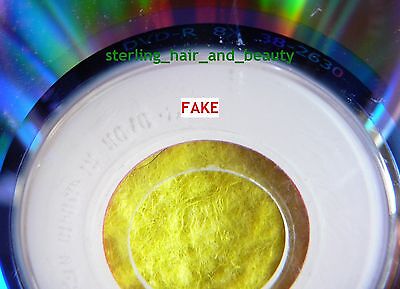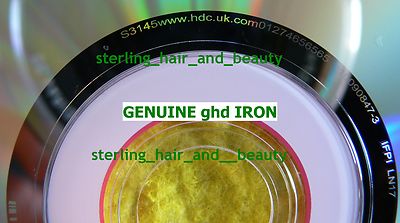 Look at top of the swivel cord, where it connects to the main body of the iron. If the swivel cord connector has a thin black ring or collar at the end, just as its enters the casing, then it is a fake.
Look just below the top of the swivel cord moulding (above the flexible part, near where it connects to the iron main body). One side of the moulding will have either one hole or 3. Three holes = fake. One hole = genuine ghd.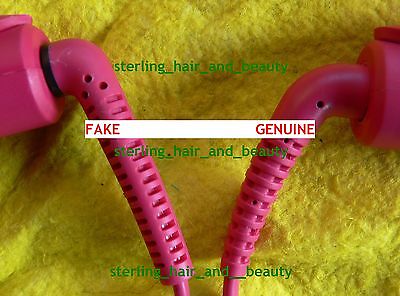 Unbutton the 2 press-studs, which attach the carry-bag to its roll-mat. Look very closely at the 2 female connectors on the roll-mat. If these are indented with the manufacturer's name 'YIK FUNG', then it's a fake. If there are only 5 tiny stars indented, then it's genuine ghd.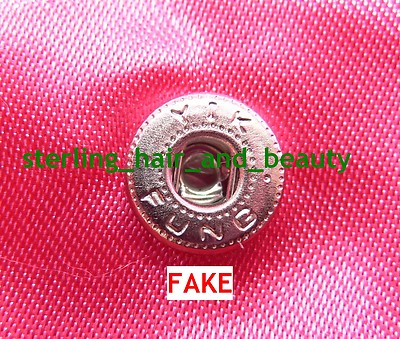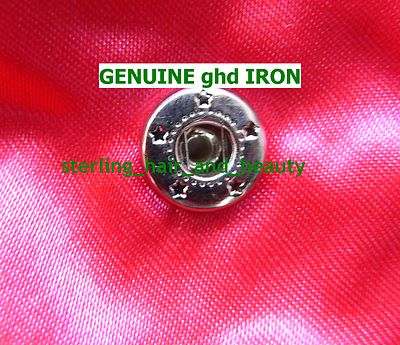 Some other differences are less reliable. Some need an expert eye to spot, OR require a genuine and fake ghd iron to be placed together for comparison, OR could be changed by a devious and shrewd Seller. These include the box cover; the genuine boxes bear a sticker stating that a £10 donation is being made to Breakthrough Breast Cancer. The fake iron may bear some black 'scuffs' to the edges of the iron plastic outer casing. The seams on the fake iron casing may be a little rough and unfinished. The black casing screws on the genuine iron are larger and domed. The screws on the fake are smaller, and flat. The twisties used to tie up the power cord are grey on the fake, but black with the genuine ghd iron. With the genuine iron, the security sealing sticker is stuck to the outside of the box sleeve, over a cut-out section, thus sticking through to the box underneath. Breaking the seal rips the surface off one side of the box. With the fake, the sealing sticker is loose inside the box, presumably so the fraudulent Seller may inspect the fake before seal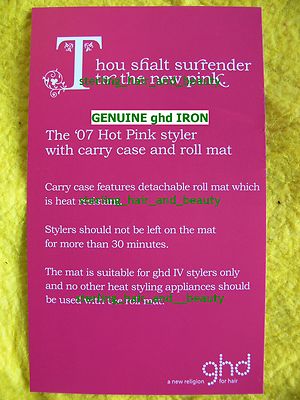 ing the box themselves! The genuine iron has a little pink card in the carry-bag compartment, stating 'Thou shalt surrender to the new Pink.....'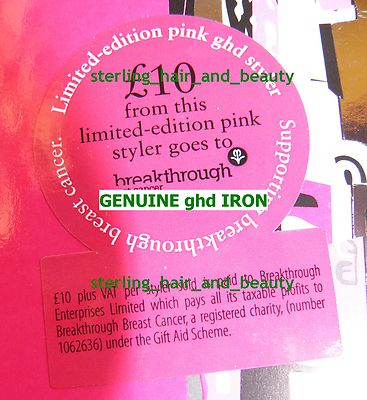 If you are thinking of buying a ghd MkIV Pink Styler on eBay UK, ask the Seller these Questions before bidding/buying. If they refuse to answer or ignore you, DON'T BUY!
1. Has the Swivel Cord got a black ring at the end, where it connects to the iron?
2. Does the swivel cord connector have one or 3 holes on one side?
3. Does the rear of the DVD state 'DVD-R'?
4. Do the female stud-holes on the roll-mat state 'YIK FUNG', or are there 5 little stars?
WE HAVE INVESTED A LOT OF MONEY, TIME, RESEARCH, AND EFFORT IN CREATING YOUR GUIDE
SO, PLEASE CLICK ON THE 'YES' BUTTON BELOW IF IT HAS INTERESTED OR HELPED YOU
AND TO KEEP IT ALIVE FOR OTHERS WHO MIGHT OTHERWISE BE CONNED!
Thank You!