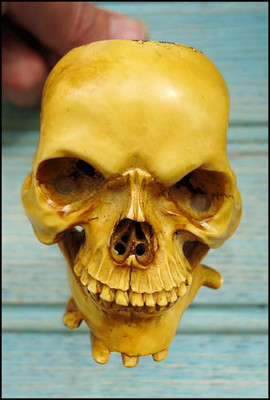 There are many of these smoking tobacco pipes about at the current time (May 2013) and they are being passed off as vintage antique meerschaum pipes with an amber stem.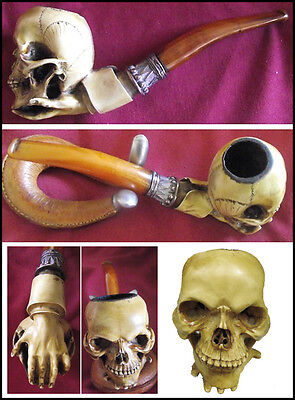 They are causing confusion and where some sellers are actually not aware they are indeed replicas.
The easy signs are they are heavy compared to meerschaum and they all look pretty much alike, the real deal is far from similar in that all skull meer pipes from the past have different carving features and are not alike at all, only in the fact that the skull is very anatomically correct, these pipes have a 'fan tooth' design that is present amongst all of the copies.
The material is actually
resin
and its cast rather than carved - you may even see 'flash' on some of them - a sign of a mould casting, flash is resin that has overlapped and its normally removed - think of a model kit with the thin plastic pieces and sometimes you would need to pair away surplus material.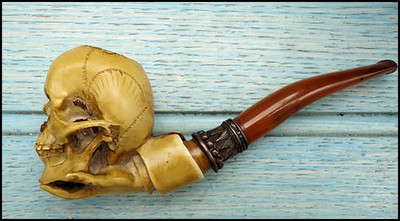 The photo shows a version of the replica with 'flash' as an example.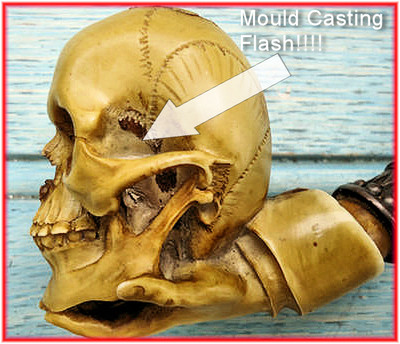 The stem is
acrylic
where on the real deal it would indeed be amber, this replica at a glance or to the untrained eye would seem pretty genuine until you tried to smoke it - resin vs meerschaum - no contest!
The maker does not sell these as fraudulent copies nor replicas intended to con you - it seems that they have reached the estate pipe market and sellers who are not familiar with true meers are selling them listed as the genuine vintage article.
Maximum price of these resin skull pipes is around
£30 maximum.
The photos show actually two examples of found pipes on eBay and you can see how similar they are, the same design with a few differences - namely colouring - the skull itself, while being a pretty good casting, is 'not quite right' in that the eye sockets are wide and the upper jaw has a 'fan' appearance, the hand and cuff are also exactly the same, this is basing on pure visual checking, the handling is a different matter, I have held one and inspected it close, and immediately its heavy and feels odd, meerschaum is distinctive and lightweight, and has a sticky feel when wet.
Look at some real vintage skull meers and compare the detail...the pic below is
THE REAL DEAL!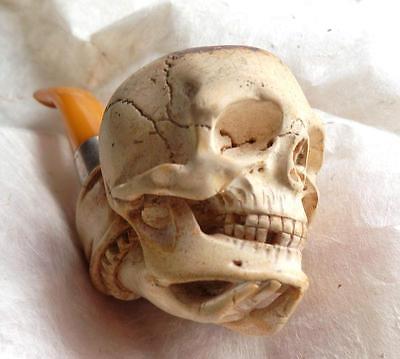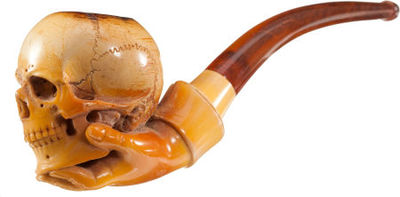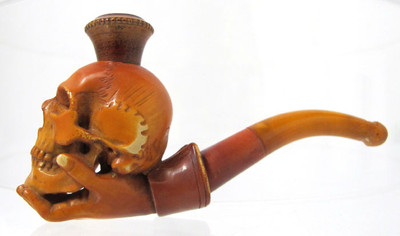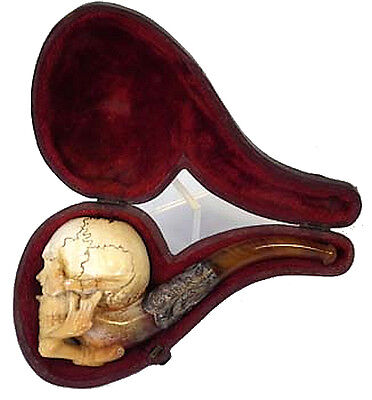 FAKE skull meerschaum pipes - BEWARE!