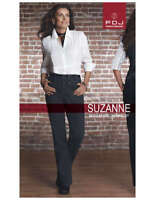 We sell FDJ Jeans and think they're are absolutely wonderful. We have been selling them since August of 2009 and since then they have been flying out. Women have been buying more than one pair at a time or coming back in to store to buy them in another colour as everyone who buys them simply loves them. Gone is the 'muffin top' that so often plagues the majority of women these days when wearing jeans off the high street. Gone is the discomfort that is so often associated with jeans and gone is the unflattering 'stretch' that wrinkles at the knees and crotch area!
The unique stretch in the denim that makes up FDJ's combined with the carefully constructed design and make up, gives the jeans a fabulous streamline look and you a nice pert figure! There are light control panels built in to the pockets at the front to give your tum a help and the pockets on the back are situated on an angle giving you a very pert bum.
FDJ's come in different styles; Kylie (lower rise - although still quite high), Olivia (mid rise - our best seller) and Suzanne or Peggy (high rise - good for people with very long bodies). The standard length is 33". They used to do a petite length of 29" but they are discontinuing this due to poor sales. To be honest though, we end up taking the majority of our jeans up for our customers.
They are done in a variety of colours, but the best colours for us are the ink (mid-
FDJ jeans
dark denim), the dark denim and the onyx (over dye black). The fit is generous because of the stretch and comfort waist band so most women fit in to a size smaller or sometimes even two!
We cannot rave enough about these jeans because we are seeing the results of the fantastic fit every day and our customers are very happy and return for more! We are in the middle of constructing our online e commerce website which will go live in August and will showcase all of the jeans we sell. In the mean time, if you're in the area pop in and try them on - we guarantee you'll like them. If not then call us on +44 (0)1695 577881/576296, or visit our website on www.thelessyouwear.com