FESTUCA GLAUCA blue grass.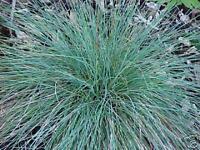 If you are looking for a hardy, drought tolerant, easy maintenace grass that also looks stunning as a contrast colour, then the Festuca Glauca is the grass for you.
Likes full sun.
Hardy.
Any soil condition
Height: 30cms
Spread: 20 cms
The blue festuca glauca are good subjects for containers or for planting direct to the front of the border and are totally drought proof once established. We suggest to grow several plants 20cm or more apart as ground cover in front of shrubs in a well drained border for a stunning year round effect.
Plants develop their most intense coloration when kept dry in summer.
Thank you.
Rookster001