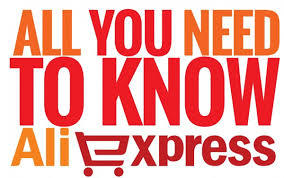 MUY FIRST BUYING EXPERIENCE WITH ALIEPRESS
SECURITY OF THE BUYER
The buyer, the most important security
Pay in advance to someone that you don't know is never tasteful dish. In Aliexpress it is knowns that the sellers don't charge until you confirm that you have received the order. In your basket of orders made will be a button to confirm receipt. Until you do, the money will not be sent to the seller. This ensures some agility if it has to claim a refund, everything is between the buyer and the broker. Furthermore the Seller warrants a period of delivery and if the order does not arrive on time, you don't have to pay for it.
HOW THE SEARCH SYSTEM WORKS
Each seller Gets a few votes for its sales and can also set characteristics and an area of delivery for your products. With the search engine with web filters, you can eliminate all potential purchases that may not interest you, either because the seller is unreliable, because you don't send to your country, because it has no available free shipping... In the lines above you can see more about the Filter panel.
COMPETITIVE SITES.. DEALEXTREME
There are sites like Dealextreme, which offer certain advantages similar to Aliexpress, in particular something very juicy: shipping free, but lately is observed a lack: orders take months to exit the store. In Aliexpress, they know that this is a problem, and therefore if an order does not come out at a time determined (that you can consult at every moment) is cancelled automatically and is of course no charge nothing
NO PAYBAL!!
There is one negative point that seems very serious and is not allowing use Paypal as payment. Given that does not keep data on the card that you use (which seems to me little comfortable but reasonable and safe) at least to be able to use Paypal to pay would be a success but unfortunately it is not the case.
ORDER PAGE
In addition to all the above, there is an order page where you can check the State, price, check the tracking number most vendors include it while it is a free shipping and even write to the seller via real time chat (although normally what you find is a message saying that right now they are not but tend to reply shortly afer.
I would say that you don´t have to be scared bying on Aliepress but just watch out with seller you take…look if he is a recommended seller and if he made already previous orders….
Hope this has been helpful and wish you happy shopping at Aliepress!!
Please don´t forget to rate my guide
if you are looking for some fine sexy lingerie ;-)
WWW "DOT" VIP-EROTICSTORE "DOT" COM