I WOULD LIKE TO PASS ON SOME VERY IMPORTANT INFO ABOUT THE FISHER PRICE TAKE ALONG SWINGS.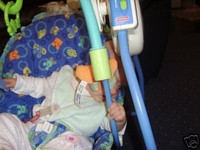 I BOUGHT ONE OF THE OCEAN WONDERS AQUARIUM TAKE ALONG SWINGS AND IT WAS ABSOLOUTLY FANTASTIC - UNTIL IT BROKE!
I SENT IT BACK TO FISHER PRICE AND IT WAS REPLACED WITH A LINK A DOOS TAKE A LONG SWING.
I HAVE HAD THE SWING JUST 3 DAYS AND IT IS ABSOLOUTLY RUBISH AND DANGEROUS TO USE.
WHY - BECAUSE MY 6 MONTH OLD FLOPS TO THE SIDE ALMOST FALLING OUT! AND HER HEAD GETS TRAPED WITH THE SWING STILL SWINGING (SEE PHOTO) AND ALSO SHE GETS HER LEG WRAPED AROUND THE BAR CAUSING IT TO ALSO BECOME TRAPED! I HAVE WRITTEN TO FISHER PRICE INCLUDING THE PHOTO SHOWN HERE AND AM AWAITING A REPLY. MY ADVICE IS DO NOT BUY THE LINK A DOOS TAKE ALONG SWING - UNLESS YOU'RE NOT BOTHERED ABOUT YOUR CHILDS SAFETY!
UPDATE;- FISHER PRICE HAVE ISSUED A FULL REFUND AND PAID FOR THE RETURN OF BOTH SWINGS. THEY WILL NOT CURRENTLY BE ISSUING A RECALL FOR THIS SWING AS APPARENTLY THEY REQUIRE A CERTAIN NUMBER OF SAFETY RELATED COMPLAINTS BEFORE THEY WILL DO A RECALL. MY ADVISE IS, IF YOU HAVE HAD THE SAME PROBLEMS AS ME COMPLAIN ABOUT IT. EVENTUALLY THEY WILL ISSUE A RECALL AND SAVE OTHER BABYS THE UPSET AND PAIN CAUSED BY THIS SWING.
TO THOSE OF YOU WHO FEEL IT NECESSARY TO EMAIL ME ABOUT APPARENTLY BEING A BIT THICK AND USING A SWING THAT IS APPARENTLY NOT SUITABLE FOR MY CHILD I ASK YOU WHY WOULD FISHER PRICE MAKE AND SELL PRODUCTS FOR BABYS IF THEY WERE NOT SUITABLE?
I AM BECOMMING INCREASINGLY ANNOYED AND FRANKLY OFFENDED BY PEOPLE EMAILING ME ACCUSING ME OF DELIBERATLY PUTTING MY CHILD IN DANGER. THE SWING IS SUITABLE FOR CHILDREN UP TO 20LB IN WEIGHT WHICH IS APPROXIMATLY 9-12 MONTHS OLD, AS YOU HAVE ALREADY READ ABOVE MY DAUGHTER AT THE TIME OF THE PHOTOGRAPHED INCIDENT WAS 6 MONTHS OLD AND WEIGHED JUST 9LB AS SHE WAS PREMATURE THEREFORE THE SWING WAS SUITABLE FOR HER. FURTHER TO THIS FISHER PRICE HAVE ADMITTED THE SWING HAS SAFETY ISSUES BUT AS MENTIONED ABOVE WILL NOT TAKE ACTION UNTIL A CERTAIN NUMBER OF COMPLAINTS HAVE BEEN RECEIVED!
ALSO I HAVE NO PROBLEMS WHATSOEVER WITH THE OCEAN WONDERS AQUARIUM SWING IT IS A FANTASTIC SWING WHICH AUTOMATICALLY RECLINES THE MORE YOUR BABY WEIGHS SO PREVENTS YOUR BABY FROM FLOPPING TO THE SIDES!
THIS GUIDE IS FOR THE LINK A DOOS TAKE ALONG SWING ONLY!
THANK YOU FOR READING MY GUIDE AND PLEASE REMEMBER TO PLACE YOU VOTE.....SEE BELOW.
update:- FISHER PRICE HAVE NOW RECALLED THE JUNGLE OPEN TOP SWING WHICH IS THE NEXT MODEL RELEASED AFTER THIS SWING.....
FOR MORE INFORMATION ABOUT A POSSIBLE REFUND PLEASE CONTACT FISHER PRICE DIRECTLY, THERE CONTACT DETAILS ARE ON THERE WEBSITE - FISHER-PRICE.COM.
SOME SHOPS ARE SAYING THE SWING HAS NOT BEEN RECALLED SO OBVIOUSLY THEY EITHER COULDN'T CARE LESS ABOUT BABIES SAFETY OR MAYBE THEY HAVE NOT BEEN NOTIFIED, SO IF YOUR LOCAL RETAILER IS ADAMANT THE SWING HAS NOT BEEN RECALLED I HAVE A BIT OF ADVICE FOR YOU...BUT IT WOULD TAKE SOME GUTS TO DO...
TYPE IN 'RECALLED FISHER PRICE SWINGS' INTO GOOGLE AND THE FIRST RESULT ON THE PAGE IS THE RECALL NOTICE.... PRINT IT OFF AND TAKE IT TO THE RETAILER CONCERNED. THEY SHOULDN'T BE ANNOYED JUST GRATEFUL THEY HAVE THE OPPORTUNITY TO REMOVE THE SWINGS FROM SALE IN THERE STORE BEFORE THEY GET PROSECUTED FOR SELLING RECALLED GOODS!!!
IT IS AGAINST EBAY RULES TO SELL RECALLED ITEMS HERE ON EBAY SO IF YOU'VE SEEN THESE SWINGS FOR SALE HERE ON EBAY REPORT THEM!!!! YOU CAN DO THIS BY CLICKING ON THE LISTING, SCROLLING DOWN TO THE BOTTOM OF THE PAGE AND CLICKING THE 'REPORT THIS ITEM' LINK, THEN FILL IN THE APPROPRIATE DETAILS MAKING SURE YOU SAY THIS IS A RECALLED ITEM THEN EBAY WILL REMOVE THE LISTING...............
I WOULD JUST LIKE TO REASSURE MUMS, DADS & OTHER CARERS THAT THE OCEAN WONDERS AQUARIUM SWING IS ABSOLOUTLY FAB AND IF YOUR LOOKING TO BUY A SWING THEN BUY ONE OF THESE. IT DOES COST A BIT MORE THAN THE LINK-A-DOOS BUT AT LEAST YOUR BABY WON'T GET HURT!!!
THANK YOU FOR YOUR MESSAGES OF SUPPORT....