UNFORTUNATELY THERE ARE A LOT OF FAKE FREDS CURRENTLY ON EBAY AS OF NOW.
IF YOU SEE A PRICE OF 9.99 FOR A NEW FRED OR 3 FOR 24.99, BE VERY CAREFUL FIRST OFF. FRED PERRY ARE NORMALLY NEVER THAT CHEAP NEW.
SECOND, THE BUTTONS. THEY ARE THE DOMINATE COLOR OF THE SHIRT MEANING: RED SHIRT, RED BUTTONS...ALSO MOST EVERY FRED BUTTON HAS FRED PERRY ON THE ACTUALLY BUTTON.
THERE ARE A BUNCH WITH WHITE BUTTONS POORLY STITCHED ON AND SOME WITH EVEN 3 THAT ARE UNEVEN
THE TAGS ON FREDS I HAVE NEVER SEEN IN BLACK: GREEN, WHITE AND BLUE I HAVE.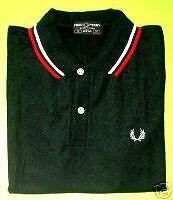 FAKE, ODD COLOURED BUTTONS.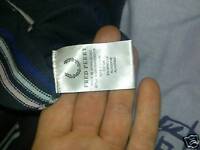 REAL TAG INSIDE. IT HAS THE LOGO NOT JUST WHAT ITS MADE FROM LIKE BELOW.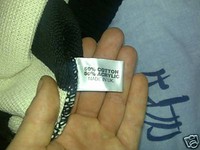 FAKE.

ANOTHER THING TO CHECK THE QUALITY OF STITCHING. SEE BELOW:
THESE ARE PICTURES FROM 100% REAL TOPS
FAKE, REAL FRED PERRY'S HAVE THE SIZE ON THE LABEL AND STITCHES DOWN THE SIDES.

ANYONE WHO REALLY WANTS THE REAL DEAL, DO SOME HOMEWORK. CHECK WITH THE SELLERS IF IT MAY BE QUESTIONABLE ABOUT THE SHIRT ITSELF. ASK WHERE IT CAME FROM, A FULL DESCRIPTION, AND IF YOU TAKE THE CHANCE WITH ONE OF THESE GUYS, MAKE SURE THEY GIVE A FULL REFUND FOR A MIS-DESCRIPTION IF THERE IS SOMETHING WRONG.
I HAVE SEEN LEGIT SHIRTS COMING FROM CHINA, MACAU, ITALY, AND UK, SO PLEASE ASK AND EDUCATE YOURSELVES ON THESE.