After shopping on Ebay for a new battery and charger to replace the non-working one I got with a used camcorder (it wouldn't charge).
WOW, most pricing for Panasonic batteries was over $50, yet Ebay has them for $15??? What a deal I first thought.....
But, wait, the batteries look kinda generic, searched the internet for a picture of the panasonic label and just couldn't find one.
But other batteries sure had a lot of Sony, and Sanyo, and Panasonic labels on them... then I realized I had an impostor on my hands (but a real charger)
My battery looked just like the $15 Ebay battery listed in 70 of the 85 auctions I found.
One seller's auction even stated "Will not charge on the original charger"
Hmmm... So likely my charger was fine, but I obviously had an aftermarket battery in my hands.
I have attached a picture of the two batteries side by side, notice the one on the left does NOT say Panasonic anywhere on it.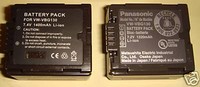 But, many sellers list batteries with pictures like this....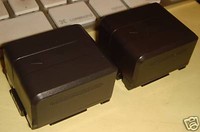 Can you guess which one is fake now??
If you guessed the one on the left, then you just got taken...
Anyway, my story ended well, I found a camcorder kit which included the genuine battery pictured for $36 at an online retailer.
Shop smart and beware of too-good-to-be-true Buy-It-Now pricing and vague descriptions like "OEM quality".