I have made a little guide on how to spot a fake global knife, because I'm tired of all them fakes out there. Hopefully I can enlight you with it, but be aware-I am not a pro amongst knives, but I believe this info to be accurate after contact with both Yoshikin sole exporter and other exporters of Global's.
A fake knive can look very nice and genuine at a first glance!
I own a G-2 and a G-55, and had a fake G-5.
1. Logo written on the blade of a G-2 should have: GLOBAL(with a registered trademark logo after-maybe not all models have it?!), under GLOBAL should be CROMOVA 18 Stainless Steel, and under that G-2 YOSHIKIN Japan.
2.Dots on the handle should have the same size and be symmetrical aligned from one corner to the other, like a straight line-NOT a curved!
3. The handle on a G-2 is hollow and filled with sand for balance-therefore it's not magnetic-the handle should not stick to a magnetic list!!!
4. Shake the handle hard and close to your ear-you should even hear the sand move inside!
5. Drop the knife on the table- it should not bounce much or make lots of noise.
6.The knife is not to light and it's very well balanced.
7.The edge should be precise and very sharp and last a lot longer than a few weeks or even months.
8. It is very common that knives are sold separately without a box!!! Yoshikin always export the knives with a box, so when you're told that the knife comes from a set or an exhibition display it's almost definately a fake-even if it comes wrapped in plastic like new-but be aware that boxes can of course be fakes aswell!
I however, trust a boxed knife very much, and wouldn't consider buying a knife without!!!
9.A set of knives in a case or roll can be fakes, but can of course be knives bought separetely and put together-but be carefull!!!
You can always ask the seller at first if he/she can guarantee it's genuine-if it's not they generally don't answer or give a fuzzy explanation...
This is what a genuine should look: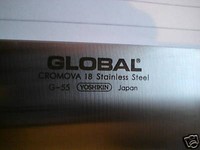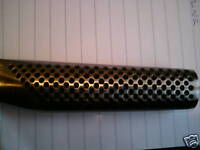 A tip is to go to a store that sells genuine Global's and ask to try one, feel it in your hand-after that it might be easier to tell the difference next time you hold a knife.
This is my opinon of what makes a difference between a fake and a genuine!
Take care and be aware!!!