There seems to be a flood of Rare Madonna Erotica Picture discs here on eBay
some of the sellers claiming them to be re-issued but if that were the case they wouldnt be sharing the same
cat number as the original plus they were withdrawn never to be re-issued, these are clearly fake bootleg copies
from Europe.
Save your cash as these genuine are worth £500-£1000
The cat number of the real discs are W0138TP which some of the sellers are claiming as the cat numbers for the re-issued discs.

The fakes from the real disc.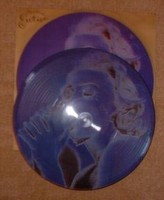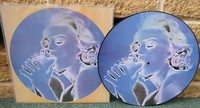 Real , text on top left corner. Fake plain backing card
Some additional information to why this picture disc is so rare.
It has been reported that there are ONLY 138 copies in the world!!!
According to Warner Bros, 50,000 copies of the picture disc were pressed.
They were immediately recalled due to a scandal involving Sarah Ferguson photos of the infamous toe job published in the British tabloids, the record company didnt want to be seen to be cashing in on the scandal or causing embarassment so they ordered the disc to be destroyed.
Only 138 copies were unaccounted for and made it out into circulation and most probably owned by private collectors.