Counterfeit Shure earphones on EBay.
As I like quality music I decided to buy some decent earphones. Once I'd done my research I decided to purchase Shure SE215 to start with as I read lots of positive reviews. I tried to save some money and I noticed that on EBay the earphone were much cheaper. On average SE215 sell on EBay for about £50.00. I have seen them much cheaper on Chinese wholesale websites, around $30.00 USD. I decided to purchase from sellers who claimed genuine UK stock. I purchased two pairs; a special edition in blue and standard clear pair. I tried them and they sounded ok, nothing out of ordinary, at the same time the earphones were not very bad. However there were some manufacturing quality details that I did not like. I started to suspect that my earphones were not quite as genuine as they were claimed to be. I even contacted the seller who assured me that the earphones were from certified supplier. I was not convinced so I decided to go to a local PMT music store and buy a pair there. When I opened the box I could tell the difference in quality straight away. The local store purchase confirmed my doubts so I decided to write this guide for buyers so that they can tell the difference and return fake product. Interested? Please read on.


How to spot fake Shure SE215, packaging errors.
First of all there are clear signs and design flaws on the packaging itself. On the websites often seller posts a genuine stock photo. However when the product arrives, there are little things that show the counterfeit work. The logos and design elements are misaligned, printing is not pin sharp, colours are often washed out and not vibrant as on original products. Below I posted photos that show what I mean.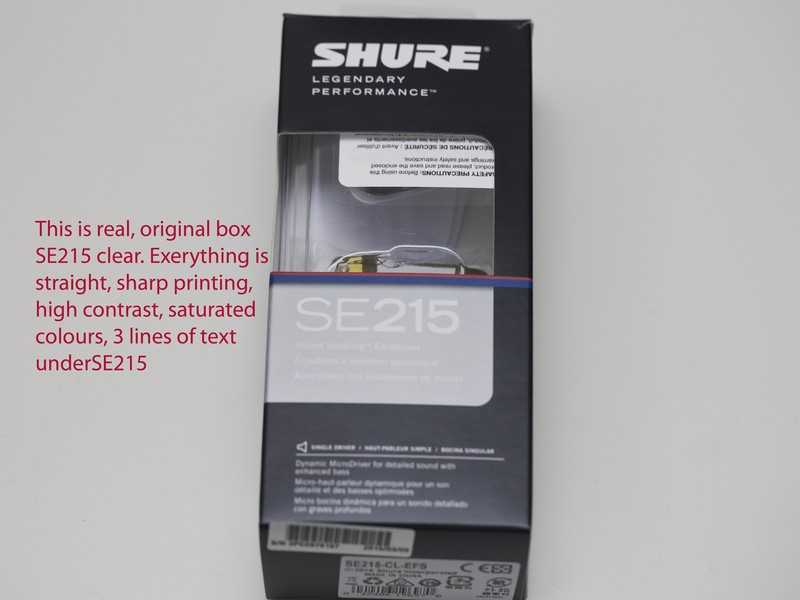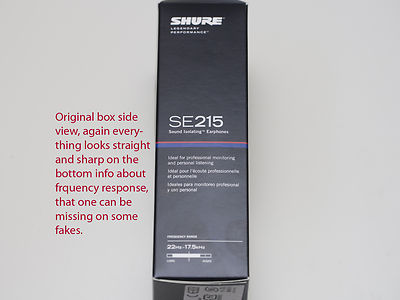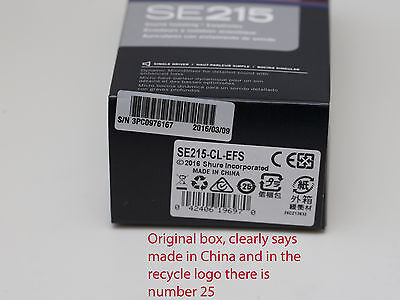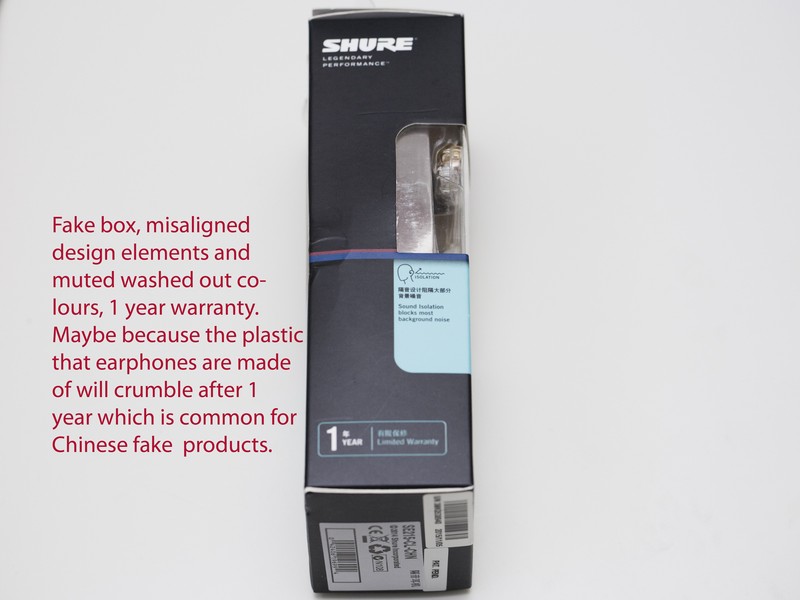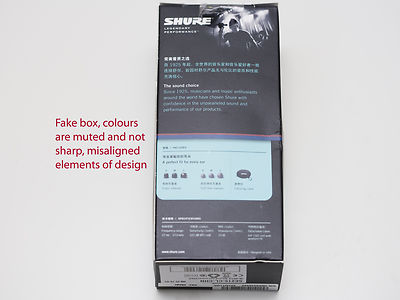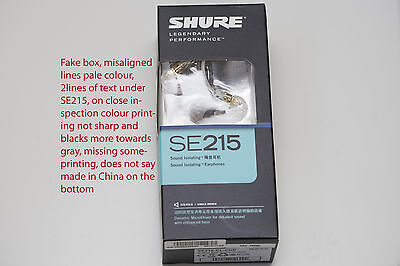 How to spot fake Shure SE215 product design and manufacture quality.
Firs of all, included in the box carry pouch, the fake one is more square and bit dull. Also the manufacture is poor and often Shure logo is misaligned. Real pouch is pretty much perfect and oval shape.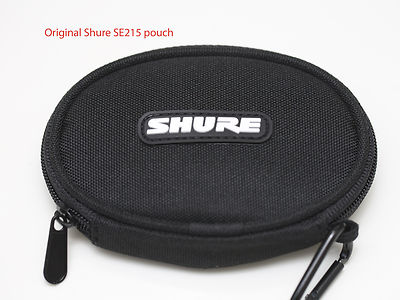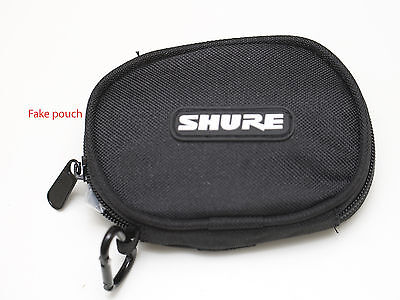 The clear SE215 genuine product.
Original earphones are carefully designed and engineered quality product. By buying fakes buyers feed the forgers and contribute to losses for the genuine company. Maybe even the money feeds other criminal activities.
Here I would like to show those who respect quality and enjoy music what is the difference. I am not sure whether I was able to point out all the fake issues, just doing best I can. I will start with genuine product photos and later move on to show the counterfeit ones.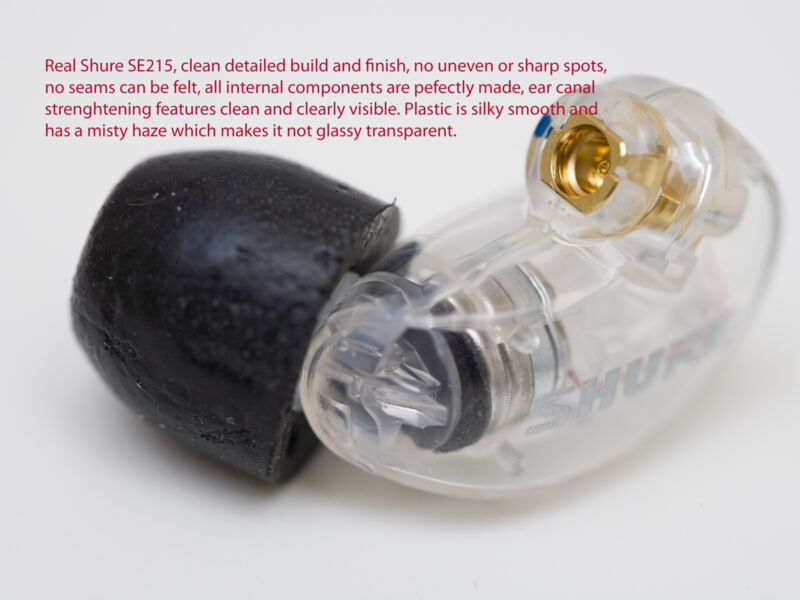 Fake Shure SE 215; photos of counterfeit products.
Below I post some fake SE215 photos illustrating the differences that I managed to notice.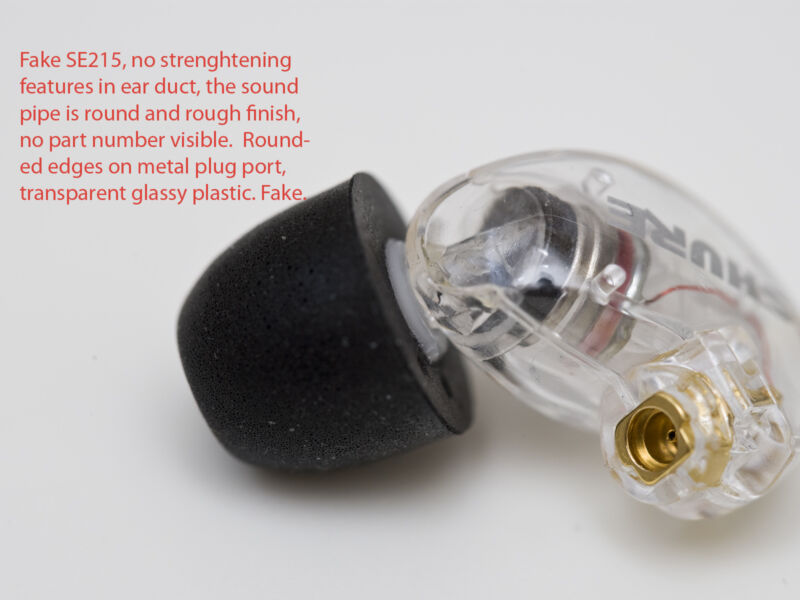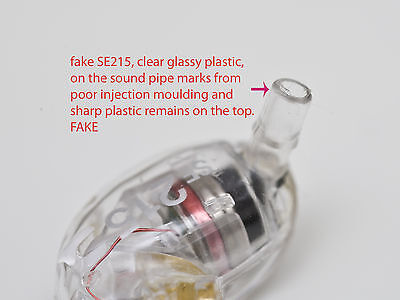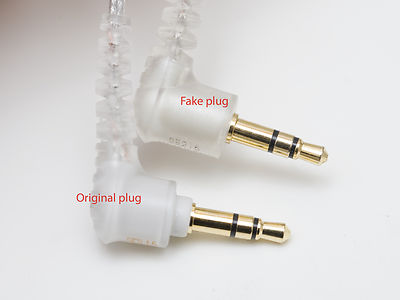 Fake Shure SE215 special edition photos.
Below I post photos of counterfeit Shure SE215 special edition. The give away signs are the same as above; poor manufacture quality, visible seams, joints and rough edges.


Conclusion
In my opinion even sellers do not know the difference. They purchase those fake earphones for around $30 from Chinese websites in bulk and and hope to sell them in UK for £50. Hard to blame them but that is not excuse. I appreciate the fact that unless you have good eyes, magnifying glass and genuine Shure earphones to compare with, you would not know the difference. Chinese wholesale websites market those fakes as "for SE215", for Shure SE215 or DIY SE215. DIY means reverse engineered and copied. Original Shure will last you many years and on the box in the recycle logo you can spot number 25 as this is the number of years the product is supposed to last. On the fake ones there is empty space inside the logo. How long are those supposed to last? Get my drift? At the end of the day buyers have to decide whether they like to keep the fake "cheaper" product. In the above guide I have provided an opportunity to spot the fake.
Many thanks for reading.