There are many examples of reproduction Tea Caddies currently on the market, all of which are made in the 21st century being passed off as Antiques! Fruit caddies are the most copied and unless you know the dealer well or buying from a dealer who belongs to a registered reccognised trade association beware of your purchase, you could be being duped into buying yet another copy, fueling the fire & lining the pockets of these fraudsters!!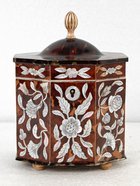 Their are 100's of Tortoiseshell tea caddies being imported into the country, some are very convincing & inlaid with mother of pearl & what appears to be Ivory but this is bone, the shapes are oval, Octagonal, typical regency shapes, bow fronted, tent tops & tortoiseshell house tea caddies with bone windows & these are so unique the Georgians, Victorians & Edwardians never had these in their time (Made in the 21st century)!!!
Equally another example being reproduced is the very rare "Harlequin Tea Caddy", these are the hardest to reccognise as new due to the fact the person making these are getting genuine tortoiseshell & Ivory tea caddies carcasses and applying a completely new Tortoiseshell, Ivory or Mother of Pearl decoration in the harlequin decoration. We have seen many of these and they are being sold for many thousands of pounds, some examples we have seen are decorated with green Tortoiseshell to.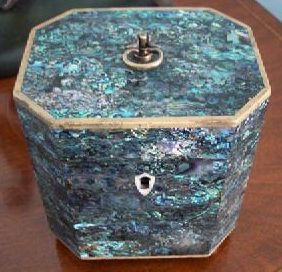 Painted folk House tea caddies and House work boxes is another largely faked and often made out of a simple wooden tea caddy which can be purchased for as little as £20, most of these original caddies are very primitive looking so the style and caddy is easily copied. Styles we have seen are Houses, Churches, Castles & Cottages.
Hampton Antiques are proud members of BADA, LAPADA, CADA & CINOA for your peace of mind, so you can buy with confidence.
We all like a bargain but if an item that normally sells for many thousands of pounds and you have been lucky enough to purchase it for several hundred, ask yourself the question have you really purchased the genuine article.



This little topic was brought to you by Mark Goodger of Hampton Antiques.
Happy ebaying!