How To Spot Fake YSL Cosmetics On Ebay

1. YSL ROUGE VOLUPTE - Silky Sensual Radiant Lipstick SPF 15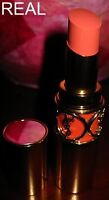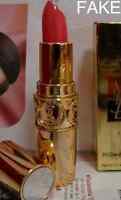 http://i50.tinypic.com/do07rm.jpg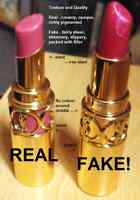 http://i50.tinypic.com/2nkur07.png <-- go here for full size image, ebay makes my photos small!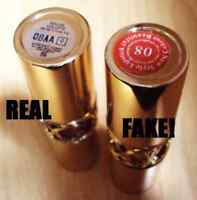 http://i46.tinypic.com/264jk1x.png
Just wanted to do a quick post to warn people of these counterfeit YSL Rouge Volupte lipsticks/Faux Cils Mascara floating around ebay. It is so disconcerting to see the huge amount of interest and bidding on these items!!
Now, you would think that any true YSL fan would instantly notice the striking differences from the packaging of the genuine lipsticks:
no colour around the middle
different size, no slant at the top
shape of actual lipstick
colour range of the fakes is completely different
they will (most likely) come in a genuine box with one of the genuine shades names on them.
They do not have the correct sticker on the bottom of the lipstick either (the one on the fake I purchased reads 'New Style Lipstick Colour Beautiful - colour stays on even after kissing - lips soft without dryness')
But sellers have ways of fooling people:
by using a

tiny image

where you cannot fully see the differences

the lid looks exactly the same - a photo of one of these with the lid on and they would be far more similar.

They may be described as :
a new range

of YSL lipsticks or new packaging design


faulty stock

- with packaging/box/colour defects


I have included some more tips on how not to be conned by these lipsticks at the end of this guide.

Another example of a fake - It appears to have the authentic box but one of the typical fake lipsticks. The angle, mirrored lid and box make it appear genuine but you can see the shape of the lipstick is different and there is a white ring of plastic around it - there is no space between the authentic lipstick and the gold metal. The colour also looks completely off.
With the fake liptsick I purchased the mirror on the top is terrible quality and just shows a very blurry reflection - HOWEVER I have purchased some lipsticks from YSL counters in other countries outside the UK and they do not have a mirror on the top at all, so no mirror doesn't neccessarily mean its fake!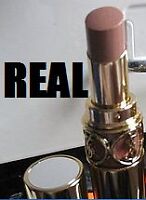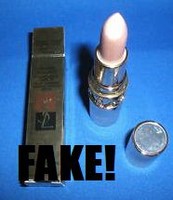 --------------------------------------------------------------------------------

2. Yves Saint Laurent Luxurious Mascara For A False Lash Effect (also known as Mascara Volume Effet Faux Cils)
If you're going to buy a mascara from a high end brand on ebay, make sure you contact the seller first asking whether it is 100% genuine.

I have sent many of these messages and all have been honest enough to say they are not 100% sure or that they are high quality copies from China etc - sellers of counterfeit goods do not want sceptics buying their products because it will likely lead to bad feedback!
The most common fake currently being sold is pictured below.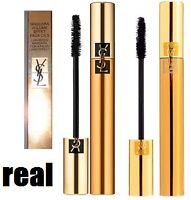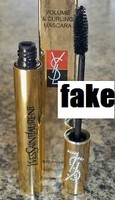 View full size at: http://i47.tinypic.com/23i7yf9.png
Note: of the two new mascaras the one on the left is the newest false lash effect mascara 'Noir Radical'. Both are genuine YSL.

Fake Mascara:

Tacky diamante lettering on the lid.
YvesSaintLaurent written on the tube. Note - this, however, IS written on genuine YSL eyeliner and Touche Eclat illuminator.
A different shaped brush
A different box - though some are sold with the genuine box
Very different and much less classy, but somebody who is just getting into YSL makeup could easily be fooled by this, especially when seeing how many are selling and have bids on! They will be called all sorts of names but are most likely to be listed under YSL FALSE LASH EFFECT MASCARA or YSL FAUX CILS MASCARA or something similar, with minimal info in the description. I have not purchased one of these but I can guarantee the quality will be very poor and as with all counterfeit products, I recommend you don't use these as you don't know what they're made of, especially with a product meant for use near the delicate eye area!
Update:
More convincing fake packaging. Compare with authentic and you will see its still very different, and the brush is differently shaped. These are being sold wholesale for about 50p each, so you can see how people make a profit on these things by taking advantage of ebay members.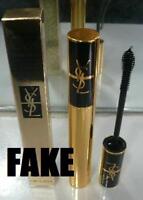 -----------------------------------------------------------------
I do not recommend buying YSL mascara online - along with Diorshow & Lancome Hypnose - there are just so many fakes being sold on ebay.

Also, if it is very cheap and looks genuine

it may be very old out of date stock which isn't always safe to use and won't be the same quality
it may be a new and better fake. for example, fake Diorshow mascara looks almost identical to the real thing (you can find guides on this online).
it may not be black/the colour you want so always check this.
-----------------------------------------------------------------

More tips

- how to avoid being conned.
1. If the price of one of these lipsticks/mascaras seems too good to be true, it probably is.
If its mindblowingly cheap, its most likely
been used/swatched a few times

- this is usually stated so be sure to read listings carefully.


a tester

- also usually stated - with lipstick it will come with a plastic lid - make sure its brand new.

2. Don't send rude/angry messages to a seller
before giving them a chance to explain themselves. It is possible that they were not aware the item they were selling was a fake. Be polite and they will most likely issue a full refund in order to avoid you giving them negative feedback.
3. Don't leave feedback until you have received the item
and are 100% sure it is genuine.
4. Always read a sellers negative feedback
- they may have 500 positive feedback and 4 negatives - and these 4 people may be the only die hard YSL consumers who know when they've purchased a fake product and will write it in the feedback.
-----------------------------------------------------------------
And just a quick note - there are currently tons and tons of fake Benefit products being sold so watch out for these too, I'm sure there are some ebay guides somewhere.
The biggest amount of counterfeits for a brand still seems to lie with MAC - be
extremely
careful buying MAC off ebay, there are many guides on this & bear in mind the tips included in this guide when purchasing cosmetics in general from ebay. They really need to crack down on this problem!
thanks for reading! please click 'yes' if you found this helpful :)
-----------------------------------------------------------------