Fake or Genuine - How to tell the difference from the code
.
Ever wonder what the code on your Yonex racket tells you? The code on a Yonex racket actually have hidden meanings to it, understanding the code lets you know more about your racket. Read on to find out!
There are actually 3 separate parts to the code. Part 1 is the actual serial number, part 2 is the date code, and part 3 is the distribution code.
The serial number is a simple 7-digit serial number that increases with each manufactured racket. This number is unique.
The date code tells us when the racket was manufactured. It is coded this way DDMMYxCC
Where DD is the day, MM is the month, Y is the year after 2000.
The CC is the distribution code, it tell us where the racket is destined for. We will talk about this in the 2nd part of this article.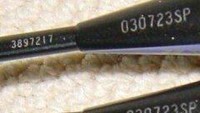 For example, 3897217 030723SP says the serial number is 3897217; the racket was manufactured in 3rd July, 2002. And the distribution code is SP (Singapore)
With this information, you can tell exactly when your racket was manufactured. The distribution code
The CC two digit codes is the country of distribution code. This is the distribution code, and it is NOT manufacturing code. In other words, it absolutely does not tell you which country the racket is made in.
SP is a very common country code as SP (Singapore) is the main distributor of Yonex rackets in the SE Asia region. So there are many SP racket there.
The known codes that we know of are:
AS - Australia
BR - Brazil
BX - Belgium/Netherlands
CD - Canada
CH - China
CN/CP - Chinese National Team
DK - Denmark
FR - France
GR - Germany
HK - Hong Kong
ID - India
IN/IP - Indonesia
JP - Japan
KR - Korea
MA - Malaysia
NZ - New Zealand
SD - Sweden
SP - Singapore
SW - Switzerland
TH - Thailand
TW - Taiwan
UA - United Arab Emirates
UK - United Kingdom
US - USA
There are also other more mystery distribution such as; SPY; for the old style code.
Dont forget
! that new Yonex rackets also have hologram stickers, laser engraved serials
and weight type. Fakes can have a genuine feel, but the ultimately the performance well
let you down.
All the best!!
y0nex
By the way, heres yonex's guide to fake finding:
http://www.yonex.com/img/jpg/bad/notice.jpg