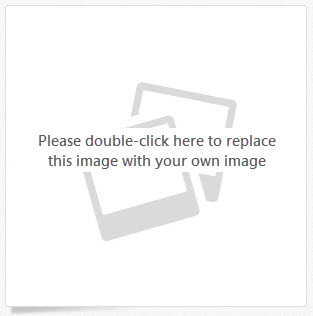 A significant amount of fake and counterfeit gold has be surfacing all over the UK and on ebay.
The counterfeiters are capitalizing on the booming scrap gold market by selling lookalike gold jewellery to unsuspecting members of the public. To the untrained eye these counterfeit or fake gold items look just like the real thing including fake stamps/hallmarks, the most common items appearing on the market have been chunky gold rings and curb style chains of quite significant weight. You will lose your money. Remember if it seems to good to be true then it probably is, Buyers beware Examples of fake gold hallmarks
The base metal which is usually Brass is used for its weight.
Fake 18kt stamps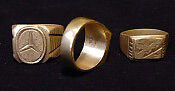 Fake Gold coloured Brass Chunky Rings
these example's are fake 18kt (750) "gold" rings, the type that are offered to the unsuspecting public on ebay. pay particular attention to the way the stamp has been applied to the item, the poor quality of the characters and the lack of a number 7 on the 750 stamp due to crude "hallmarking" punch stamps being used.
If you suspect you might have purchased some fake or counterfeit gold jewellery then take it along to your local qualified jeweller where he or she will be able to test the item and confirm it fake or genuine. Take some time to educate yourself about Hallmarks and the hallmarking act before you buy, it's your only guarantee of authentic Gold. Always remember, if it seems too good to be true then it usually is too good to be true.xxxxxxxxxxxxxxxxxxxxxxxxxxxxxxxxxxxxxxxxxxxxxxxxxxxxxxxxxxxxxxxxxxxxxxxxxxxxxxxxxxxxxxxxxxxxxxxxxxxxxxxxxxxxxxxxxxx
xxxxxxxxxxxxxxxxxxxxxxxxxxxxxxxxxxxxxxxxxxxxxxxxxxxxxxxxxxxxxxxxxxxxxxxxxxxxxxxxxxxxxxxxxxxxxxxxxxxxxxxxxxxxxxxxxxxxx
xxxxxxxxxxxxxxxxxxxxxxxxxxxxxxxxxxxxxxxxxxxxxxxxxxxxxxxxxxxxxxxxxxxxxxxxxxxxxxxxxxxxxxxxxxxxxxxxxxxxxxxxxxxxxxxxxxxxxxxx
xxxxxxxxxxxxxxxxxxxxxxxxxxxxxxxxxxxxxxxxxxxxxxxxxxxxxxxxxxxxxxxxxxxxxxxxxxxxxxxxxxxxxxxxxxxxxxxxxxxxxxxxxxxxxxxxxxxx