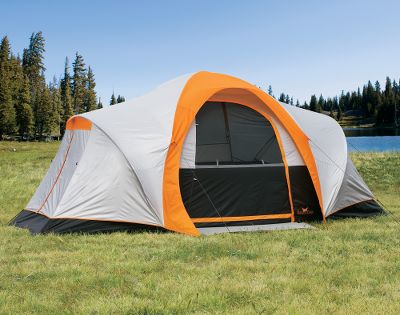 Camping is one of the most enjoyable and enriching activities that a family can take part in. Not only can it be a fun yet educational outing for children, the solitude that camping can offer is also a welcome rest from the modern, fast-paced lifestyle that parents must lead. Perhaps even more attractive is the prospect that camping can provide a rather inexpensive holiday option, which could save large quantities of money for parents, especially if they have a particularly large family.
Before any camping can happen however, a tent is necessary. Luckily these days there is a huge market for high quality camping supplies and tents are no exception. Every camping brand will produce numerous tents that are designed with families in mind, with useful features to make any camping trip all the more enjoyable.
With that in mind, this eBay guide will explore the kind of tents that will be on offer to families if they decide to purchase one, what sorts of features are important to look out for and finally how to find and purchase a tent quickly and simply using eBay.
What Different Designs of Tent Are Available?
There are a large number of different tent designs that are available to consumers on the modern camping equipment market, these different kinds of tents are specially designed with specific jobs in mind, so buyers should begin to get a clear idea of what functions they will need their tent to perform so that they can establish what kind of tent is going to work best for them and their family.
The following four tents are the most commonly available designs that buyers are likely to be presented with:
Tunnel Tent
A tunnel tent is about as basic model as anyone could ask for. They simply consist of a long tunnel that is usually raised along the middle with two or more poles to provide a living area within the tent.
The main advantage of a tunnel tent is that it provides users with a great deal more headroom than other similar sized tents of different designs do.
This is of course useful for parents who need to perform tasks such as cleaning or changing small children.
The downsides of buying a tunnel tent if you have children however is that they will usually come in no bigger than 2 or 3 man sizes which can be an issue for families with a large number of children.
The other issue is that they are not as stable as some other designs, meaning they could be pulled over by an unwitting younger child.
Dome Tent
Dome tents have become an extremely popular option for many campers in recent years and there are plenty of advantages to taking a dome tent on a family camping trip.
Firstly, these tents are incredibly fast and simple to put up, this is a factor that makes them very popular with families and especially young families as they reduce the amount of time that small children have to be left unsupervised whilst the parents need to erect the tent.
They are also reasonably lightweight models, this is handy for a family camping trip as it is likely that there will be plenty of luggage to carry already, so a lightweight tent is a must have.
The only issue that some families have with dome tents is that whilst they are generally more structurally sound than a tunnel tent; they can also be prone to collapsing or being pulled over, especially by children who may be playing in or around the tent. This aside, dome tents are good tents for family use.
Semi Geodesic Tent
Whilst tunnel and dome tents probably represent the more inexpensive end of the price spectrum, semi geodesic tents and the fully geodesic tents that are featured below should be seen as more expensive options. Semi geodesic tents come with three poles, as apposed to the two, which are usually used in a dome or tunnel tent setup.
These tent poles are all intertwined, providing the overall structure with a great deal of stability compare to two pole models. This factor makes them fantastic family tents, coupled with the fact that they also provide a good deal of space within underneath the canopy that makes them comfortable for a family to live in.
Whilst these advantages do make semi geodesic tents perfect family tents, they are also generally more expensive than tunnel or dome tents, as they are considered to be serious specialist camping equipment. For this reason, it is recommended that only serious campers and families who expect to get a great deal of use out of their tent opt for this model.
Fully Geodesic Tent
As stated in the section above, full geodesic tents represent the higher end of the tent market. Fully geodesic tents are almost identical to semi geodesic models apart from the fact that they are usually constructed using four poles for even more structural stability.
These tents are the strongest that are readily available on the market and have the ability to remain stay standing in the harshest conditions including high winds and heavy snowfalls. Parents may find this an attractive quality as the safety of their children is bound to be one of their primary concerns when choosing the perfect family tent.
These tents however are often used by mountaineers and again are considered specialist camping equipment, therefore they are commonly the most expensive kind of tent that most retailers will have for sale. Again for this reason it is advised that shoppers only purchase a fully geodesic tent if they feel that it represents good value for money based on the usage it will receive.
Which Features are Useful on a Family Tent?
Once a family has decided on what tent design will work best for them, there are plenty of other features that have been developed to make users' camping experiences more comfortable and enjoyable. It is worth researching these so that families can decide which of these features are of interest to them so that they can buy a tent that will suit their needs adequately.
Separate sleeping chambers have become increasingly common features that are integrated into family tents by designers. These are effectively private bedrooms that sleep one or more people, often connecting to a larger communal living area. There are tents on the market that have up to eight separate sleeping chambers within them which makes them an ideal feature for even the largest of families.
A canopy is another feature that many families find useful to have on their tent. A canopy will usually bit situated across the front entrance of a tent and will provide a reasonable amount of protection from the elements, allowing campers to sit outside in the fresh air regardless of the surrounding weather conditions. A canopy is the perfect feature for any family planning a camping trip within Britain for this reason.
Multiple entrances are another feature that is especially useful to campers, especially if they have large families. Multiple entrances allow people to move freely and easily in and out of the tent when camping with a large group. They are especially convenient if a camper needs to go to the toilet during the night, but does not want to wake up the rest of their family.
Family Tent Safety
Safety is obviously one of the upmost concerns of any family who decides to take a camping trip; therefore it is important to think about this safety advice before embarking on any break:
Never start a fire or cook any food within a tent itself, most tents are made of incredibly flammable material and could cause injury to all inside if ignited.
Always sweep a potential camping pitch for glass, sharp sticks and stones and any other potential hazards before erecting a tent, failure to do so could also result in injury.
Be careful when walking around the outside of a tent, guy ropes are often practically invisible and present a huge tripping hazard. Be careful to warn any children not to run around in close proximity to the tent.
Buying a Family Tent on eBay
With plenty of features incorporated into the site to make finding the perfect camping equipment as easy as possible, there has never been a better time to search for a family tent using eBay. Here is a list of tips and tricks that will help families find their next tent without having to browse through hundreds of listings for camping equipment that does not interest them.
eBay have helpfully provided camping enthusiasts with a selection of personalised search filters that allow users to narrow down their search and only look at tents that match their requirements.
For example, when a user inputs the term, "tents" into their search bar at the top of the page, they will be presented with a number of camping related search filters along the left hand side of the page.
Using this method, users can now browse tents by the number of people that they sleep, the brand they were manufactured by and the condition they are in, either new or used.