Famous Numismatists (Coin Collectors)

Kings, queens, emperors, presidents, and other famous people are often featured on coins, either as head of state, and usually on the obvers or "head" side of coins, or sometimes honoured for some great achievement, usually on the "reverse" side of commemorative coins. However, throughout history a good number of famous people have also collected coins.
There are many numismatists who are often referred to in the numismatic world as "famous", but these are mainly people who are famous principally, or entirely because of their numismatic influence, either through numismatic reaearch and publications, or trough the size and scale of their collections.
This page is about great, famous or important people who happen to be, or have been coin collectors.Famous coin collectors (numismatists) include the Roman emperor Augustus, Louis XIV of France, US President John Quincy Adams, and King Farouk of Egypt.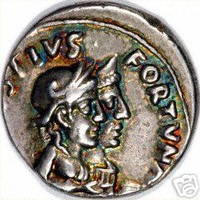 Augustus
It was customary in Rome, as it also had been in Greece, to present coins as gifts on festive occations, a tradition which Ovid recorded.
The historian Suetonius (in Augustus 73) records that Emperor Augustus would distribute on the occation of the Saturnalia festivities, among other precious gifts, various unknown foreign coins or coins with portraits of ancient kings "...nummos omnis notae, etiam veteres regios et peregrinos."
Interest in old coins was continued by some of Augustus' successors, Titus, Domitian and especially Traian; in fact, the latter reissued some silver and a few gold coins of not only his predecessors, but also of the roman republic. Such restitution coins, marked clearly as such by the addition of the inscription REST[ITUIT], duplicated exactly the design and legend of the original. That is a clear evidence that some sort of collection must have existed.
Pliny was surprised to learn that "spurious methods are objects of study, and a sample of a forged denarius is carefully examined and the aldulterated coin is bought for more than genuine ones."
King Louis XIV of France
The Sun King, Louis XIV (14th) of France, enjoyed the French Royal Coin Collection so much that he visited it every day, remarking that he could 'always find something new to learn'.
US President John Quincy Adams
John Quincy Adams, 1767 - 1848, was the sixth president ot the USA from 1825 to 1829, also collected coins, including ancient Roman coins. His collection was owned by the Massachusetts Historical Society, but sold by auction in 1971.
King Farouk of Egypt
The reportedly unique 1933 US gold double eagle, which sold for a world receord price of $7,500,000 was once in the personal collection of King Farouk of Egypt, who apparently acauired it in 1934. Due to be sold at auction by sotheby in 1952, the US government requested its return, but it disappeared, and is believed to be the same coin sold in 2002.
Jed Clampett
The actor Buddy Ebsen, collected ancient coins. He was more familiar as his character, the hillbilly oil baron Jed Clampett
Nicole Kidman
We read somewhere that Nicole Kidman collects ancient Judean coins, although this may be a media invention, or just simply inaccurate. If we get to meet her, we will try to remember to ask her about her coin collection. (Come upstairs and look at my testoons?).
Tony Blair
UK Prime Minister Tony Blair received a set of Russian coins, valued at £200, and was one of the few gifts which he kept personally. Under House of Commons rules, all gifts worth over £140 must be declared, and if the Member wishes to keep them, must pay the market value, over and above the first £140. We have e-mailed the Prime Minister's office to request a more complete specification of the coins, and await the reply with baited breath.
About the Author
Lawrence Chard is a director of Chard Coins of Blackpool, England, and has over 42 years experience in numismatic and bullion coins.
Chard have maintained a dealing service for both collectors and investors in bullion and numismatic coins. During the period from 1965 to 1971, we were one of only a small number of dealers who were granted a dealers licence.
Copyright
All our images and text are copyright.
Was This Guide Useful?
If you found this guide interesting, informative, useful or entertaining, please spare few seconds of your time to vote for it by clicking on the "Yes" button below, thanks. If not, please think about letting us know why it was not useful.
Other Guides
You may be interested in viewing our other guides:-
Gold Sovereigns - History Information & Specifications
Mints & Mintmarks on Gold Sovereigns - All Seven Mints

How to Photograph Coins - Advice, hints, tips & more...
1780 Maria Theresa Silver Thaler Restrike Trade Coin

Krugerrand - One Ounce Investment Gold Coin

Buffalo - 9999 Fine Gold US Bullion Coin - 24 Karat Au

Pink Diamonds - One of Nature's Rarest Gemstones
Sniping - Is It Good Strategy or Tactics for Winning eBay Auctions?
£2 Two Pound Coins Queen with Necklace Rumour & Facts

Winning Auctions - Or Spending Money?
CGT Capital Gains Tax Exemption on Gold Sovereigns Britannias UK Coins

Definition of Investment - VAT Exempt (Tax Free) in UK & EU

Second Chance Offers on eBay - Should You Use Them?

Spellings - Is Good Spelling Important - A Few Howlers
BNTA - The British Numismatic Trade Association
Identifying Coins, A Brief Guide to Help Identify Coins
Heads Upside Down on Coins - Medal & Coin Alignment
Gold Coins Which Are Not Gold - Including German & € Euros
Postage Packing Shipping Insurance Charges - Fair or Excessive?
The Difference Between Proof and Uncirculated Coins
London Gold Fixing Price
Gold Bullion Bars For Investment