Fancy Dress parties are great fun for Kids & Adults, this guide will help you make a success of the party if you or hosting one or make an impact with your costume if you are going to one.
Hosting a Party
Give It A Theme
You can have just a general party, but it is even more fun if you give your party a theme and it will inspire your guests. Some good ideas are wild west, pimps & ho's, gangsters & molls or 60's 70's etc . I went to one last year that was an alphabet party which meant you had to come as something beginning with the same letter as your first name, I went as the lion from the wizard of Oz Louise- Lion.
Send Out Invitations
I would send out invites at least 3 weeks before so people have lots of time to get organized, tell them what your theme is and ask for an RSVP so you know numbers. You can make your own on the internet or buy them for a few pence each from your local pound shop. Don't spend loads on them they only get thrown away.
Set The Scene
There are loads of things you can get these days to set the mood, for example if you are having a western party you can get cardboard saloon doors or a blow up cactus! If you are having a theme why not try and theme the food and drinks too? If you are having a bond theme serve martini's (shaken not stirred) You get the idea!!
Attending A Party
Make An Impact
We all want to make an impact at a party and even more so at a costume party, the best way to do this is to not tell anyone about your costume! Keep it a secret and only reveal when you arrive at the party.
Fancy Dress Cheap but Chic
You don't have to spend a fortune on your costume to make it look great, but I would advise to invest in some accessories they really can make your costume. For example you can get a gangster costume in my shop for only £11.50 that on its own looks good but add a spiv tash some spats and a tommy gun and you look the business. It really is the little details that count, girls look on the internet for make up and hair style tips for your theme and remember a wig will make you look like a totally different person!!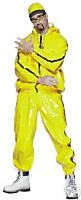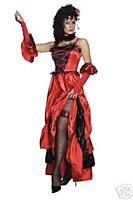 Well that's it from me enjoy your parties I'm off to a halloween party this weekend as Cruella Deville!!