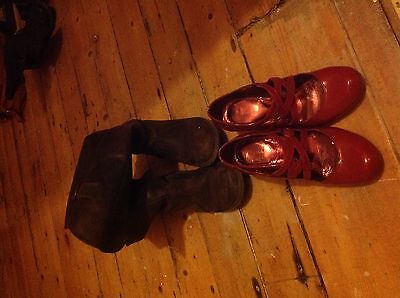 If you don't mind second hand clothing and you want labels on a budget, then eBay is the right place for you.

Over the past few years I have built most of my wardrobe on purchases from eBay, from coats to shoes, suits to party dresses, I've bought it all! But how do you make sure that you get what you want without paying through the roof?

The first thing you need to do is make sure your search is bringing back the best possible results. I try not to be too prescriptive. If I want a Ralph Lauren sweater in a size small, I try a number of different search terms as often things are mislabelled. I also don't necessarily look at categories because users frequently mislabel the categories as well. Searching "Ralph Lauren polo small" " Ralph Lauren jumper small" "Ralph Lauren knit small" will bring back multiple results. I then filter to "auction only" as buy it now is rarely going to save you lots of money! Then I start watching, sometimes 6 of the same thing to maximise my chances of getting it at the best price.

Be clear with yourself on how much you want to spend, remember some of these items will have been around the block a bit. Don't spend the retail price on them unless they still have labels on! It's worth looking at similar items brand new to get an idea of how much you would be saving. Don't be afraid to set a maximum bid and walk away if the bidding is going too high, bargain hunting is about feeling good, not guilty!

The time of day that you search can also be key to finding your bargain. Not that I advocate staying up all night to search but I get my best bargains very early in the morning and by filtering to "auction only" and "ending soonest".

When looking for bargain clothes be careful- not everyone is honest or careful when listing items. Check the sizing very carefully as in women's clothing in particular sizes are often mislabelled as their American equivalent- 2 sizes bigger than UK sizes. Look for photographs of the label and don't be afraid to ask the seller to clarify the sizing!


Looking for second hand clothing isn't the only way to get a bargain, some stores sell their surplus products in eBay. Easily my best eBay purchase were my leather Fly boots for £60 from the Schuh eBay shop. They were ex display and brand new! Given that they retail at £120 this was a complete bargain. Shops like Boden and Schuh sell items at a reduced price, brand new. There are plenty more out there and definitely worth checking for amazing bargains.

Lastly, keep an eye the daily deals as often brand new clothing and shoes are listed at a much reduced price.

eBay bargain hunting is all about persistence and not being afraid to watch many items at once! Happy hunting!


N.B. I have taken part in a Bzzagent campaign asking users to write eBay guides.