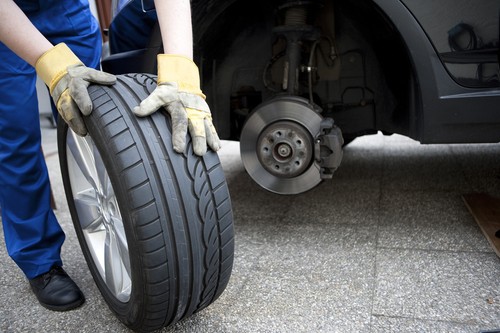 In the case of a puncture or other tyre damage, a car owner needs to replace the bad tyre with a new one. Damage to a wheel rim necessitates that a new rim be installed. Some events, such as auto accidents, damage both the tyre and the rim. Although owners can purchase a new wheel and a new tyre separately, consumers may instead wish to shop for wheels with tyres.
Moreover, there are other reasons to purchase wheels that have tyres already fitted to them. For example, a driver who wants to completely change the wheel size and customise a vehicle may opt to purchase previously owned wheels with properly sized tyres already on the rims; the seller may be getting rid of the tyres and wheels because of his or her own wheel change. Obtaining used wheels and tyres in good condition can save the buyer a great deal of money. However, one can also purchase brand-new tyred wheels. A wheel with a tyre could also be a spare tyre or space-saver tyre for carrying in case of a flat.
Buying wheels with tyres requires taking (or knowing) the correct measurements to guarantee the new wheel fits onto the car correctly without throwing the vehicle out of balance or making it unsafe to drive. Shoppers may also wish to decide what kinds of wheels and tyres they are interested in and consider possible manufacturers as well.
The Four Crucial Measurements
Fitting wheels and tyres onto a car requires four measurements to be met. Wheels require only two measurements, width and diameter; however, with the tyres included, the tyre width and aspect ratio must also be taken into consideration.
Wheel Rim Width
Wheel rim widths are typically measured in inches. Most tyres sold are between 4 inches and 15 inches wide. Narrower tyres are generally spare or space-saver tyres. Many tyre widths are listed with the letter "J" after the width, such as "7J". The letter refers to the shape of the flange, with the J shape being the most common.
Wheel Rim diameter
The wheel rim diameter is the same as the inside diameter of the tyre. Normal rims range from 10 inches to 23 inches. Keep in mind that this measurement refers to the rim on which the tyre fits, not the outside diameter including the flange. Wheel diameters on the lower end of the spectrum are typically for golf carts and other such small vehicles, whilst wheels about 20 inches or greater in diameter are considered oversized. It is important that the car's wheel well and axle can accommodate a certain size of tyre; oversized tyres often require some mechanical modifications. Also, installing larger or smaller wheels than the original equipment manufacturer (OEM) wheels can affect the speedometer, odometer, petrol expenses, comfort, and car handling.
Tyre Width
Oddly, although rim width is normally listed in inches, tyre width is often marked in millimetres. Tyres typically range from 125 millimetres to 355 millimetres. Millimetres can be converted to inches by dividing by 25.4 when necessary, and inches can be converted to millimetres by multiplying by the same figure. Standard tyre width is often referred to as "section width", although there are other tyre width measurements, such as the overall width, tread width, rim width, and loaded width. Know that the section width is not exactly the same as rim width; it is usually wider.
Aspect Ratio
The aspect ratio, or profile, confuses some people because it is not a measurement, but a percentage that reflects the height of the sidewall as compared with the width of the tyre. For example, if a tyre is listed as having an aspect ratio of 50, this means 50/100. In translation, the tyre's sidewall is half the tyres width, or in other words, the sidewall measurement is equivalent to 50 per cent of the width measurement. So if a tyre that is 155 millimetres wide has an aspect ratio of 50, then its sidewall height is about 77.5 millimetres. The aspect ratio can range anywhere from 25 to 85, depending on what type of vehicle the tyre is for.
The tyre's profile is important because it affects the way the car handles and the smoothness of the ride. In some cases, an improper aspect ratio can adversely affect the accuracy of the speedometer and odometer. Also, to keep the overall wheel diameter the same, one must get tyres with a smaller aspect ratio when increasing wheel size, and the reverse is true when downsizing the wheel diameter.
Matching Rims to Wheel Hubs
When purchasing wheels with tyres, it is crucial that the new wheel can be fastened to the existing wheel hub. The hub's configuration dictates the type of wheel by the number of bolts present, the pattern in which they are placed, their distance from each other, and the diameter of the bolt circle. To figure this diameter, measure directly across the hub from one bolt to the one across, or to the space between the two opposite bolts if there is an odd number of bolts.
Wheel Materials
Car wheel rims come in different metals. The most common ones are steel and alloy. Even though steel itself is an iron alloy, it is routinely categorised separately when it comes to wheels. Alloy wheels may be made of aluminium or magnesium. These alloys are lighter in weight and generally considered to be more attractive. The choice between steel wheels with tyres and alloy wheels with tyres is a matter of personal preference for the buyer.
Wheel Rim Manufacturers
Another feature to look for when buying wheels with tyres is the manufacturer of the wheel. Some buyers are partial to certain wheel companies. Popular brands of wheels with tyres come from:
AEZ
Alutec
Borbet
Dezent
Dotz
OZ Racing
Ronal
Speedline
Team Dynamics
WolfRace
Plenty of other wheel makers exist as well, hence, the tyre maker may be a factor to decide on also. Consumers can research companies they have never heard of if they are considering making a purchase from such a company; however, ensuring that the wheel and tyre fit correctly is the most important consideration.
Where to Find Wheels with Tyres
Depending on whether one is wanting new or used merchandise, one can purchase wheels with tyres from auto parts shops, auto mechanics, car dealers, wheel manufacturers, tyre companies, and scrap and junk yards. Buyers can also check classified adverts and online auction sites.
How to Find Wheels with Tyres on eBay
To shop for wheels with tyres on eBay, first go to all categories by clicking the link on the home page. Next, review the categories in the directory and choose the one most likely to include wheels with tyres. Continue to select sequentially narrower groups of merchandise until you arrive at wheels with tyres. Once there, you can use category filters to specify the make and model of the vehicle and the size of the desired wheel and tyre.
Another shopping method is the keyword search. This is particularly helpful if you have clearly defined criteria available, such as measurements and a manufacturer. You can return to the home page and try typing in a set of words that describes what you want, such as "20 inch BMW wheels with tyres". As with the directory method, you can narrow down your results by clicking on one or more category filters.
Because wheels with tyres are bulky and heavy, they can be quite difficult and costly to ship. Many eBay sellers specify "collection only" for large items. You can use the Distance filter to enter your postcode and find a local seller, and then you can arrange to meet the seller for a pick-up. You can also specify items with free P&P only. Sorting the results to display UK only items can also save on shipping expenses as opposed to having items sent from across the European Union or outside of Europe.
Conclusion
Buying wheels with tyres is a good idea if one's car did not come with a spare tyre. While some new cars come with a repair kit and a compressor for reinflation, many drivers prefer to have an actual spare tyre on board, regardless of how much space it takes up in the boot. Other reasons to purchase wheels with tyres include switching out all the wheels for a different size or replacing a wheel and tyre that were damaged in a wreck.
Before buying wheels with tyres, it is important to be sure that they fit on the existing hubs and work well with the car. Wheels and tyre size is calculated by measuring the tyre's section width and its aspect ratio in addition to the wheel width and diameter. A car owner should also be aware of the bolt pattern on the hub to ensure that the new wheel can be properly attached to the vehicle.
Anyone shopping for tyres and wheels should note the two primary wheel materials: steel and alloy. Finally, be sure to check the owner's manuals to verify all wheel and tyre specifications before making a purchase. By following these steps, drivers can purchase convenient wheels with tyres already attached, install them on the vehicle, and drive off with pride.