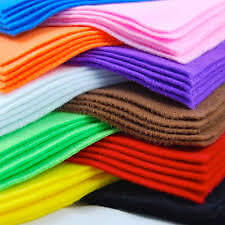 Felt is the oldest form of fabric in existence. It pre-dates weaving. Felt is produced by matting, condensing and pressing fibres together with moisture and friction. Felt can be very firm or very soft depending on how densely it has been pressed.

Felt was originally made from animal fibres such as fur and wool, but it is also possible to make synthetic felt, from fibres such as acrylic.
There are many different types of felts for industrial, technical, designer and craft applications. While some types of felt are very soft, some are tough enough to form construction materials. Felt can vary in terms of fibre content, colour, size, thickness, density and more factors depending on the use of the felt.

Feltmaking is still practised by nomadic peoples in Central Asia, where rugs, tents and clothing are regularly made. Some of these are traditional items, such as the classic yurt, while others are designed for the tourist market, such as decorated slippers. In the Western world, felt is widely used as a medium for expression in textile art as well as design, where it has significance as an ecological textile.

Wet felting
Wet felting is one of several methods which can produce felt from wool and other animal fibers. Warm soapy water is applied to layers of animal hairs placed at 90 degree angles to one another. Repeated agitation and compression causes the fibers to hook together into a single piece of fabric. Wrapping the properly arranged fiber in a sturdy, textured material, such as a bamboo mat or bubble wrap, will speed up the felting process. After the wet felting process is complete, the felted material may be finished by fulling.
Only certain types of fibre can be felted successfully. Most types of fleece, such as those taken from the alpaca or the Merino sheep, can be put through the wet felting process. One may also use mohair (goat), angora (rabbit), or even dog hair. These types of fiber are covered in tiny scales, similar to the scales found on a strand of human hair. Wetting and soaping the fleece causes the scales to open, while agitating them causes them to latch onto each other, creating felt. Plant fibres and synthetic fibres will not felt.

Needle Felting
Needle felting is a popular fibre arts craft that creates felt without the use of water. Special needles that are used in industrial felting machines are used by the artist as a sculpting tool. While erroneously referred to as "barbed" needles, they in fact have notches along the shaft of the needle that grab the top layer of fibres and tangle them with the inner layers of fibres as the needle enters the wool. Since these notches face down towards the tip of the needle, they do not pull the fibres out as the needle exits the wool. Once tangled and compressed using the needle, the felt can be strong and used for creating jewellery or sculpture. Finer details can be achieved with this method using a hand-held tool with either a single needle or a small group of needles (2-5), so it is popular technique for producing 2D and 3D felted work.

Uses of felt
Felt is used everywhere from the automotive industry and casinos , to musical instruments and home construction as felt paper. It is often used as a damper. In the automotive industry, for example, it damps the vibrations between interior panels and also stops dirt entering into some ball/cup joints.
Many musical instruments use felt. On drum cymbal stands, it protects the cymbal from cracking and ensures a clean sound. It is used to wrap bass drum and timpani mallets. Felt is used extensively in pianos; for example, piano hammers are made of wool felt around a wooden core. The density and springiness of the felt is a major part of what creates a piano's tone.

A felt-covered board can be used in storytelling to small children. Small felt cut-outs or figures of animals, people, or other objects will adhere to a felt board, and in the process of telling the story, the storyteller also acts it out on the board with the animals or people. Puppets can also be made with felt. Felt pressed dolls were very popular in the nineteenth century and just after the first world war.