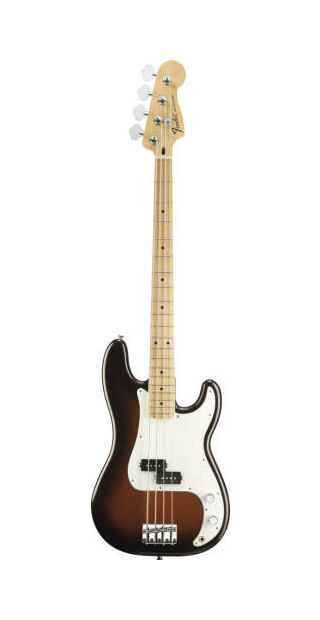 The bass guitar evolved from the huge string double basses that were so popular with early rock bands in the late 1940s and early 1950s. However, it quickly became apparent that a more powerful sound was needed to be heard over increasingly loud electric guitars. Although Fender was not the first manufacturer to release a bass guitar, it was the first to produce one on a massive scale. Fender has since grown into the world's leading guitar manufacturer, and instruments bearing the famous Fender logo guarantee the owner a product that will last a lifetime.

A good bass guitar will be able to deliver a pure bass sound with ease. In most respects, an electric bass guitar made by Fender is fundamentally the same as any electric guitar; it will always have volume, tone, and pickup controls. However, there are some significant differences which are designed to facilitate much lower pitches. Fender bass guitars are now used by many of the world's leading bands; indeed, the distinctive sound of a bass usually defines most modern pop and rock songs.
Selecting the Best Fender Bass Guitar for the Individual
Choosing the right guitar for the right person is often a case of trial and error; in fact, some professional musicians can try out several bass guitars before selecting the best one for their needs. The basis for this decision will occasionally surround the shape and size of the Fender bass guitar, but it usually involves the sound each model creates. A vintage Fender will usually be a very expensive purchase, but there are some very good bargains to be found for those who are prepared to shop around.
The Precision or the Jazz?
Fender's iconic Precision – or P-Bird - was the world's first mass-produced electric bass guitar. It was given a split pickup which includes two single-coils that result in a humbucking effect. The basic design was based on Fender's Stratocaster, and it is still one of the most recognisable guitars in the world. The Jazz Bass was first introduced to the market by Fender in 1960. It had a completely different design to the Precision, and its two pickups were separated; a move that produced a brighter sound with a distinct emphasis on treble.
The Various Types of Fender Bass Guitar
The original Fender guitars were made in the USA; however, there are now factories in several countries, including Brazil and Japan. Although there are some fakes around, buyers can cross-check the serial number of a guitar with the company in order to ascertain its authenticity.
There are now several different types of Fender bass guitar to choose from, and they all offer different sounds and playing experiences for the user. Most Fender bass guitars have been inspired by the Precision and Jazz, but there are some very interesting alternatives now available.
| | |
| --- | --- |
| Fender Aerodyne Jazz Bass | The Aerodyne from Fender is a lightweight version of the original Jazz model. It didn't actually hit the market until 2004, but it has quickly become a very popular instrument with professional musicians. It is a 4-string bass with two pickups; a Jazz pickup and a 'P Bass' version. |
| Fender Jaguar Bass | Colin Greenwood of Radiohead uses this exact guitar, and it is hugely popular with a number of world-famous rock bands. It is a 4-string guitar that features a C-shaped neck made with real maple wood. The Fender Jaguar Bass also boasts a rosewood fingerboard and retro chrome tuners. |
| Fender Mustang Bass | This stunning guitar will always have a place in the hearts of music fans over the world as it was the guitar of choice for both Bill Wyman of the Rolling Stones and Brian Wilson of the Beach Boys. At only 30 inches, the neck of this bass guitar is shorter than on most models, and it features just one split pickup. Sadly, this was the last major success story of legendary designer, Leo Fender. |
| Fender Bass VI | The Fender Bass VI is currently a huge favourite amongst solo bass players. Its two extra strings deliver a much deeper pitch, and its use of electronics made it a groundbreaking instrument when it was first released in 1961. This beautiful guitar looks like the Jaguar bass at first glance, so buyers should ensure they have properly identified it before making a purchase |
| Fender Deluxe Active Jazz Bass | The Deluxe Active Jazz Bass is a modern twist on Fender's 1961 classic Jazz model. It has been designed with playability very much in mind; a fact demonstrated by its comfortable C-shaped neck, noiseless pickups, and user-friendly electronics. |
| Fender Zone Bass | This is Fender's smallest and lightest bass guitar. It still has the iconic look of a Fender, but it is designed for people with smaller hands or for performers who move around a lot on stage. It also makes the ideal guitar for children to learn with. |
| Fender Telecaster Bass | The Telecaster Bass was an attempt by Fender to recreate the 1951 Precision Bass with a few modern twists. It features a distinctive 'pickguard' and a single-coil pickup. |
| Fender Standard Precision Bass | The Standard Precision Bass became hugely popular in the 1970s. It is considered to be the 'work-horse' of electric bass guitars, and it features a few modern enhancements that set it apart from the classic Precision. Amongst its innovative features are a modern, single-coil pickup, shielded body cavities, and a parchment 'pickguard'. Many enthusiasts love the Standard Precision Bass because of its retro, 1970's look. |
| Fender Bass V | The Fender Bass V is one of the world's most popular 5-string electric bass guitars. However, its design was considered a little too quirky for mainstream musicians when it was first released in 1965. It looks similar to the Precision Bass, but it is three inches longer with only 15 frets. |
Finding Fender Bass Guitars on eBay
Searching for a Fender bass guitar should always begin at the eBay homepage. The quickest way to browse guitars is by entering a search term in the text-entry box near the top of the page. However, using the category-based search facility allows the user to fine-tune the results to only those that match exact requirements. The user should start by clicking the All Categories drop-down menu that is situated near the top of the homepage. This will present the user with a list of categories, and Musical Instruments should be selected; clicking the Search icon will then load a new page with a list of sub-categories displayed to the left. The Guitars icon should then be selected, and the Bass link should be clicked from the subsequent menu. A selection of check-boxes will then be displayed, and the Electric Bass option should be selected – it can be found in the list entitled Guitar Type. A new screen will load, and the Fender checkbox should be selected. The user can then browse from the available Fender bass guitars at leisure.
The eBay website is the ideal location for finding a huge range of Fender bass guitars. It is home to literally thousands of choices, and the whole process of finding and buying a guitar is very simple and quick. Purchasing guitars on the eBay website also offers buyers a number of in-built protections. Vendors are often given 'authorised' selling status, and that means consumers can part with their cash in the knowledge they are dealing with reputable dealers. Many vendors will also offer free delivery as part of the final purchasing price, or dealing with locally-based sellers gives customers the chance to pick up their own goods on the day. Consumers should watch for bundles as a number of accessories such as guitar straps, pedals, and cases are often included in one price.
Conclusion
Fender really did perfect the art of mass-producing electric bass guitars before any other manufacturer, so buying a Fender will guarantee the owner gets an instrument of the finest quality. The fact that most electric bass guitars are modelled around the original Precision and Jazz guitars from Fender is a real indication of the high regard in which they are held. These precision-made guitars were originally all manufactured in the USA, but the company has manufacturing facilities all over the world now, and it is not too difficult to find reasonably-priced modern Fender guitars. However, enthusiasts who are looking to buy original Precision or Jazz models from the 1950s should expect to pay handsomely for the privilege.