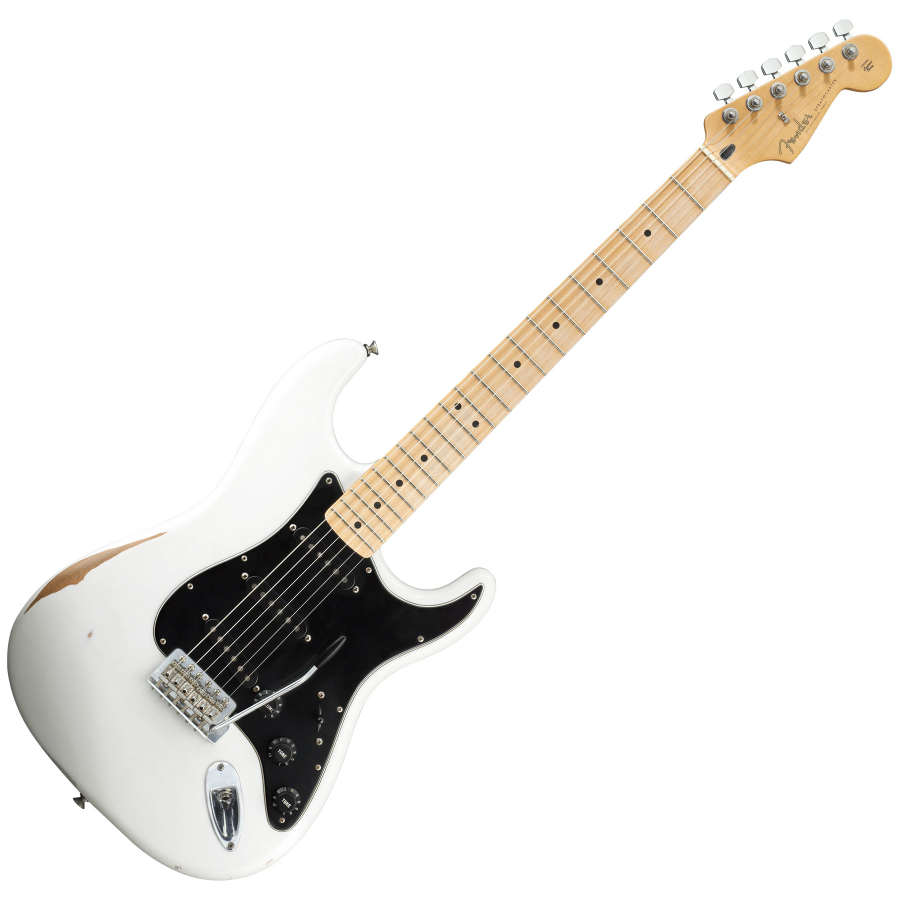 Fender is a leading guitar manufacturer, producing a steady flow of quality instruments that over time have achieved an iconic status. With regular playing, a well maintained guitar complements a musician's style, allowing them to achieve a greater depth and range to their performance. Buying Fender guitar parts ensures a player can mend or improve their instrument, knowing the item is specifically designed for their guitar. The various parts available range from large hardware items, used to make up the wood sections, to the more technical tuning pegs and string trees. The number of Fender guitar parts on the market, ensures every player can find the specific item needed to complete an instrument. In order to find appropriate Fender guitar parts, spend time looking at individual sellers, read feedback and then look at listing descriptions, to ensure an item is the right authentic Fender Guitar Part.
About Fender Guitar Parts
Fender guitars were designed by Leo Fender in the 1940s. Different models have interchangeable parts, adding a hitherto unknown degree of flexibility to an already popular product. The measurements of most component Fender guitar parts have remained the same throughout their production. Furthermore, the solid body of each Fender guitar makes it a far less complex instrument than acoustic guitars, in manufacturing terms.
The chemistry that many musicians both amateur and professional feel with their guitar means they would often rather modify or repair an instrument, than let it go. The years spent playing a particular guitar represent an investment, many players find a preference for one instrument and it becomes a favourite.
Therefore, a thriving market for Fender guitar parts exists, feeding the need of guitar owners to upgrade, repair, or build their perfect instrument.
Choosing Fender Guitar Parts
In general, each Fender guitar owner will know which part is needed for their particular instrument. However, within the different part classifications, there are a number of options which can be used to narrow a search. These will include whether a more expensive part is to replace a standard part, the nature of the modification and how much the buyer is willing to pay. Although each authentic Fender guitar part is sourced from the same manufacturer, the materials and quality within each range may vary considerably. For parts where there are alternative versions available, each will affect the final sound and usability of the instrument differently.
Which Fender Guitar Parts are Available?
There are a wise number of Fender guitar parts currently available, within each section and subsection there will be varying levels of quality and cost. However, some items are more popular than others. Here is a table which illustrates some of the more commonly used parts.
| | |
| --- | --- |
| | Replacing the body of a guitar is a lengthy process, but may be necessary if cracks develop. |
| | A neck can be replaced if it is broken, or in order to improve the instruments aesthetics. |
| | Tuners are often upgraded along with a replacement neck. New parts may stay in tune for longer periods of time. |
| | The nut is a pivotal part of the guitar, the material used in its manufacture, be it metal or plastic, will influence the sound of an instrument. |
| | Frets are metal strips running vertically up the neck of a guitar; these are replaced to change the appearance and musical range of the instrument. |
| | The bridge of a guitar can be replaced, allowing the instrument to hold a note for longer. |
| | Changing the pickups, is the biggest step toward enhancing the performance of a guitar. |
Buying Fender Guitar Parts to Repair an Instrument
There are a number of repairs that can be carried out on an instrument using Fender guitar parts. Whether a guitar has suffered a malfunction, or if general wear and tear has affected its usability, repair materials are available to restore the instrument to its full playing potential.
Some buyers will select a part and then have it fitted by a qualified guitar technician. Others will buy Fender guitar parts in order to effect a repair at home. As well as saving money, learning how to mend a broken guitar can offer a beneficial insight into how the instrument works. Before beginning, buyers should read widely around the topic, making full use of the diagrams and instructions that maybe included with the item.
Many repairs can be carried out using a simple head screwdriver and the appropriate replacement part. These include removing strings to replace a faulty tuner, changing the neck of a guitar and fixing on a new bridge.
Whilst many jobs can be done by skilled amateurs, it is advisable to enlist the services of a qualified technician for electrical work.
The Aftermarket in Fender Guitar Parts
Although Fender guitars are sold as a complete and finished product, players can choose to enhance their instrument. This can include using modifications which give the instrument a tonal difference, a sturdier body, or the placing of decals to change its appearance. Some players choose to transform an older unused guitar as part of a hobby, a project to improve their understanding of the instrument's construction. Other players may wish to improve some aspect of a well-used guitar that does not feel right, saving them the bother of replacing a reliable instrument.
Whilst there are a wide variety of parts to choose from, players should have a specific plan in mind before attempting to alter their guitar. They can then spend time working towards meeting their expectations for an instrument, in terms of sound, appearance, or any other factor. Attempting this process in a limited amount of time, may cause mistakes that could require further repairs.
Most musicians consider aftermarket alterations to be an upgrade to their existing instrument. The new Fender guitar part could be more suited to their playing expectations and improve the performance level of the guitar overall. However, aftermarket modifications are also seen as a way of personalising a guitar. Once completed, the instrument is unique to its maker and a cheaper alternative to seeking out a customised factory produced model.
Buying Fender Guitar Parts to Build a Guitar
As Fender is such a well-established brand, there are a huge number of parts available. With some skill, knowledge, and research, it is possible to build an instrument from Fender guitar parts that would be more expensive to buy as a finished product. For this reason, many enthusiasts decide to build a custom model using Fender guitar parts, designed to their own specifications.
When building a guitar from scratch, it is important to remember that each section of the guitar should fit with the other sections, as there are a huge range of models on the market. For example, check the mounts correlate with the predrilled screw holes, to avoid having to carry out extensive modifications to a part.
Similarly, ensure that the parts will work together effectively when combined in one instrument. Many suppliers will provide clear descriptions of a parts capabilities and even a visual guide to its position in an instruments design. Use a guide to layout the parts before attempting to fit them together, this practice run is a chance to ensure the parts are all present and correct. Also, it gives an idea as to how the finished guitar will look, before committing to placing screws, pegs, and solder.
Finding Fender Guitar Parts on eBay
In order to buy Fender guitar parts on eBay, begin by heading to the homepage. Next locate the All Categories section and choose the tab marked Musical Instruments,, then Guitars followed by Accessories.. Finally, select the Parts tab and then click on Fender in the details section, to the right of the page. To find a more specific item, enter the term directly into the search box, which appears at the top in the centre of any eBay page. For example, to search for a vintage bridge plate, type 'Fender Vintage Bridge Plate' into the query field.
Conclusion
Fender guitar parts can transform an instrument, whether it is for a project, to save money, or in order to learn more about the guitar. It is possible to build a guitar, repair an existing model or completely transform it. The reasons for buying Fender guitar parts will be different for every buyer, so research the most suitable items, for each project. In order to be confident in a purchase, investigate individual sellers, the items they have for sale and the details of each, before making a final decision. Using the right Fender guitar parts, will result in an aesthetically pleasing instrument that produces a good sound, for many years.