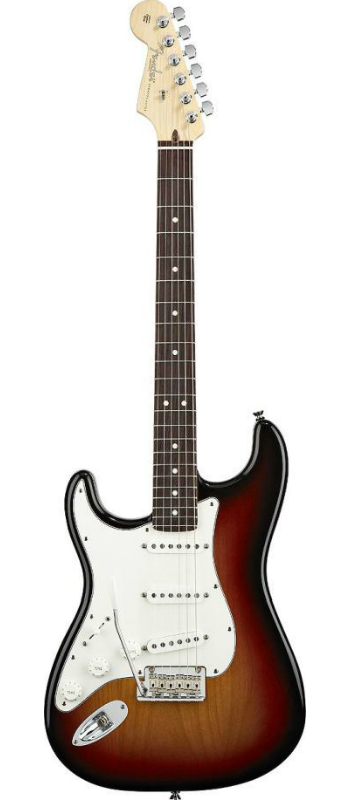 The Fender Stratocaster electric guitar is arguably the most famous make of electric guitar ever produced. It has been in production continuously since 1954, albeit with many variations, modifications and design developments. For many, it is the epitome of electric guitar design and the ultimate guitar to own.
Over the years there have been many different models produced and refinements added. Fender marques have also been introduced, where guitars are manufactured in Japan and Mexico to make prices more affordable.
It has been said that there is a Fender Stratocaster suitable for every player, from the humble beginner to the elite professional, and it would be impossible to include a definitive list of models. Finding the right Fender Strat is a matter of investing time and effort into researching the options available, the features required, playing experience, and of course, available budget.
Fender Stratocaster Design Features
So what makes the Strat such a unique guitar? Well, there are several important design features which help to make it so popular with players.
Body
The Strat is designed to be comfortable and easy to play. It has an iconic double cut-away design, in which the body is scooped on both sides of the neck, making it easier for the player to reach playing positions high on the neck. The top horn is extended, making the guitar well-balanced, and there is a further scoop on the upper body so that players can reach the strings easily. The edge of the body is also angled under the right arm position.
Neck
The Strat is designed with a single-piece neck, and generally with 21 frets (although 22 fret versions are available). The neck is usually C-shaped, making it comfortable for the fingers and easier to play; however, there are variations on this C-neck design. The angled design of the head is also considered to be a classic feature.
Pickups
Original Strats were designed with three single-coil pickups (SSS), placed on the bridge (giving a bright and incisive tone), the neck (giving a richer and softer tone), and in the middle (a combination of the two). However, players soon found they could wedge the 3-way control switch between two options, providing a combination of the two sounds, effectively creating five tonal options; Fender responded to this by introducing a 5-way control. The volume of all the pickups is generally controlled with a single, easily reachable knob, and sometimes tone knobs are also included.
A further development was the advent of pickups specifically designed with reverse coiling to reduce, or buck, the hum created by the coils; these are known as humbuckers (H) and allow a richer sound. Strats can be fitted with different combinations of single coil and humbucker pickups. For example, three humbucker would be designated as HHH.
Bridge
The Strat also became famous for its innovative floating bridge design, in which the strings were taken through to a recess at the back of the body. Again, players exploited this by using the attached tremolo arm to bend the pitch while keeping the guitar in tune, which became a signature sound for some artists. A fixed bridge option, known as a hard tail, is also available.
Fender Stratocaster Models
The Fender Stratocaster has many different models, including classic and vintage designs (with modern features), guitars designed to look aged, and new designs. At the upper end of the price range, signature models are created to match the design spec of famous players, and Fender also has a custom-design option to allow buyers to build a guitar from scratch to their own specification. The budget end of the range includes the Fender Stratocaster marques, such as the Squier version, which is manufactured in Japan, and the Made in Mexico (MIM) Standard guitar.
Choosing a Fender Stratocaster
Choosing a Strat involves considering many different factors.
Choosing a Fender Stratocaster Based on Experience
Although it may the dream guitar for many players, it's important for players to think about the amount of playing experience they have before making a decision.
Beginner
For someone who is a new player, it's worth trying out some different guitars before committing to buy one. Some retailers offer a rental option, to allow players to use the guitar for a few weeks or months before buying. However, if buying is preferable to renting, then it's probably better to go for a relatively cheap option, at least at first, such as a Squier or MIM.
Intermediate
Someone who has been playing for longer may have some idea of which features they prefer. Again, trying out several models is always a sensible plan to be sure that the final choice is the best guitar.
Experienced or Professional Player
Players with lots of experience are bound to have very specific ideas about what they are looking for and also some knowledge of the models available and their individual features.
Choosing a Fender Stratocaster Based on Price
For many buyers, one of the most important factors when deciding which model to choose is the price. It's very unlikely that buyers will have an unlimited budget, so taking a look at the models within the available price range will help with decision-making. Of course, with so many models to choose from, it would be impossible to include every option, but it is possible to make some suggestions.
Lower Price Range
For someone on a very limited budget, a guitar from one of the marques is probably the best option at least to begin with.
The Squier range is manufactured in Japan, reducing production costs, and would suit either a beginner or experienced player. The Standard range is made in Mexico, but the production standards remain high. It has an alder body, maple neck, a rosewood fingerboard and SSS pickup system.
Mid-Range Budget
The Deluxe range has an alder body, a maple neck, a rosewood fingerboard, and an HSS pickup system. The American Standard range is made in the USA and has a body made from alder; it comes with a 22-fret maple neck and fingerboard and HHH pickup.
High-End Budget
The American Vintage range is specifically designed to recall the glories of vintage Strat design. It has an alder body, a maple neck, a rosewood fingerboard, and HHH pickup.
Many players would like a guitar that has all the modifications used by their favourite professional guitarist. Guitars in the Artist range are created to emulate the specific design specs of iconic players such as Jeff Beck and Eric Clapton and have all the sophisticated features expected from a top-of-the-range guitar.
Custom Design
For the ultimate in personalisation, Fender also offer a Custom Design service to allow a guitar to be built from scratch with every detail specified.
How to Buy a Fender Stratocaster
Buying a Fender Strat is a significant decision, and it's worth considering beforehand the best way to go about obtaining one. It may be useful to visit the Fender website and specialist guitar-playing websites, read some customer reviews of different models, and also try a few different guitars before finally making a choice.
New or Used?
There are advantages and disadvantages to bear in mind with buying both new and used guitars.
Buying a New Guitar
Buying a new guitar from a shop will allow the buyer an opportunity to try different models and get some expert advice, although online retailers can also give advice. Online research will reveal the best prices, with online retailers likely to be cheaper than a shop. Don't forget to include the cost of shipping when comparing prices. Retailers are also likely to offer more comprehensive guarantees and returns policies when buying a new guitar.
Buying a Used Guitars
Providing some of the potential pitfalls are taken into account, buying a used guitar from a dealer or private seller could open up the possibility of owning a much higher-spec guitar than if it was bought as new. Retail sellers are likely to offer limited guarantees and obtaining a refund may also be easier if something goes wrong. If buying from a private seller, be sure to read up about what to look out for to spot a fake. Always ask for plenty of information from the seller, and either examine the guitar carefully, or ask for photos.
How to Buy a Fender Stratocaster on eBay
When buying a Fender Stratocaster on eBay, go to the home page, hover over All Categories and select Musical Instruments. Under Guitars, select Electric, and then refine the search by selecting Fender from the left-hand menu under Brand where the category can be browsed. Alternatively, there may be a refined search option for Fender Stratocaster under the main search bar, but it's also possible to search using keywords.
Conclusion
For many players, owning a Fender Stratocaster will be the realisation of a long-held dream and some careful planning and preparation. Finally playing the guitar will result in a dream come true.