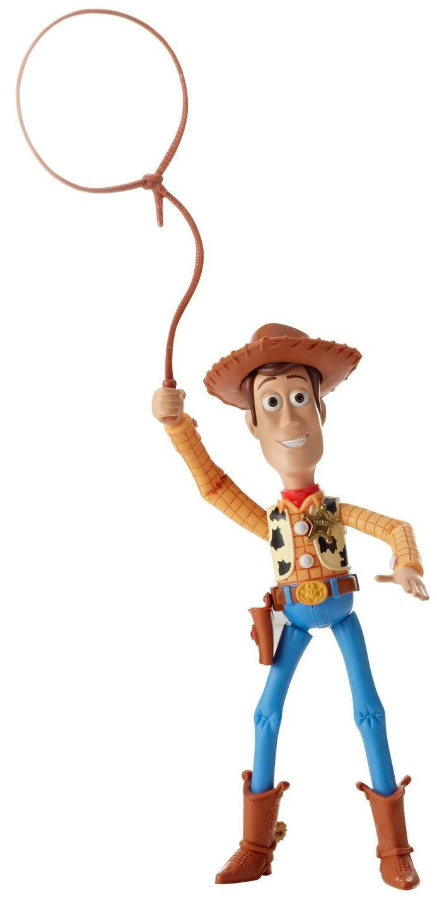 Film has been a mainstay in the public eye since the early part of the 20th century. In time it has become the most evolutionary form of media available. The film making process has gone from black and white silent movies to 3D multi-million pound blockbusters. However on screen is not solely where the movie industry has embraced new ideas. Marketing campaigns are now a pivotal part of the promotion process and toys are the most collectable form of promotion material.
Filmmaking has become about making characters that are marketable and have cross-demographic appeal. Having marketable characters equals more money in revenue. There are t-shirts, books, posters and more made regularly available to fans of a film. When it comes to film memorabilia eBay is a key resource, shoppers will be sure to find toys of their film character toys at affordable prices.
Early Film Character Toys
The connection between toys and film began back in the 1960s; at the time fictional hero G.I Joe was riding high in the mainstream. Film studios were desperate to capitalise on this and licensed toys were created based on the 1945 film The Story of G.I Joe. This set a precedent as filmmakers embraced the idea of licensing merchandise such as toys.
Even though G.I Joe set the standard it wasn't until the 1970s that the film industry made toys a must have item.
Star Wars took the decade by storm and in 1977 the Kenner Company was licensed to release figures based on the series. The toys flew off the shelves when released that Christmas season.
It made other film studios wake up to the possibility of marketing toys of films characters. Since then toy quality has improved and have become no less collectable or enjoyable.
Types of Film Character Toys
Toys based upon film characters are largely marketed towards children but their also of value from a collectable standpoint. Even with the advent of mass production, toys based off films are sometimes produced under short production runs. This is especially evident in action figures. The variety of toys available is undeniable so expect to find figures from some of the greatest movies of all time including Toy Story, Kill Bill and Harry Potter on eBay. The genres of film that tend to release toys most frequently include:
Animation – Cartoon films biggest demographic is children and thus it is a huge target for toy makers. Expect to find playsets, dolls, action figures and even replica costumes when searching through eBay listings. Japanese animation has also seen a rise in popularity with Studio Ghibli releases achieving critical acclaim. Seeing toys based on such films is not uncommon and are arguably the rarest of all released.
Monster – The most visually impressive type of character in film and they make excellent toys too. The likes of Godzilla and King Kong are ever popular and ever collectable. In terms of modern movies the Clover from Cloverfield has become especially sought after.
Superhero – The men and women who are there to save the day and offer a moral compass to viewers. They are the most commonly commercialised film characters with children often clambering for the latest offerings from Spiderman, Superman and The Avengers.
Horror – When directors set out to make characters for the horror genre they set out to make characters that stick in the mind. These toys are not suitable for children and are collected by adults. Horror imagery is haunting yet influential so suspect to find toys of characters such as Chucky, Jason X and Hannibal Lector.
Adventure – Characters in adventure films go on a journey. The casts of these movies are large and present more options for merchandising. Expect to see not only toys but sets and costumes based on these films. Popular merchandise from this genre comes from series of films such as Lord of The Rings and Tales of Narnia.
The movie industry is ever expanding with new releases constantly redefining the genres they feature in. Merchandising sticks with these changes and continues to release toys inspired by such movies. Toy companies and eBay cater for fans, enthusiasts and collectors alike, meaning that there is something for everyone on the world's leading online marketplace.
Movie Licensing
It is not just around the time of a films release in which toys are produced. Films often have licenses that can be issued along with character image rights. This allows third-party toy companies to pitch ideas and obtain the right to produce their own form of movie merchandise. Famous companies that often produce such toys are:
Lego – The most popular form of construction toy in the world and as a company are known for their movie themed sets. Originating in Denmark in the 1930s they have gone on to produce kits inspired by films such as Pirates of the Caribbean, Harry Potter, Toy Story, Indiana Jones and Prince of Persia.
Hasbro – The all-American toy maker who were the first company to bring G.I Joe's marketing potential to light. By the late 1980s their toys were globally known as they had licensing contracts for both Marvel and Transformers. They have also produced plush and plastic toys for both the Shrek and Spiderman franchises.
Mattel – The biggest toy company in the world with a back catalogue of film toys from the likes of Batman and Pocahontas. In the 1980s the company purchased the marketing rights to Disney toys and they have not regretted this decision.
McFarlane Toys – Distinctive in the sense that they produce toys from adult targeted films as well as children's toys. Their eclectic product lines include toys from Where the Wild Things Are, Batman and Austin Powers.
Over time, the interest in film character toys has grown to an international level. Businesses often enter bidding wars of their own in order to obtain movie licenses. This means that they take their film inspired toy ranges very seriously; buyer reap the rewards by owning high quality products that are different from the norm.
Collectable Toys
Movie character toys have evolved from being children's playthings into true collectors items. Some of the most iconic scenes and actors have been recreated in toy form and many of such toys have gone on to become extremely valuable. Collectors purchase toys for investment and display purposes. The following film series have large amounts of collectable toy merchandise, some of which can reach upwards of a £1000 at auction.
Start Wars
He-Man
Thundercats
Lord of The Rings
Teenage Mutant Ninja Turtles
These ranges of toys were produced in a variety of forms (including plush and plastic) yet certain lines only had limited production runs. Finding the next rare toy to add to a collection can be an expensive task however eBay had made making such an acquisition more affordable. Explore what trusted sellers have on offer and take of advantage of this guide in order to obtain a toy that is perfect for display.
How to Buy Film Character Toys on eBay
eBay has built a reputation for providing an extensive selection of toy and film memorabilia. However it is when the two combine where the world's leading auction site comes into its own.
To find the toys you're after start on eBay's home page, select the toys and games category from the navigational panel on the left.
From there select TV and film characters in order to see all live auctions.
Some shoppers will have a desired toy in mind and should use the search function found at the top of the page, use advanced search narrows down results.
Delivery
Purchasing toys that are classed as collectible will mean that there are higher charges for delivery. This is because these items are shipped using an insured courier which provides cover should it suffer damage in transit. Even if it isn't an option offered by the seller it is something that is still worth investing in.
Making a Purchase
Once shoppers have located a film character toy that they wish to purchase they will need to do one of the following.
Place a Bid
Make a Best Offer
Buy it Now
When an auction has been won the winning bidder will need to complete the checkout process. Doing this with PayPal means that the transaction is covered by PayPal's buyer protection program. Collectable film merchandise can sell for high prices so it's important to make sure you're protected should problems arise.
Conclusion
The film industry has expanded beyond the silver screen and merchandise is just as appealing as the movie itself. They go hand in hand in today's multi-media environment and are part of the fabric of contemporary culture. The variety of toys available is vast; meaning that no matter the film there is more than likely a toy range for it.
From a collectable standpoint the field can be temperamental so remember what has being stated in this guide. Using such know how and eBay's array of search options means that buyers will be able buy film character toys at affordable prices.