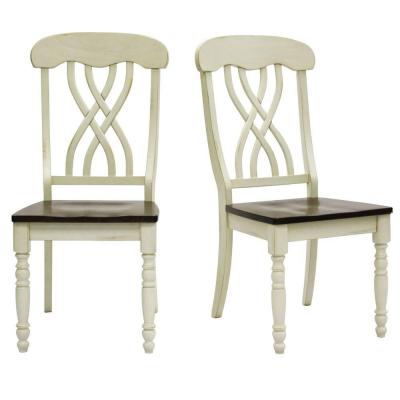 Buying Antique Oak Chairs
Oak is a popular hardwood that's been used throughout Europe for over a millennia. As such, there is an extensive variety of antique oak chairs available to you to suit any style or purpose. In this guide, there is a brief history of the use of oak wood in traditional furniture, as well as an explanation of the typical properties of antique oak chairs and the popular chair styles that have used oak wood in the past. Whether looking for a simple, functional piece or a decorative antique oak chair with intricate carving and staining, there are ample options of antique oak chairs to choose from. With an antique oak chair, it can often be noticed that the sturdy construction and resilient features of oak furniture are even more pronounced. This guide makes choosing a sturdy, beautiful style of antique oak chair a little easier.
History of Antique Oak Chairs
The earliest furniture was purely functional, without ornament or any extra design elements. During the Middle Ages, furniture began to take on decorative carvings and design elements when made for wealthier families. Oak was one of the first materials used for this purpose, as it came from one of the most common trees in Europe and provided exceptional durability and water-resistance for use as furniture. These first chairs were only used by the highest-ranking individuals, such as lords and kings. In booming sixteenth- and seventeenth-century England, a new middle class emerged with a taste for ornately decorated furniture as status signifiers for the household. Often, commemorative dates and inscriptions would record the time and reason that the furniture was acquired.
During this time a competitive guild of skilled craftsmen, called joiners, was employed to design and build creatively designed oak furniture. The joiners were protective of their designs and techniques, which helped spawn regional styles of decoration for oak furniture. Throughout English history, oak has taken on contemporary styles and persisted as the most popular wood for furniture design and other purposes, such as the building of naval ships. The popularity of oak wood furniture declined in the 1600's when the fashion became to use lighter woods. However, oak experienced a revival in the American Arts and Crafts movements, as well as in the Victorian period, as a sign of traditional British taste.
Discover Antique Oak Chairs
An antique oak chair is often a more reliable choice for antique furniture collectors, as the hardness and self-preserving properties of the oak help maintain its appearance and functionality over time. Oak has been a popular choice for furniture makers since the Medieval Ages, so there are a wide variety of antique oak chairs to choose from. Whether looking for a laid-back Adirondack chair for the outdoors, or an intricately-carved Gothic chair, there is likely an antique oak chair in any style wanted. Porous oak wood takes well stain finishes, so refinishing antique oak chair is relatively easy. It has a beautiful wood grain that can add rustic charm, or complement upholstery patterns for a more elegant look.
Components of Antique Oak Chairs
Since there are so many types of antique oak chairs, a specific chair can have any combination of the following features to create a unique piece of furniture for any room.
| Part | Description |
| --- | --- |
| Type of oak wood | Red or white oak are popular oak woods for furniture. White oak has the tightest and hardest wood patterns, which makes it difficult to split or break over time. Colours range from light, golden shades to medium brown. |
| Design | Antique oak chairs are available in a wide range of styles from many different time and design periods. |
| Arms | Typically supports the arms and forearm, although styles can vary - like the elbow chair, which only supports a portion of the arm. Rocking chairs and Mission style chairs are popular antique oak chairs with armrests. |
| Legs | The bottom support for the chair, legs can vary in style, number and degree of support. A stretcher can provide additional horizontal support for the legs. |
| Back | The style of the back of an antique oak chair can vary. Popular designs can have a splat, upholstered back, or rails. |
| Seat | Seats can be shaped square, round, horseshoe and more. A slip seat can be removed and reupholstered easily. |
| Finish | A stain can be used to bring out the natural grain markings on antique oak chairs. |
Types of Antique Oak Chairs
There are many styles and designs of antique oak chairs available. The following is a list of some more popular antique oak chairs that may be found on a search.
| Type | Description | Advantages | Considerations |
| --- | --- | --- | --- |
| Dining chair | Typically an armless chair with a high back that pushes into a dining table. | · Ideal paired with a dining table and often comes in a set. | · Usually functions exclusively for dining. |
| Press back chair | Made in the Victorian period, a wooden chair with a pattern of a steam press stamped into the crest rail and/or splat. | · A comfortable, versatile chair in the style of the Victorian period. | · The casual style of this chair might not be formal enough for some room's decor. |
| Hall chair | Designed to fit in the entryway of a home, a hall chair comes in varying styles but typically has a wide seat. | · A multi-purpose, narrow chair that can provide a sitting area in a small space. | · Utilitarian, hall chairs are not meant to be comfortable for prolonged periods of time. |
| Mission chair | A tall wooden chair with a high back made with wooden slats with small spaces, often cushioned on the seat and back. | · Comfort-oriented with a more modern, casual style. | · Might be a little bulky for smaller spaces, or too casual for more formal lounge rooms. |
| Rocking chair | A wooden armchair with two curved wooden bands attached to the legs. | · Classic style and function that's perfect for the living room, bedroom or nursery. | · Might not provide enough functionality for activities that require upright sitting positions. |
| Throne chair | A high-backed chair with armrests. | · Traditional elegance and comfort for a living room, hall or bedroom. | · Doesn't provide the multiple seating positions of some more modern-styled chairs. |
| Desk chair | A chair with or without armrests and possibly a swivel body that fits under a desk. | · Comfortable, versatile and lightweight. | · Not as sturdy as typical armchairs, and can be very formal in appearance. |
Factors to Consider When Buying Antique Oak Chairs
Type of oak - red and white oak are the most popular types of oak to use in furniture, although there are other varieties that have been used as well. Typically, the tighter and more chaotic the wood pattern, the harder and more resilient the wood, and furniture, will be. However, keep in mind that the harder the wood is, the more difficult it is to carve into. As such, more durable antique oak chairs tend to have less ornamentation and decorative carvings.
Age - oak chairs have been created since the Middle Ages, so there are a lot of time periods to choose from. Do research on chair styles, look at the markings on the chair itself (perhaps the maker or the date of production is stamped or engraved on the piece), and check for wear. An antique is over 100 years old, so the newer styles of antique oak chairs, such as some pieces of Modernist furniture, might need more scrupulous checking for age authenticity.
Style - Gothic, Victorian, Rustic, Colonial. There are many styles of antique oak chairs available, and they cross many time periods.
Purpose - deciding how the chair will be used can help narrow the search. Will it be mainly a collector's item or a piece of functional furniture for a room?
Typical Features of Antique Oak Chairs
Some overarching characteristics of antique oak chairs are listed here.
Strength and heaviness - A well-built antique oak chair often utilised the strong, heavy properties of the wood for added durability.
Warm golden or medium brown tones - While oak wood also takes to stain finishes well, the wood has a natural golden or light brown tone that distinguishes it from darker woods like mahogany
Decorative carvings and/or stains - Traditional antique oak chairs used varying degrees of decorative carving to achieve a stylised, embellished look consistent with their contemporary fashions. Oak wood has large pores that take well to stains and finishes, which add another dimension of quality and colourful luxury.
Inscriptions, initials, and/or dates-The best way to find information about your antique oak chair is to check for inscriptions and other marks on your furniture. Early in the history of oak chairs, purchasing a hand-made chair by a skilled craftsman was viewed as a symbol of prestige and wealth. As such, commemorative inscriptions or initials were common to mark the occasion of acquisition, and can be useful guides to understanding more about your antique oak chair.
How to Care for Antique Oak Chairs
Antique oak chairs are made with a resilient wood that can stand up to mild amounts of water. To dust, wipe down the chair with a damp, soft cloth and avoid feather dusters that just move the dust around. Dilute high-quality furniture soap according to the manufacturer's instructions and apply to a damp cloth. Gently polish the chair with furniture soap or oil soap to bring out its natural lustre and highlight the finish. Remove excess oil with a paper towel or dry, soft cloth. For antique oak chairs with a great deal of dirt or build-up, use a furniture wax stripper according to the manufacturer's directions. For hard-to-reach areas, a soft bristle toothbrush can apply polish or wax stripper to get the effect you desire.
Popular Antique Oak Chair Manufacturers
There have been a great variety of antique oak chair manufacturers throughout history. While some are listed here, this list is not exhaustive.
RJ Horner
Berkey & Gay
Grand Rapids
Widdicomb
Karpen
Accessories and Add-ons for Antique Oak Chairs
If buying an antique chair, perhaps the best accessory to purchase would be something to help maintain or improve its condition.
A soft cloth to polish and clean the wood
Wood oil soap for cleaning and polishing
Furniture wax stripper for tough dirt or build-up
Extra items to enhance the style or function may also be purchased, for example:
Seat pads or cushions for extra comfort
Once you determine the type of antique oak chair you want to purchase, visit the Antiques portal on eBay, click on 'Chairs' and start searching item listings. The Categories list on the left-hand side of the eBay page helps to narrow the search.
Searching for Antique Oak Chairson eBay
Search eBay listing titles for specific words when shopping for antique oak chairs. For example, to find Mission style antique oak chairs, type 'Mission antique oak chair' into the search box, and then click the Advanced button to customise the results. Also visit eBay's Search Tips page for more advice on searching for antique oak chairs with keywords. If you can't find the exact antique oak chair you want, try shopping eBay Stores.
Conclusion
Sturdy and versatile, an antique oak chair can bring timeless elegance, embellished beauty or simple functionality to a room's decor. Whatever the purpose, antique oak chairs have a resilience and well-preserved nature that makes them a safe option for antique shopping. The soft, warm tones of an antique oak chair are sure to warm up any room or outdoor space. Understanding the range of designs, woods, functions and styles will help a buyer find a chair that suits their tastes and needs. Once you have collected this information, you can buy an antique oak chair safely and securely on eBay.