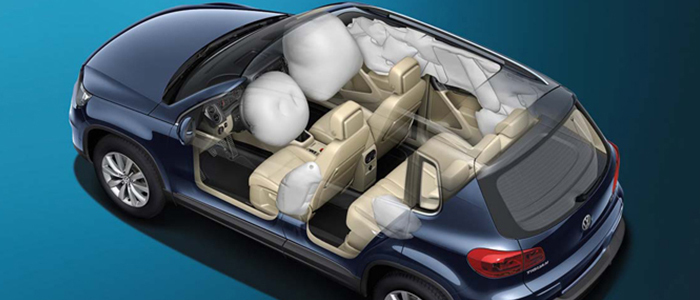 Types of Airbag
Cars are now safer than ever before thanks in large to developments in airbag technology. Vehicles now come equipped with an array of different airbag units to protect occupants in the case of a collision. Below are just a few of the most-popular airbag types:
Frontal Airbags
This is the most popular airbag type and has been found in cars since the mid 90s. These airbags protect the driver and front passenger and are deployed from the dash area.
Side Airbags
Protecting from side impacts is the main purpose of side airbags, hence their name. Side airbags consist of torso airbags which deploy from the side of the seat or door to protect the chest area as well as curtain airbags which protect the occupant's head in a collision.
Knee Airbags
Many car manufacturers now opt to install knee airbags which deploy from below the dash. These units soften any contact made with hard areas of the dash and in some cases have prevented the shattering of knee caps.
When replacing your airbags we recommend that you take your vehicle to a mechanic who can take note of every location from which an airbag has been deployed. Aside from the airbag unit itself a vehicle's airbag system also consists of a number of switches and sensors which are activated at the point of impact and will also require replacing. Depending upon the nature of the collision some airbag units may still be suitable for use. If your airbag technology has helped save your life it is imperative that it is repaired to do the same thing again should you experience any collisions in the future.
Once you know what airbag parts need replacing visit our
eBay store
and find the replacements you need at affordable prices. We are one of the UK's leading suppliers of quality genuine airbag replacements which have been subjected to extensive testing. Our team are on hand to answer any
enquiry
you may have.