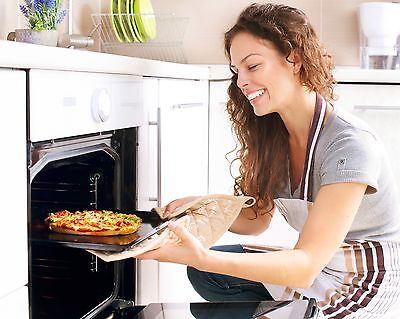 The many different built-in and built under oven types can make choosing the right one a bit daunting.

An oven is a big investment and one of the most used appliances in your kitchen.

We want to help you make the right decision with our handy guide...


Choose your fuel…
Gas
Gas ovens use a heat source at the bottom of the cavity. Hot air rises, creating heat zones with the highest temperature at the top and the lowest at the bottom. This is good for cooking multiple dishes in the same oven but not for cooking the same dish on different shelves, as you'll get differing results.
If you decide on a gas oven, you also need to be aware that there are two kinds:
Natural
LPG (Liquid Petroleum Gas)
Most ovens work with natural gas but select models can be converted to work on LPG by using a special kit. If you use LPG you should always check whether an oven comes with a conversion kit and whether one is available to buy.
Electric
Electric ovens can work in a variety of ways and use a conventional heating method or are fan assisted. Fan assisted ovens improve the distribution of heat as they reduce the time and temperature required to cook food, saving electricity and reducing energy costs.
Choose the type...
Multifunction oven
For budding chefs, multifunction ovens give you the ultimate flexibility with heating elements at the top, bottom, around the fan, and the grill. You're able to use these elements separately or in combination to get the best results.


Fan oven
Fan ovens work by using a circular heating element around a fan at the back of the oven. The element heats up and the fan distributes the air around the cavity to give you even cooking results. The oven heats up very quickly, which reduces cooking times and saves energy.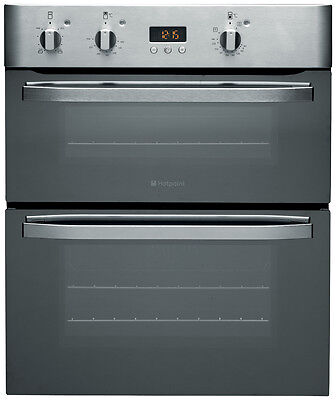 Single oven
Single ovens are an excellent choice if you're short on kitchen space. They are around 60cm tall and can be fitted undercounter or at eye-level. They fit better with a smaller family as you're only able to cook one type of dish at the same time, not ideal if you want to grill and cook at the same time.
Double oven
You're getting more cooking options with a double oven, so this will suit a larger family home or more adventurous cooks. There's a built-in option that's usually 120cm in height and a built-under model at around 90cm.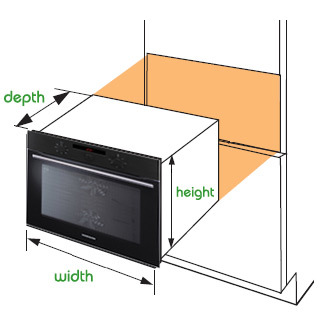 Does it fit?
You should always check the exact measurements of any appliance to make sure it will fit into your kitchen.
The
maximum
dimensions for the three categories are:
Single (cm) = H60 x W60 x D50-60
Built-under twin cavity (cm) = H72 x W60 x D50-60
Double (cm) = H120 (usually 90) x W60 x D50-60
All cooking appliances need to be placed within reach of their fuel source so it's important you make sure your oven is positioned close to a gas and/or electricity supply.

All gas ovens need to be installed by a Gas Safe registered engineer and some models need to be hardwired by a qualified electrician.