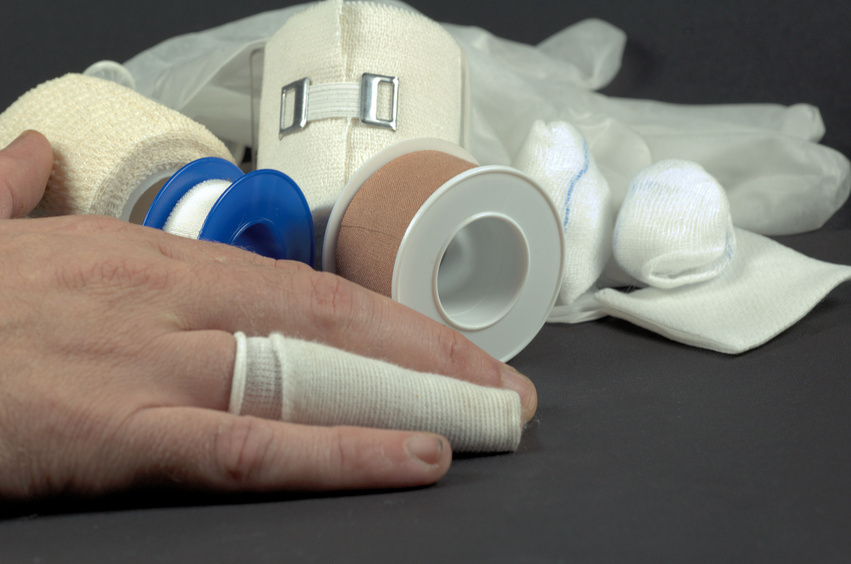 Fingers make our first encounter with almost everything, so it is amazing how little medical attention they require. They suffer cuts, sprains, slivers, jams, allergic reactions to noxious weeds and bugs, stress injuries, plus the occasional break. Still, most finger injuries can be remedied with a first-aid kit and a few extras.
Finger First-aid for Children

Young children run to their parents with cuts, slivers, hogweed burns, bites, and stings from various insects, and itchy skin. A children's first-aid kit includes the basics to remedy most of these. Add quality tweezers with fine tips for removing slivers. Cut fingers can bleed profusely, requiring parents to maintain a calming presence as they help the child hold a dressing on the wound for up to 10 minutes before administering the finger bandage or plasters. If the laceration is severe, of course, it must be stitched.
Finger First-aid for Elders

Carers for older adults may find that elasticated finger protectors or finger sleeves offer some comfort for arthritic knuckles. Accidental burns from cooking or heating that are not severe may be iced, then lightly covered with a loose gauze or left uncovered.
Workplace Finger First-aid
Use a finger cot or finger stall over bandages to protect cuts, blisters, and burns from moisture and dirt during the healing process. A thumb stall is larger to fit the thumb. These are particularly helpful in food services and garden centres, where employees regularly encounter moist and bacteria-breeding conditions. Leather finger stalls may be used for protection under dry conditions. Anglers also use them to protect their casting finger from being cut when using beachcasting braid. The workplace is where many stress injuries to the fingers from repetitive motion are sustained. These often require medical attention, but using a wrist support may reduce pressure on the nerve running into the hand to alleviate symptoms so fingers may function more effectively.
Finger First-aid for Sports
Children and adults acquire various finger injuries playing sports. Finger jams, or dislocations, can occur when a ball hits an outstretched finger or a player falls onto their hands with fingers outstretched. A sports first-aid box for football clubs generally adds to the basic kit an instant ice pack, a foil blanket, and additional sizes and shapes of bandages. The ice pack is immediately useful for jams or breaks. The doctor or medic may use a finger splint or thumb splint to stabilise these injuries. During later phases of recovery, sport finger protectors allow an individual to return to playing volleyball, basketball, or football. These flexible elasticated supports wrap the knuckles for protection but allow movement.