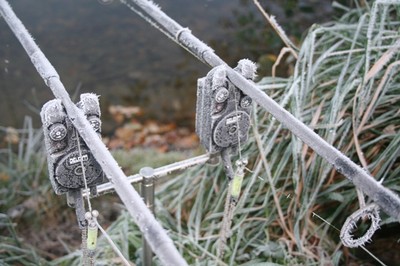 Wrap up warm and hit the banks.
The cold, wet and wintry weather has certainly hit the UK. Many Anglers wont fish during the winter, but if you wrap up warm and make sure you take a flask of a hot beverage you may be suprised at whats coming out of the lakes/ pools.
Feeding in the Winter
Although fish don't feed as much and are slightly lethargic in the winter, there are still some fine examples being landed. You just need to know what to feed and when to feed. During the cold weather period, most fish will sit on the bottom of the lakes as this is going to be the warmest area of water, its not very often you are going to see the likes of carp topping (coming to the surface) in the winter. The top tip for winter fishing is to use oily and spicy baits. And do not over feed your swim! this will put the fish off feeding all together. Baits such as maggots seem to do the trick for a variety of silver fish, but if its the big boys you are after, i would recommend spicy meats or oily Boilies or Pop Ups. To complement this i prefer to use Dynamite Baits Red Krill Range, Get some Red Krill Groundbait and some red Krill Pellets and Red Krill Liquid mix them together in a Groundbait Bowl, for the perfect winter attractant for winter fishing.
Happy Fishing
I hope this short and sweet guide has convinced you to get onto the banks this winter and make the most of your fishing.
Happy Fishing
Happy Christmas
Happy New Year
From All @ Bradley's Angling Store