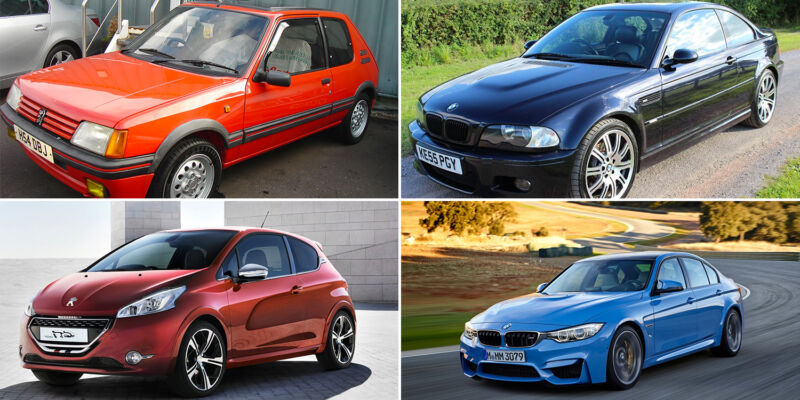 When it comes to buying a performance car, unless you're purchasing for investment, depreciation is most definitely your friend. There are big savings to be had when you're buying the car of your dreams, provided of course those dreams occurred ten years ago.

Despite increases in power and technology over the past decade, more modern cars are frequently bested by the earlier originals. In some cases, older models are almost just as quick, being lighter in weight but not significantly down in horsepower.

For muscle car fans, while the Ford Mustang officially arriving in the UK is undoubtedly an exciting event, if you know where to look, there's actually a lot of brilliant alternative muscular options out there for a lot less money.

Here's our top five old-beats-new performance drives that offer just as much as excitement despite their older bodywork.
1. BMW E46 M3
For many still the definitive BMW 'M' car,
the E46 M3 is a perfect example
of when everything ends up being just right. With 338hp and a 0-60mph time of just 5.1 seconds, it's still unbelievably quick. In fact, in a straight line, its modern F80 replacement is only a second quicker.
The E46 M3 is also around about the bottom of its depreciation curve, so get a good one and you could stand to make money on it over the years to come. Rarer CS editions of the car fetch a premium, while the ultra-exclusive lightweight CSL can cost more than a modern M3.
The E46's mix of balance, interactivity and outright performance make it an absolute bargain driver's car and one which, thanks to fairly solid mechanicals, you can keep on enjoying for years to come.
2. Mini Cooper John Cooper Works GP
A fully specced modern Mini can set you back upwards of £30,000 if you tick a lot of boxes. That's a lot of money, Ford Mustang money in fact.
While the modern Mini Cooper John Cooper Works is largely a very exciting car to drive, the
limited-run 'GP' models from the previous generation
are unforgettable. Stripped-out, with no rear seats and boasting a suspension setup that is perfectly suited to driving thrills, they remain some of the best cars in the entire Mini model range.
Like the E46 M3, such is the limited run nature of a JCW GP that any car is likely to be a good investment if it's cared for properly, bear this in mind when looking for a second hand model, as a proper service history and a solid previous owner is essential.
3. B7 Audi RS4
If you're at that stage in life where you need a bit of practicality as well as some proper performance, then a
B7 Audi RS4 Avant
is most definitely the answer. The 4.2-litre V8 engine is leaps and bounds ahead of modern turbocharged performance motors, with huge character and enough performance to ensure the Audi estate is more than entertaining to drive.
The most shocking thing about the RS4 really is just how capable it is. A combination of Quattro all-wheel-drive, as well a fantastic poise and control, and wonderfully responsive controls, make the B7 one of Audi's best. The fact you can have it for Ford Fiesta money proves it to be an even more tempting proposition.
4. Peugeot 205 GTI
A 1980s classic, this is epitome of the French hot hatch recipe. Blood red carpet, flimsy panels and styling choices that still remain questionable to this day, give this car a unique personality.
Available in various forms, the specific
205 GTI to go for, is the 1986-onwards 130bhp 1.9
, which has become a much desired collectors item in recent years.
Admittedly the car is nowhere near as capable as a modern hot hatchback and can't even come close to the current 208 GTI for creature comforts, but for outright character, little beats it. The 205 GTI continues to be a classic and with a little work, it should be easy to restore and is the kind of car that quickly gets under your skin.
5. Mk1 Mazda MX5
The current-generation of Mazda MX5 has been all about getting back to the car's roots. Why? Because the original is still the best. It's light, nimble and has a simple rear-wheel-drive formula that delivers plenty of thrills at sane speeds.
The
world of Mk1 MX5s is also one of choice
. Lots and lots of choice. You'll find a huge number of variants on sale, many of which will have been modified.
Given that a great quality MX5 can be had for under £5000 quite easily and the performance gains in the current car are almost negligible, it makes for a fantastic investment and a great weekend car if you fancy something open-top for the Summer. But be careful, you should avoid virtually any car that isn't close to being stock, as in all likelihood you'll be buying a dud.
More from eBay: You Might Also Like...
Meet the Car Guru: The Man Who Hunts Anything on Four Wheels
Buying a car can be a scary affair if you don't know your wheel nuts from your slip diff. But one man with a passion for all things four wheeled has made it his mission to tackle the mayhem of car buying.
Here are his top tips
on how to hunt for your ideal drive.