With a record time of 6:57 minutes on the Nürburgring Nordschleife and an acceleration from 0-60 mph in 2.2 seconds, I felt it was time to collect a total of five fun facts about the Porsche 918 Spyder and share them with you below.

The 918 Spyder is the latest supercar from the German manufacturer providing a mid-engined plug-in hybrid power train linked to a four wheel drive set up. A total limited number of 918 cars were available to interested customers and the supercar sold out at the end of last year.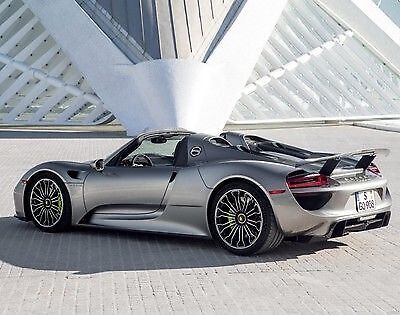 Liquid Metal Paint Colors
A stock version of the
Porsche 918 Spyder
has a price tag of up to £845,000. For those customers who would like to have the spectacular Liquid Metal Blue or Liquid Metal Grey exterior finish, they had to pay an additional amount of £65,000, which makes it one of the most expensive paint jobs ever.
Sprint to 60 mph in 2.2 sec
The Porsche 918 Spyder is the fastest production car to go from zero to 60 mph. The supercar only requires 2.2 seconds to go from standstill to 60 mph or 96.56 kmh. Porsche achieved this astonishing figure by adding the element of electric power to the power train equation.
Roofless Hypercar
Let's learn something new, which you will never need to do in your life, let's remove the roof a Porsche 918 Spyder. In September of 2014, I created a walk-through video showing you the process on how to remove the
roof panels
and stow them away in the bonnet. Check it out in the video on the left.
Plug-in Hybrid Powertrain
The Porsche 918 Spyder is equipped with five driving modes for three motors, that are controlled via an intelligent management system. The three motors are a 4.6-litre V8 engine, developing 608 hp and two electric motors delivering an additional 279 hp for a combined output of 887 hp.
Nurburgring Lap Record
According to Porsche, some stories are told in just 6 minutes and 57 seconds. The video on the left is an example of that. Watch the 918 set a lap record on theNurburgring Nordschleife, making it the first series production street-legal automobile to break the 7 min barrier.
Do not forget to check out my
latest collections
! If you have a great idea for a collection, share it via the comments and I will try to add it to my overview.