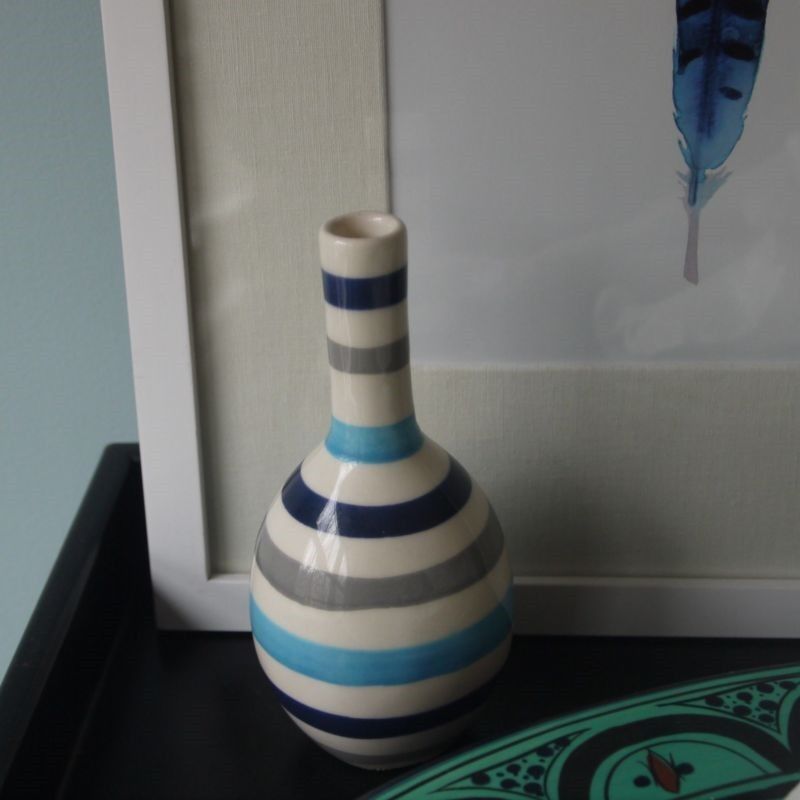 I'm sure it's no surprise that eBay is a great source for all sorts of home decor, from bedding to curtains to the fun little objects that add the final touch to a room. I've put together a list of four great style mavens to check out, both current and vintage: Jonathan Adler, Dwell Studio, Alexander Girard and Serena & Lily.
Jonathan Adler
He's gone from folksy potter to the emperor of a certain kind of kitschy glamour. He's got his own huge e-commerce site and blingy boutiques from Georgetown to Miami. And his wares no longer come cheap. But if you're willing to do a little digging, you can find some really fun, unusual pieces, including his one-time
collaboration
with Pottery Barn; his beloved
stripes
; a cheeky
needlepoint
pillow; or one of his charming ceramic
animals
(as good in a living room as in a nursery).
DwellStudio
Founded in 1999 by Christiane Lemieux, an established home-design talent looking to hang out her own shingle, DwellStudio has become, like Jonathan Adler, a source for all things homey, sleek and stylish. Dwell started as a children's resource and Lemieux's
kids
' designs are still adorably chic. She's
collaborated
with Target and she continues to branch out into tchotchkes and
art
. Her Esha duvet, above, in swirly black-and-white, would make any bedroom instantly more chic.
Alexander Girard
Girard was known for his sunny, cheerful textiles. He created fabrics for midcentury giants like Vitra, Herman Miller and Charles and Ray Eames. On his own, he designed folk art, home objects and even toys. His amazing wooden
dolls
are a personal obsession for me; his
pillows
would add a hint of cool to any sofa; and if you can get your hands on anything with his iconic sun print, don't hesitate. Even if you only have a few pounds to spend—his
notecards
never fail to inspire a smile.
Serena & Lily
Like DwellStudio's Christiane Lemieux, Serena & Lily (two real women, with those real names) started out designing children's linens...but soon branched out into all sorts of gorgeous home wares. Their children's line—never cutesy, just plain cute—continues to impress, and their
bedding
and bath linens convey a beachy vibe that's equal parts Sausalito (their home base) and Hamptons (site of one of their luscious, relaxing boutiques). Their
fabric
designs are especially pretty; you can even order them to upholster an out-of-date piece you already own.
Written by:
bluelocket