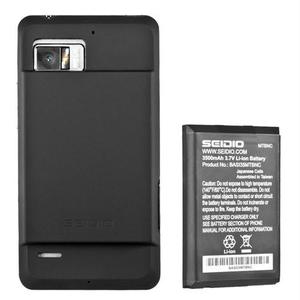 Mobile phones, particularly smartphones, can use up a lot of energy and therefore their batteries can often drain quickly. This can be extremely inconvenient, particularly when on the move. It is, however, possible to buy a range of products which will extend the life of a mobile phone's battery or recharge it quickly and easily when it has run down. By comparing products, sellers, and prices, it should be easy for shoppers find products that suit their personal requirements and budgets.
About Phone Battery Life
It is logical that different mobile phone brands and types rely upon equally different batteries, so the lifespans of manufacturer-supplied mobile phone batteries can vary dramatically from phone to phone. Mobile phone batteries are classified using the mAh (milliampere-hour) rating, which indicates how much charge the battery can hold. Generally, the higher the mAh rating, the longer the battery will last, but predicting how long it could last for can be difficult as this is largely dependent upon the task being performed on the phone.
Five Products That Extend the Life of Your Phone Batteries
Most smartphone batteries will only enable the user to talk on the phone, send text messages, browse the Internet, watch videos or listen to music for up to about ten hours. Therefore, it is important to be able to extend the lifespan of the battery as and when required. Reviewing these five key products may well assist in achieving this aim.
1. High Capacity Batteries
High capacity mobile phone batteries, also known as extended life batteries, have higher mAh ratings than standard batteries and can hold more energy, meaning that the charge will last for longer. High capacity phone batteries are sometimes larger and bulkier than standard mobile phone batteries, so some products also come with a replacement phone back to ensure that the battery will fit inside the phone. When considering purchasing a high capacity mobile phone battery, there are a few points to be reviewed, as detailed in the table below.
| | |
| --- | --- |
| Phone compatibility | It is essential to ensure that any high capacity mobile phone battery being considered is compatible with the phone with which the buyer is planning to use it. |
| Authenticity | Fake batteries can damage the mobile phone in which they are placed, so it is important to ensure that any high capacity battery being considered is genuine. Ideally, choose batteries produced by the phone's original manufacturer, known as OEM batteries, or generic batteries from reliable suppliers, and research sellers carefully before buying. |
| Condition | It is possible to buy new, used, and reconditioned high capacity batteries for mobile phones. Used and reconditioned batteries are often cheaper than new batteries, but may not perform as well. Decide which type would be most suitable before shopping. |
2. Wall Chargers
A mobile phone wall charger charges a mobile phone using electricity from a mains supply. It usually consists of an adaptor plug which fits into a wall socket and a cable with a connector that plugs into the phone. When choosing a mobile phone wall charger, however, it is important to consider the factors shown in the table that follows.
| | |
| --- | --- |
| Phone compatibility | Before purchasing a particular wall charger, it is common sense to ensure it will work with the mobile phone in question. Wall chargers are usually designed to be used with specific brands and models of phone. |
| Cables | Sometimes, mobile phone adaptor plugs are sold on their own, without the cable that connects the phone to the plug. Check product details carefully to see whether the cable is included or not before purchasing a wall charger. |
3. Charging Docking Stations
A mobile phone charging docking station usually consists of a cradle into which the phone is placed to charge. It can be connected to speakers or a PC, so that the user can listen to music or watch videos using the phone while it charges, and it is usually powered from a mains electricity supply using a wall charger, or by connecting it to a laptop or PC using a USB cable.
| | |
| --- | --- |
| Phone compatibility | Different mobile phone docking stations are compatible with different models and brands of mobile phone, so check product descriptions carefully. |
| Features | There are many different mobile phone docking stations on the market, including docking stations which can charge more than one phone at a time, docking stations with built-in speakers and wireless-enabled docking stations. It is, therefore, important to decide which features will be useful before shopping for one. |
4. Portable Chargers
Portable mobile phone chargers are lightweight devices designed to enable users to recharge their mobile phone batteries while on the move. When shopping for a portable mobile phone charger, it's worthwhile to take the factors detailed in the following table into consideration before selecting a product.
| | |
| --- | --- |
| Type of portable charger | There are a number of different types of portable mobile phone charger on the market, including battery-operated chargers, solar-powered chargers , car chargers and charging mats . Decide which type would be most suitable before shopping for one. |
| Phone compatibility | Make sure that any portable charger being considered will be compatible with the phone with which it is going to be used before purchasing it. Portable chargers are often designed to be used with specific brands and models of phone and will not work with other brands and models. |
| Charging time | Check product details of portable chargers carefully to see how long, on average, they take to charge a mobile phone battery. Some portable chargers, such as solar-powered chargers, can take longer to charge batteries than other portable chargers and this may be important when travelling. |
5. Emergency Batteries
Emergency batteries can make good alternatives to higher capacity batteries and battery chargers. They are portable and can be charged before travelling, so when the battery in the phone runs out of charge, the user can simply replace it with the fully charged emergency battery.
| | |
| --- | --- |
| Authenticity | Research sellers of emergency batteries carefully to ensure that they are reputable and supplying authentic products, as using fake batteries in a mobile phone can cause damage to the phone. Either choose OEM batteries (batteries produced by the manufacturer of the mobile phone) or generic batteries produced by well-respected manufacturers. |
| Condition | Before looking for an emergency battery for a mobile phone, decide what condition the battery should be in. Sellers sometimes offer used and reconditioned batteries which may be cheap options, although new batteries may perform better. |
Find Products to Extend the Life of Phone Batteries on eBay
It is possible to buy a wide range of products designed to extend the life of mobile phone batteries on eBay. To find an appropriate product, click on Shop by category on the homepage and then choose See all categories. Select the category heading Mobile Phones & Communications, then choose the sub-category named Mobile Phone & PDA Accessories. High capacity batteries and emergency batteries for mobile phones can found by clicking on Batteries on the left-hand side of the page, while wall chargers, docking stations and portable mobile phone chargers can be found by clicking on Chargers & Docks. Searches for products can also be carried out by entering specific keywords, such as 'used mobile phone wall charger', into the search box which appears at the top of each page.
Conclusion
There are many different products on the market which can help to extend the life of a mobile phone's battery, including high capacity batteries, wall chargers, mobile phone docking stations, portable mobile phone chargers, and emergency mobile phone batteries. By researching the different types of product available and finding out about different sellers offering them, it should be possible to find a suitable option at an affordable price.